Tech
The Tech Giants are Coming for Our Homes
Youtube Views

164,129

VIDEO VIEWS
IN a world that is more connected than ever before, millions of us have welcomed leading technology giants into our properties for entertainment, to adjust the heating and even answer the door.

Now a major market in its own right, the likes of Amazon, Google, Samsung, Apple and others are all competing for smart home dominance.
But why do these businesses care so much about where we live? Why are they developing such useful systems? What does this new world mean for our built environment? And what drove so many of us to invite these multinational corporations into the highly personal spaces we call home?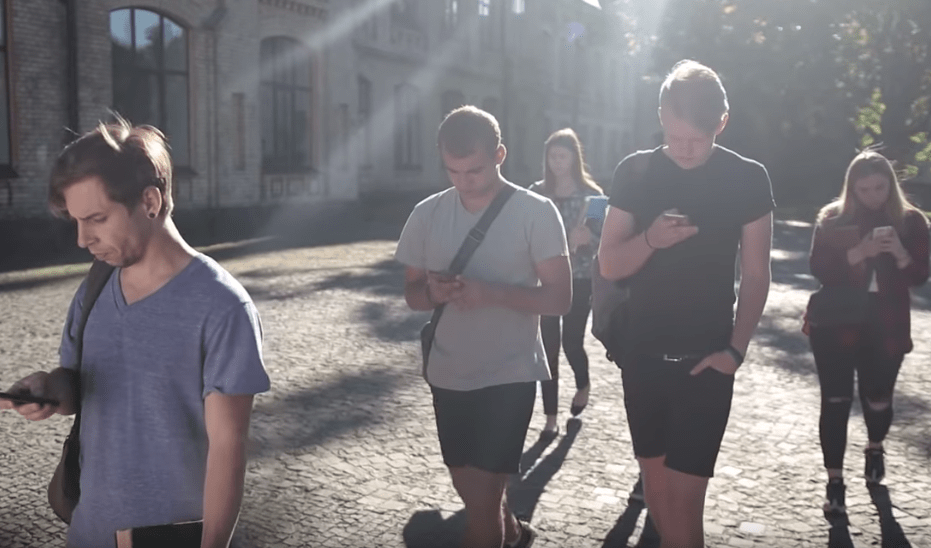 Above: Our world is now more connected than ever before.
In the past decade, our societies have become increasing reliant on the connectivity that is enabled by digital technologies.

With almost every adult in the developed world now owning a smart phone, the ability for people to contact one another and remain engaged with news, entertainment, current affairs and social media has had a profound impact on our culture.

Beyond our mobile devices, a wide array of products and systems now share information and data online in the internet of things.
Data is now used across countless different aspects of our towns and cities to inform systems and streamline activities – and, in recent years, we have welcomed technology into our homes in a much more permanent way than ever before.
While once limited to our computers, the central heating or a handful of appliances, we are now sharing our addresses with artificial intelligence (AI) assistants, advanced security installations and even robots.
Produced by some of the world's largest technology giants, these systems offer us a range of benefits, though often in exchange for our data and intelligence around our habits and preferences.
So, what is driving us to welcome in some of the biggest names in tech and what do those organisations stand to gain from entering a market that their original business plans would have ignored?
The establishment of a platform from which consumers find it difficult or inconvenient to leave is a powerful strategy that underpins almost every successful technology giant.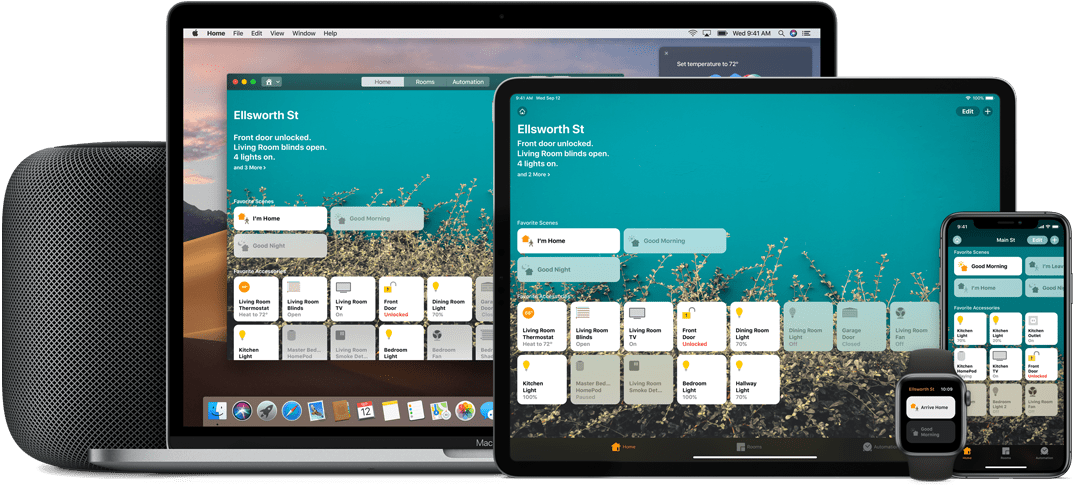 Above: Many tech giants can attribute their success to their platforms ( image courtesy of Apple).
Apple's iCloud system for example, makes it easy to transfer all of your data and contacts between your phones when you upgrade, provided you stick to iPhones. It makes it easier to invest in an iPad rather than another tablet. The Apple Watch is designed to operate best with an iPhone. Apple Music works best with Apple devices.
While recent decades have seen intense battles for dominance of the internet search, smartphone, music streaming and online retail markets, our homes have remained largely untapped, yet highly fertile ground.
That all changed in 2014 with the release of Amazon's Alexa AI assistant and Echo smart speaker.
Despite numerous home technologies existing beforehand, Amazon's entry to the market took things up a gear.
With a voice recognition system that surpassed most others on the market and a format that was designed to be incredibly useful, Amazon gave us the ability to play music, hear the news, keep lists, and learn recipes – quickly earning the approval and trust of millions.
Above: The popularity of Amazon's virtual assistant devices has to lead to its integration with a number of third-party products.
Now – and in a clear effort to become the platform in our homes – Amazon's Alexa system can be linked to a number of third-party operating systems, allowing us to control our lights, adjust the heating, open the curtains or check who is at the door.
As the importance of mobile devices begins to fall and the power of the internet of things and connectivity increases, technology giants are attaching critical importance to becoming the established smart platform in our properties.
Amazon's early and rapid progress ignited an intense battle between several leading technology giants for control of our homes – a market that is set to be worth USD $54BN by 2022.
Employing a similar tactic of becoming highly useful to each of us in music and entertainment first, before branching out to support a broader range of home systems, Google launched Google Home in 2016, Apple introduced their own HomePod in 2018 and Samsung unveiled the Galaxy Home later that same year.
Each of these systems can integrate with countless other third-party home systems, allowing them to become a platform.
However, despite the apparent similarities in approach, the motives behind each of these tech giants entering the smart home market differ significantly.
Amazon is one of the most successful e-commerce businesses that the world has ever known and entered the home market primarily to make shopping on Amazon easier to do while driving up its Prime membership numbers.
Steadily, the tech giant has expanded its product range around its core offering. Amazon Key, for example, is a smart security camera and lock system that allows Prime members to receive deliveries into their homes. It has also acquired leading video doorbell manufacturer Ring and improved the interoperability of its products with its own platform.
Conversely, Amazon lacks the mobile dominance that Apple and Google enjoy and is now developing its Alexa system to integrate with cars in an effort to increase our reliance on its platform.
By 2025, 1 in 5 vehicles are expected to offer internet connectivity, extending the influence of AI assistants and catalysing the technology race in telematics and autonomous vehicles.
Google's entry to the home market was again driven by its core business model and arguably the threat that Amazon posed to it.
With a proportion of online searches shifting to voice recognition in Amazon's Alexa system, Google launched its own product and the extensive "make Google do it" marketing campaign to defend its core search business.
Now, Google is refocusing attention on its range of Nest products, further growing its share of the home platform market.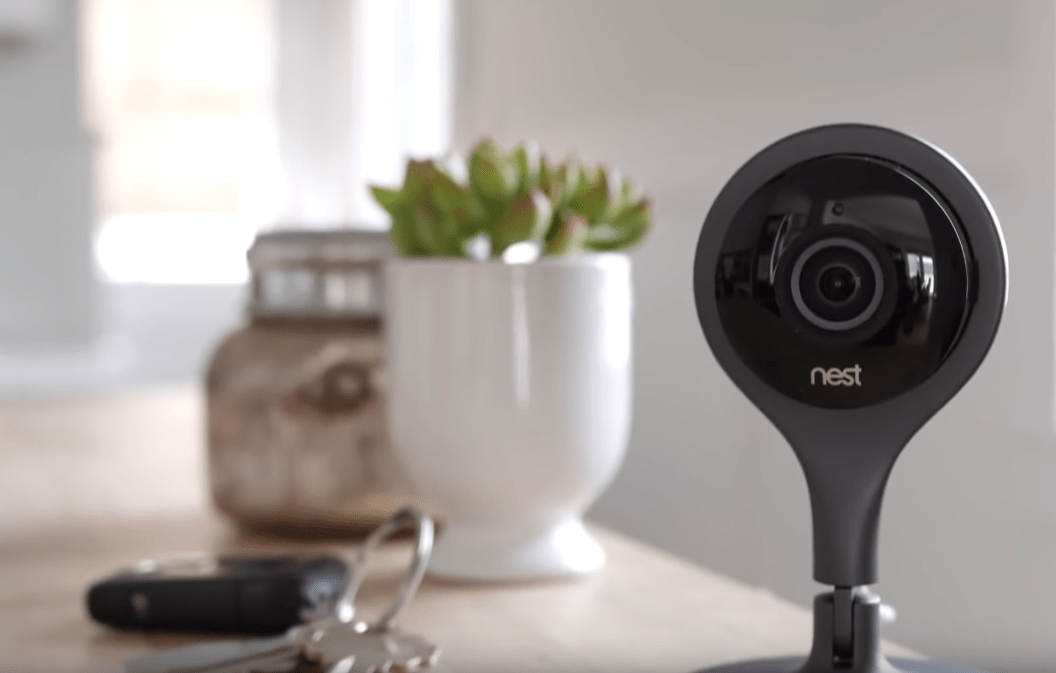 Above: Google's acquisition of Nest and its integration into its platform has allowed it to grow quickly in the smart home market.
Samsung's existing foothold in our properties across a range of appliances – from televisions to ovens – gave it head start in the smart home market that was simply too good to surrender. Its product range has now grown substantially and even features a fridge capable of generating shopping lists based on your eating habits.
For Apple, the falling influence of mobile devices combined with the rise of connectivity and progress by Amazon and Google were key drivers. However, with its core business centred around hardware, Apple's primary motive with its HomePod is to retain people on its platform and to become the primary interface in our new smart home world.
The battle between these private organisations for influence in our homes in incredibly intense, with Apple and Amazon now even partnering with house builders to integrate their systems at design and construction stage, locking owners into their systems.
The result of such tension between the technology giants is a rapidly changing landscape in our properties. With the smart home technologies market maturing, once quirky ideas are now experiencing mainstream uptake – from robotic vacuum cleaners and plug adapters that can link any device to the internet to voice controlled lightbulbs, sleep monitoring systems and even AI assistant-controlled coffee machines.
Just like any human relationship, the development of trust has been a key factor in millions of us allowing these technology giants access to our homes. We know them, are familiar with them, feel reassured by their unfaltering reliability and usefulness and are comforted to know that most of our friends and families trust them too.
Perhaps underlining the importance of this point, Facebook are rumoured to have postponed the development of their own smart speaker system as they work to rebuild trust in their brand.
GLOBAL IMPACT
The rise of smart technologies in our homes is occurring in parallel to the development of numerous smart cities around the world; societies that use data and connected systems to continually improve how they operate.
These markets are not immune from the influence of technology giants either. Samsung are pioneering a number of smart city systems across Asia, while Google's sister company Sidewalk Labs is planning to construct a controversial internet-based smart city in a waterfront district of Toronto.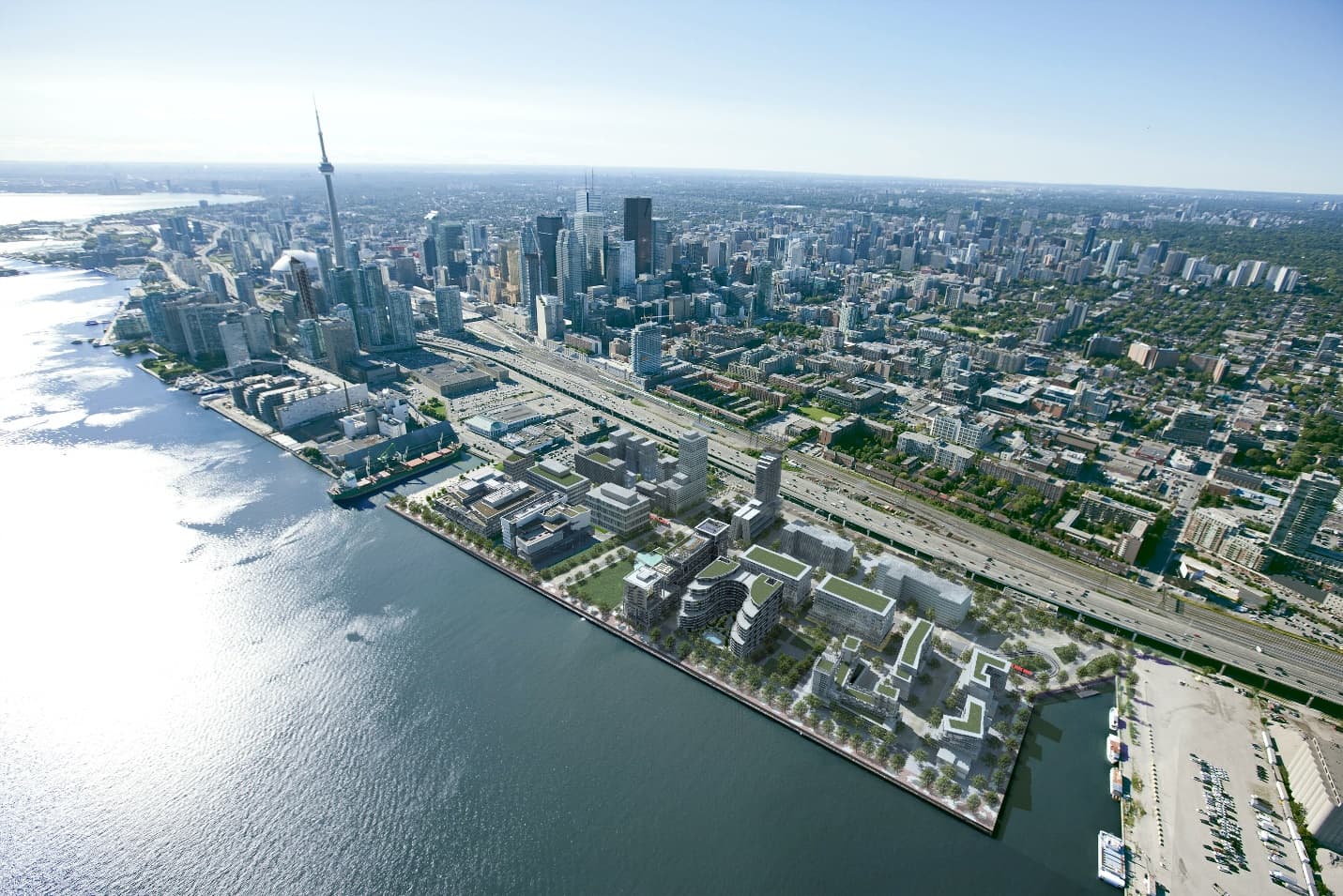 Above: Google's proposed purpose-built smart city in Toronto (image courtesy of Skywalk Labs).
The value proposition of such smart societies is their ability to leverage trends in data to improve the way that we use our built environment and live our lives.
To date, such data has largely been derived from public or commercial buildings.
The growth of advanced connectivity in our homes offers the chance to learn more about and ultimately improve the way we live, through anonymised, trend-level data sets.
While smart home systems can enable all of us to operate our properties more sustainably, their ability to learn and anticipate user patterns could mean that millions of smart homes running on the same operating systems could permit electricity providers to dim the lights across a neighbourhood by a fraction at peak times.
The same principle could be used with heating and cooling systems, saving consumers money and reducing the need for additional power plants to be brought online.
Indeed, many aspects of smart home technology could potentially deliver society-wide benefits when scaled across a town or city district.
Security systems could reduce crime rates and improve safety, while monitoring systems that improve supervision of babies or vulnerable people could in turn reduce the pressure on health services.
Such influence over our lives, of course, demands a high level of responsibility from these large, privately-owned technology businesses.
While regulation still strives to keep pace with technological advancements, we have seen challenges emerge around power or internet outages rendering critical systems unable to function, rumours of real people at tech firms listening in on private conversations via AI assistants and even personal data being leveraged to inform elections.
In our quest to improve so many aspects of our lives with connectivity, it is important that boundaries, legislation and the difference between right and wrong is robustly debated.
LIVING IN THE FUTURE
With the battle between the major technology giants maturing the smart home market at a rapid rate, and the roll out of 5G data networks, the homes we inhabit in the not too distant future are likely to become even more advanced.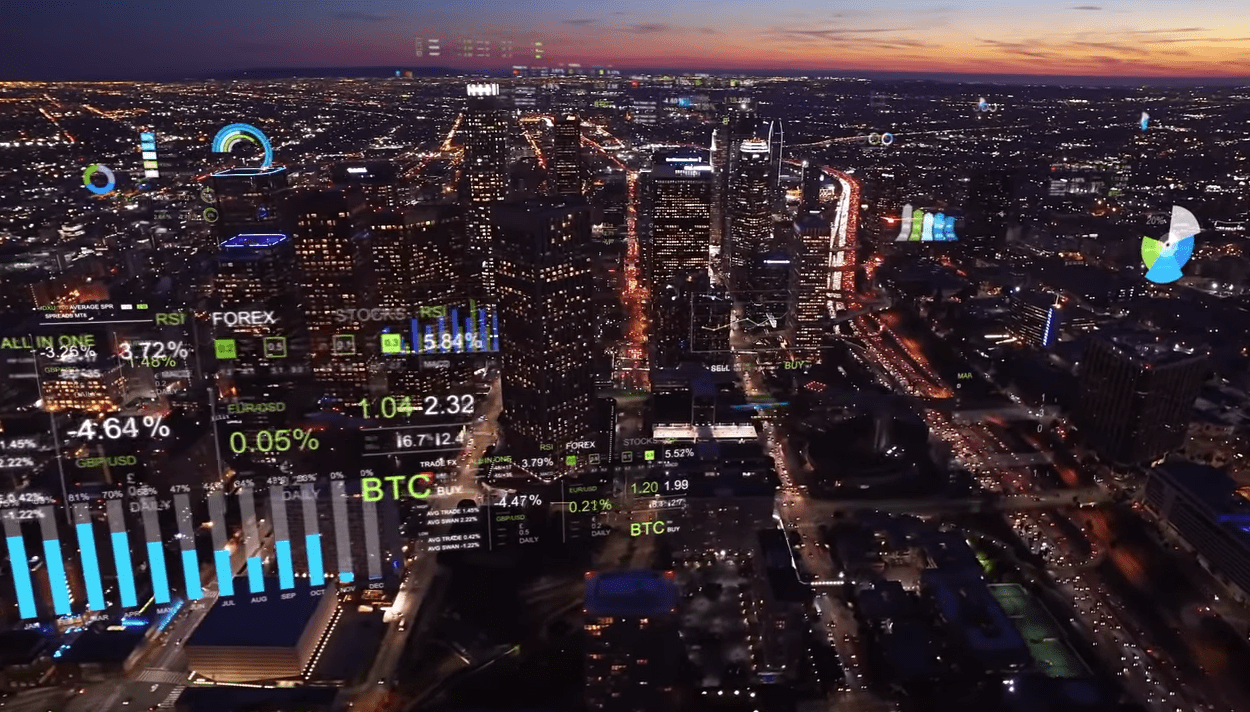 Above: 5G networks will increase the influence of the internet of things.
Household chores could become completely automated, all devices could be automatically charged wirelessly, we could receive recipe suggestions based on the food we have left in our fridges at the end of the week, the indoor temperature could be personalised around each individual occupant and our AI assistants could inhabit human-looking sociable robots.
Indeed, with advanced AI systems now able to learn and adapt to their surroundings over time, we could see the emergence of AI personalities that are truly unique to us and our lifestyles – an extension of our families that would even come with us when we move.
With all of these concepts and more in development, smart homes and the technology giants that enable them, look set to transform the way we live in the years ahead.
Footage and images courtesy of Google, Amazon, Samsung, Apple, Philips, iRobot, Sonos, Honeywell, Ford, Behance, Facebook, Sidewalk Labs, Daikin and Ring.
We welcome you sharing our content to inspire others, but please be nice and
play by our rules
.
Comments
---