Cities
Why Porsche and Bentley are Building Skyscrapers
Youtube Views

292,280

VIDEO VIEWS
Video narrated by Fred Mills. This video and article contain paid promotion for Bluebeam.

THERE'S a shift in gear happening in the world of construction.
From Porsche to Aston Martin, luxury carmakers are breaking out of their automotive industry confines and entering the skyscraper game.
It's a move that ultimately extends the reach of these upscale brands from the streets, into the very homes of ultra-wealthy consumers – and it helps both the car manufacturers and property developers stand out and tell more of a brand story in their increasingly crowded respective markets.
So buckle up as we take a look at six buildings with an auto-architect in the driver's seat.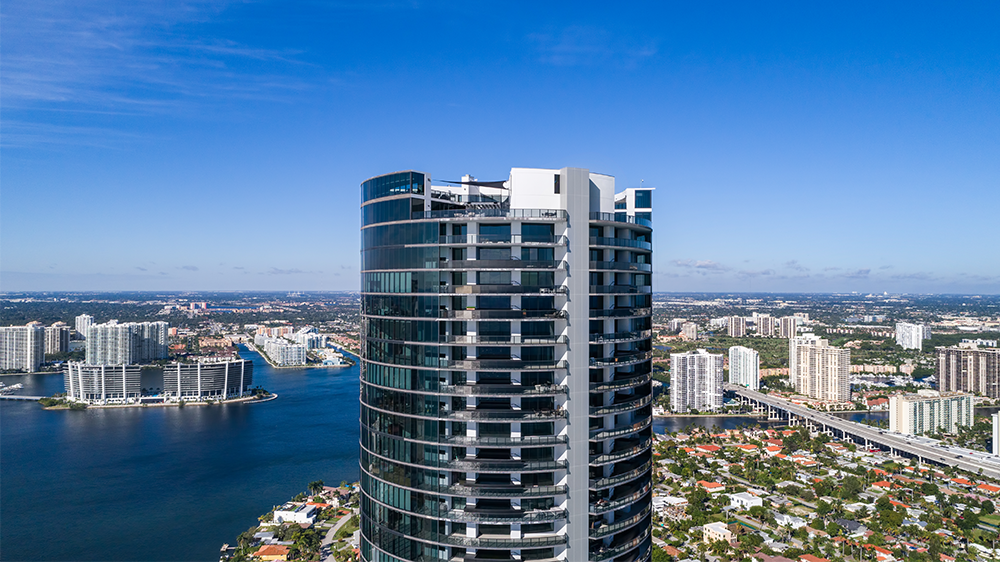 Above: Porsche Design Tower in Miami, Florida. Image courtesy of Porsche Design Tower.
1. Porsche Design Tower, Miami, FL
Kicking it off, let's drive down to Miami, Florida where you'll find the Porsche Design Tower.
Completed in 2017, the 195-metre, 60-storey residential skyscraper contains just 132 units priced from USD $4M - $18M.
Much like the curvature of a Porsche car, the $560M tower is cylindrical in design, but its sleek architecture isn't the only innovative aspect of it.
At the building's core is a large hollow shaft with three custom-built elevators. But you probably won't be having awkward run-ins with your neighbours here.
That's because they're made for transporting cars. That's right, the Porsche Design Tower has come up with a way so residents can park inside their condo.
The patented technology coined the Dezervator comes from the minds of Dezer Development.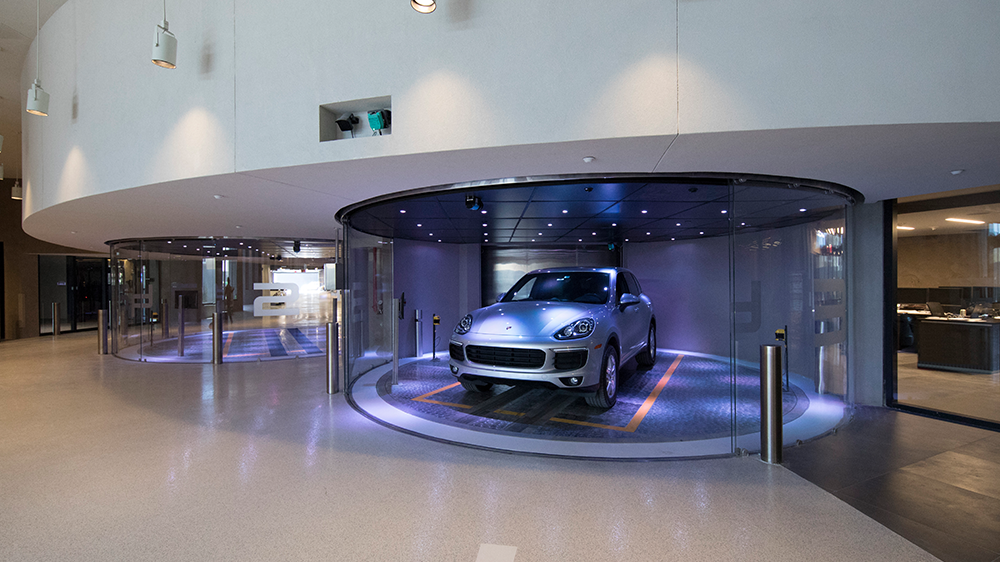 Above: This elevator is made to transport cars straight up to residents' apartments. Image courtesy of Porsche Design Tower.
Just like the round central core, the elevators are also circular with glass exteriors.
Residents begin by driving their car onto a rotating pad, where it spins around into position to face the elevator doors. Then, a sled jack device goes underneath the car and moves it onto the machine.
At 243 metres per minute, the car zooms up to the designated condo's sky garage - all while the driver remains behind the wheel with the engine off.
Each one can carry up to 8,000 pounds, or about 3,600 kilograms - which is equal to the heaviest car made: the Rolls Royce Phantom … because sometimes a Porsche just isn't enough.
But surprisingly, engineering an elevator to carry that heavy of a car wasn't the hardest part.
"The biggest challenge was the government," president of Dezer Development Gil Dezer told The B1M.
"I mean, getting things approved through the fire departments, through the elevator department … this just doesn't check any of their boxes. So we actually had to go to Underwriters Laboratories and work with the local authorities to get us approval. We actually built a test facility in Chicago, which was 150 feet high where we had the car elevator itself."
While the Porsche Tower may be the first to use the Dezervator, this isn't the only structure that implemented the technology.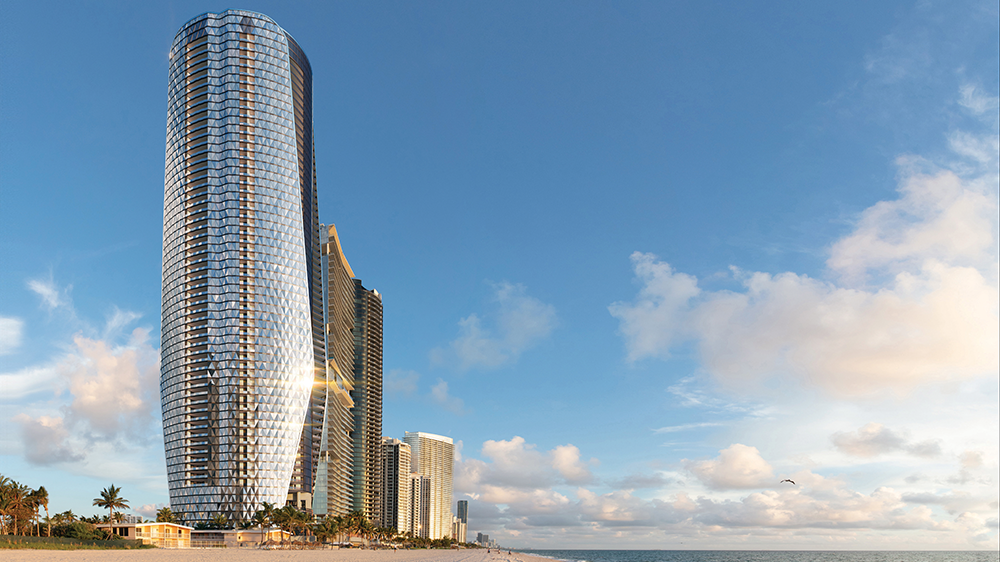 Above: Bentley Residences in Miami is set to open in 2026. Image courtesy of Dezer Development.
2. Bentley Residences, Miami, FL
Not too far away in Miami, is the site for the future Bentley Residences – where another luxury car brand is designing another luxury residential tower.
Opening in 2027, the 227-metre, 63-storey skyscraper will soon be the tallest oceanfront building in the country with views of the Atlantic.
The Bentley Residences will be oval in shape with a recessed diamond pattern exterior inspired by the cars.
The triangle panels will face different directions to avoid reflections that could potentially melt surfaces or cars below, which believe it or not did actually happen near the infamous Walkie Talkie building in London.
To one up the Porsche Tower, The Bentley Residences will add another Dezervator for a total of four that will allow residents to park their vehicles in one of the 216 units.
According to the Financial Times, 40% of the units have already been sold, bringing in over $500M in sales.
Once inside, residents can enjoy the views from their large terraces that take up half the square footage of the condos themselves. With all that space, each balcony offers a private pool, kitchen and outdoor shower.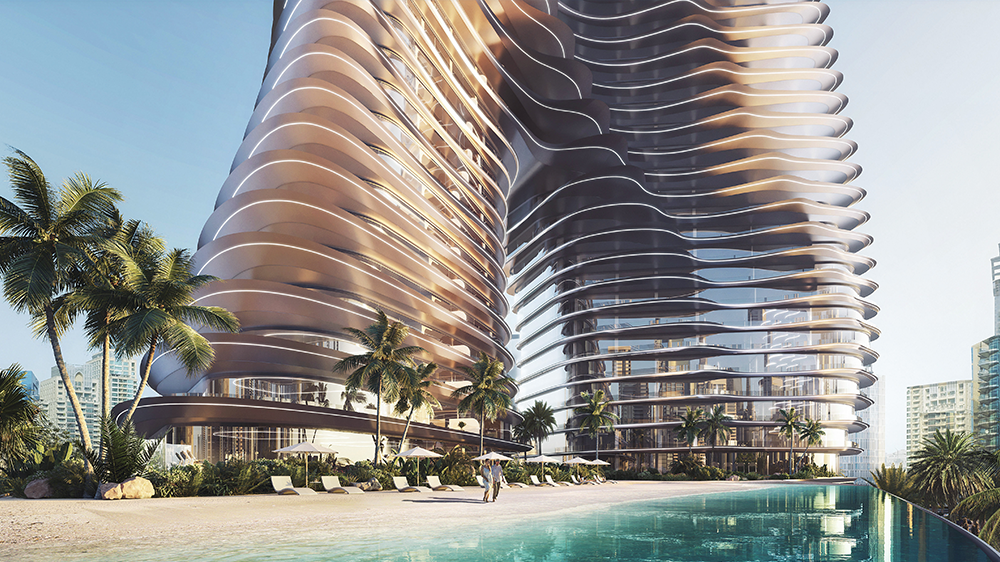 Above: Bugatti Residences will add another landmark to Dubai's skyline. Image courtesy of Bugatti.
3. Bugatti Residences, Dubai, United Arab Emirates

Not to be outdone is the future 42-storey Bugatti Residences by Binghatti in Dubai.
Even though the city is home to a number of record-breaking structures, a luxury branded skyscraper is sure to be eye-catching once complete.
Inspired by the essence of the French Riviera and Bugatti's sleek sports cars, the exterior design is a combination of curves and lines.
But the wavy structure isn't the only feature that captures the spirit of the coastal cities. The building will also feature its very own private beach.
And just like the other supercar properties, Bugatti Residences will also have specially-made car elevators, although it hasn't been confirmed whether it will use the Dezervator technology.
With all these luxury automakers adding skyscrapers to their portfolio, it's clear they see the built environment as the next frontier for their ultra-luxury lifestyle brands. But one company is taking it a step further.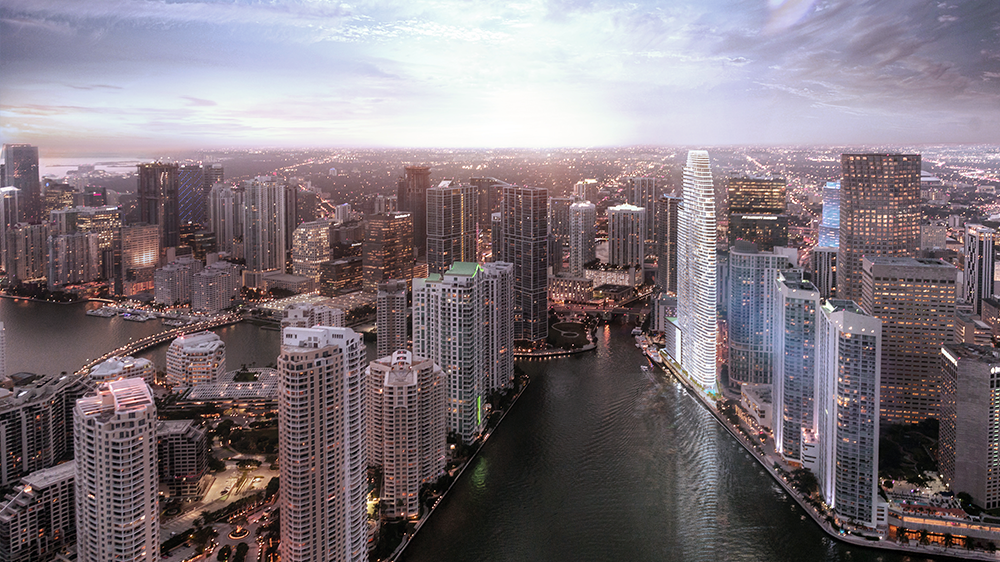 Above: Aston Martin Residences are also located in Miami, Florida. Image courtesy of Aston Martin.
4. Aston Martin Residences, Miami, Florida
Aston Martin, the British car manufacturer, has unveiled not only a skyscraper in the last few years … but a custom private home and condo units as well.
Just like the other branded towers, Aston Martin's tallest is down in Miami, where James Bond is sure to feel right at home.
Topping out in 2021 at 249 metres and 66 storeys, the skyscraper is now the second-tallest in the city, next to the Panorama Tower.
With its unique sail-shaped design, residents have access to amenities like a private cinema, an art gallery, and an infinity pool stretching out on the 55th floor.
Although Aston Martin doesn't include a car elevator like the others, it does include a space to park another luxury vehicle.
The tower also includes access to the only deep water marina in Miami, the perfect place for residents to dock their superyachts.
"Miami itself is a huge market for these guys," Dezer said. "I mean, they sell a lot of cars here, it's a city where the condo market is mature and it's ready for this kind of branding to come in."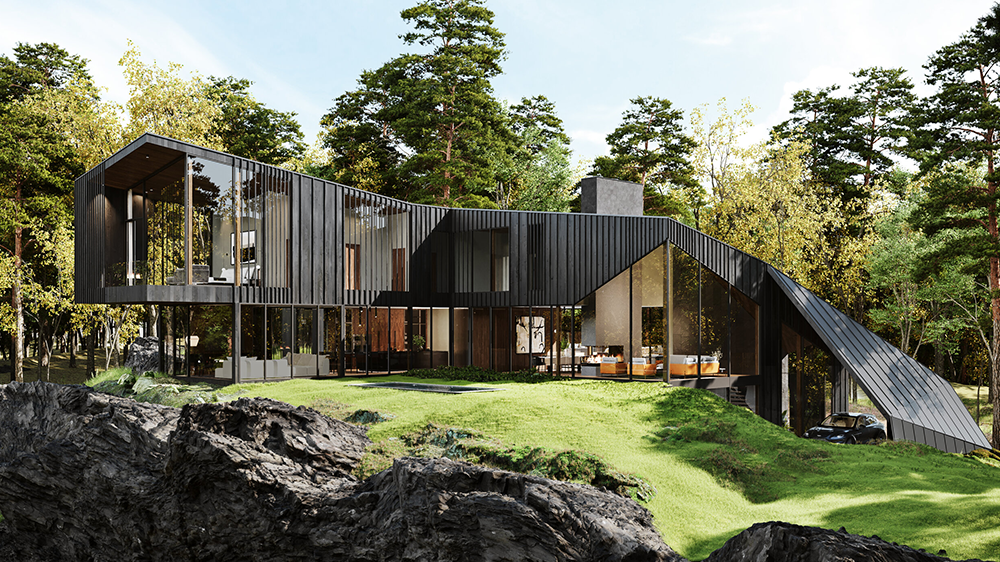 Above: This Aston Martin home has its own lair. Image courtesy of Aston Martin.
5. Sylvan Rock x Aston Martin, Rhinebeck, New York


Next on the list in upstate New York is Sylvan Rock, a black cedar angular home by Aston Martin in collaboration with S3 Architecture.
Like the cars, this home is defined by clean lines and natural materials.
You can see this through its jagged and dark metal roof, allowing the home to blend in with the surrounding rock formations.
But of course it wouldn't be an Aston Martin home without an epic garage to store said cars. In true Bond style, Sylvan Rock has its very own secret lair with a glass-walled space sitting at ground level to show off luxury vehicles.
If you're missing the hustle and bustle of the city, Aston Martin has yet another residence waiting in Manhattan.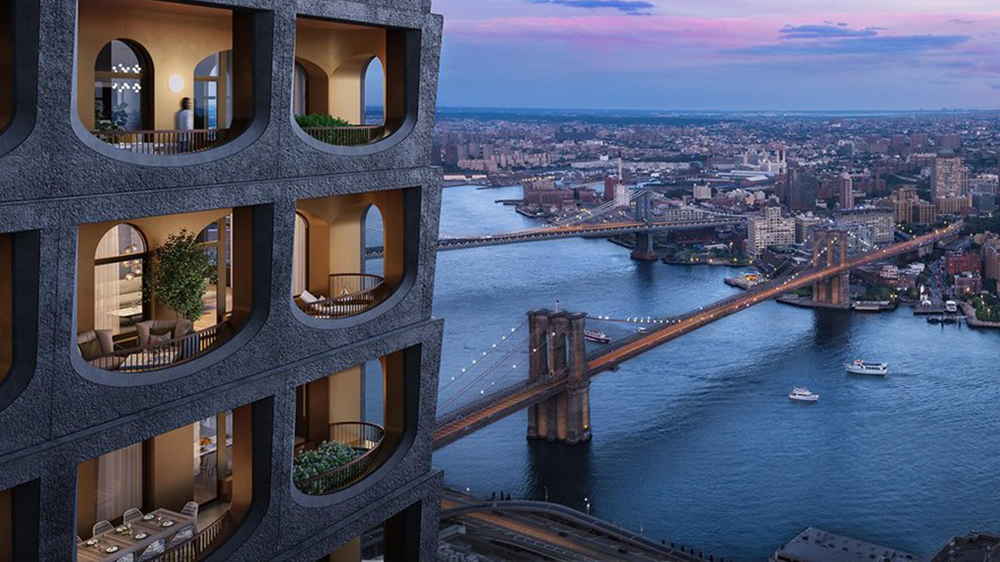 Above: Aston Martin built more custom homes in New York. Image courtesy of Aston Martin.
6. 130 William Aston Martin Homes, New York, New York
To round off the list are these five Aston Martin's designed residences.
Located on the 59th and 60th floors at 130 William, the units are set apart from the rest of the building with materials, furniture, and finishes from the luxury brand's home collection.
There's even an entry hallway covered with a bronze cross hatch, a signature look of the company. If that isn't enough to turn heads, each one comes with its very own limited edition SUVs. Yes, really.
Companies are clearly getting creative to stand out in an increasingly competitive marketplace of high-end automakers.
And as luxury car brands develop real estate projects like these, the lines between consumerism and architecture are becoming more and more blurred.
By expanding their brands across multiple industries, they become more than just the face of a luxury vehicle, but an entire lifestyle itself.
It seems the built environment is just the next frontier, marking the next chapter in architecture's evolution from a simple home to an investment asset.
This video was powered by Bluebeam. From the tallest skyscraper to the smallest office retro fit, see how Bluebeam can help your team cut costs and stay organised here.
Footage and images courtesy of Porsche, Bentley, Bugatti, Dezer Development and Aston Martin.
We welcome you sharing our content to inspire others, but please be nice and play by our rules.

Comments
---