Documentaries
New York's $3BN Skyscraper Gamble
Youtube Views

567,070

VIDEO VIEWS
Video narrated by Fred Mills. This article and video contain paid promotion for Brilliant.
IT'S BEEN nearly a century since New York's skyscraper boom saw it transform into an iconic, world class city and still after all this time, things in the Big apple are looking peachy.
Wall Street remains the unrivalled centre of global finance, there's an insatiable demand for office space, housing is high quality and affordable, the subway is a world leader in reliability and the city air smells of roses and freshly cut grass. Ok, maybe not …
Back in the real world, New York is starting to lose its edge as the world's financial centre. Changes in post-covid working patterns, competition from other hubs and crippling apartment rents are creating a nightmare for the City of Dreams.
So, NYC is fighting back the only way it knows how, by building big. At 270 Park Avenue a luxurious, supertall skyscraper is emerging which, it's hoped, will help the capital of the world keep its crown.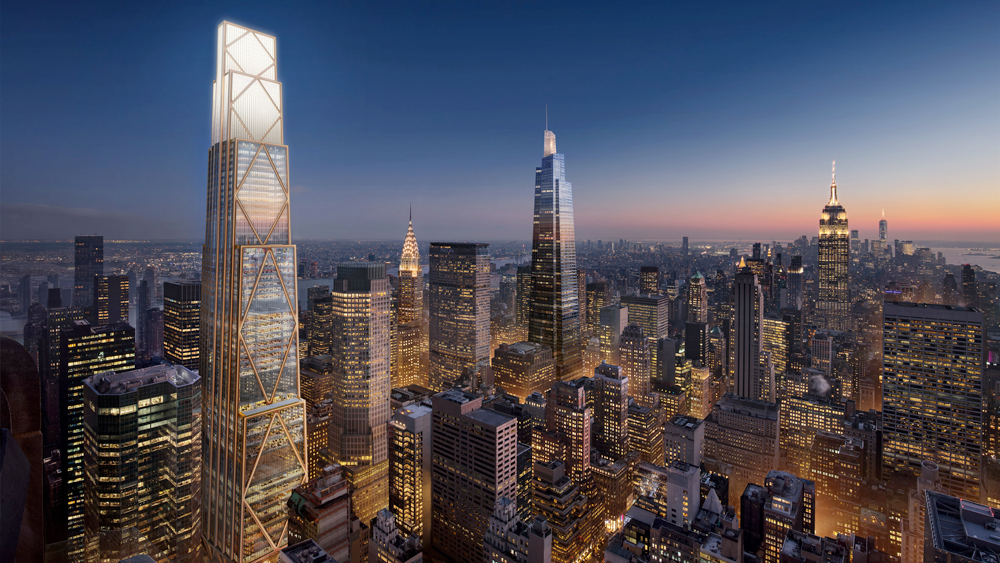 Aboe: 270 Park Avenue as it will appear on the New York skyline. Image courtesy of Foster + Partners.
The USD $3BN building is destined to become the new headquarters of banking giant JPMorgan Chase. Designed by superstar architects Foster + Partners, at 423-metres high, it will take up an entire city block on one of the most exclusive streets in Manhattan. But this being New York, to build anything new, first you have to knock something down.
Back in 2019 Manhattan said goodbye to the previous incumbent of 270 Park Avenue: the Union Carbide Building. At 216-metres, it was the tallest building ever to be voluntarily demolished.
Although it was loved by architecture critics, the Union Carbide Building was kind of emblematic of New York's decline. Post-pandemic, offices around the world have struggled. In February, office occupancy in the city was still roughly half of what it was before covid.
But while the mid-range buildings lay empty, there's still high demand for super premium, modern office space – and that's where New York is starting to lose out: it just doesn't have very much of it.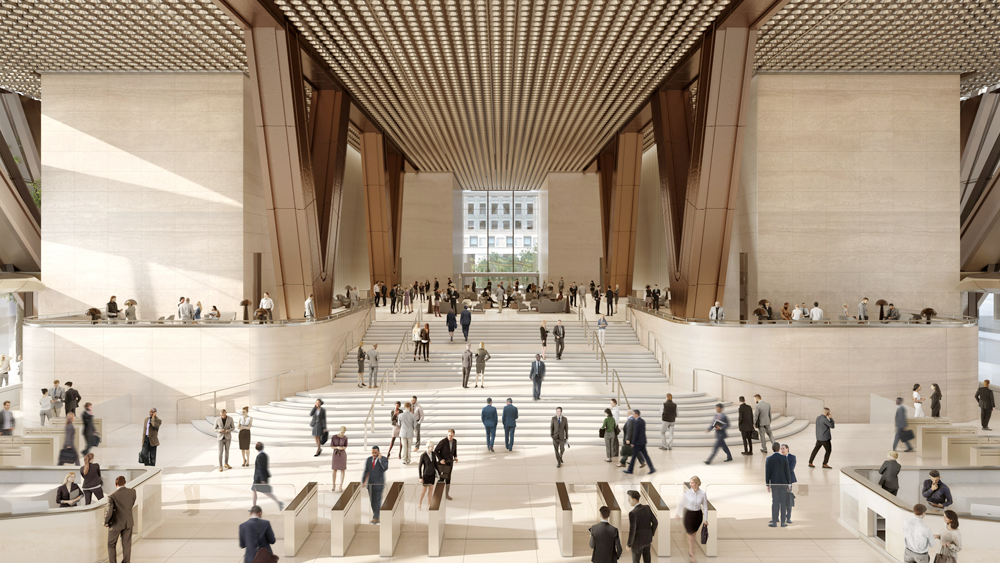 Above: The foyer of 270 Park Avenue. Image courtesy of Foster + Partners.
To make matters worse, the recent tall building boom in Miami is threatening to knock New York off its top spot. Flashy new financial districts may be par for the course for any aspiring world city from Egypt to Malaysia, but Miami is a bit different.
It's in the same time zone as New York, has broadly the same US regulations but … better weather. It's even earned the title the Wall Street of the South and some speculate it could one day overtake New York as the US' top financial centre.
World class cities competing to be the centre of the global financial system … ok it hardly amounts to a feel good, underdog story but it does explain why there's a lot of expectation on building's like 270 Park Avenue to keep the city competitive.
Appropriately enough for New York's "comeback" skyscraper, the design of 270 Park Avenue is something of a greatest hits. The tower's setbacks and vertical lines echo the art deco forms of the city's early 1920s skyscrapers.
But while the design may reference Manhattan's heritage, its height and size is a clear nod to the ruthless nature of New York real estate – 270 Park will easily eclipse the towers it pays homage to.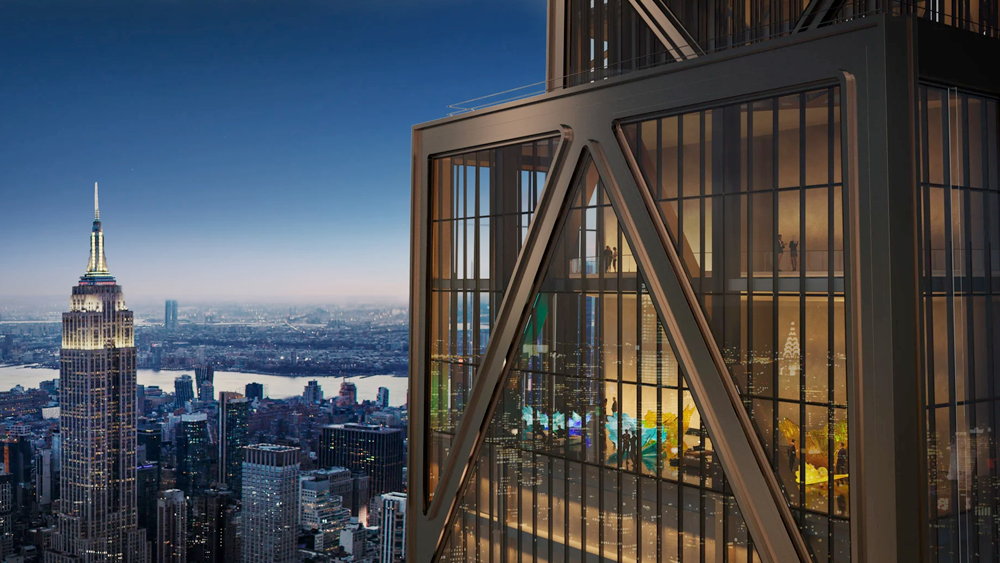 Above: The new building will tower over landmarks such as the Empire State Building. Image courtesy of Foster + Partners.
When the tower completes, it'll rank as New York's sixth tallest skyscraper but the tallest powered purely by electricity, supplied by a hydroelectric power station in upstate New York. That's just one of many signs that this tower is pushing the evolution of the skyscraper. Special filtering systems increase natural airflow from outside, reducing the use of air conditioning.
The architect also claims that the building reduces the use of electricity by "circadian lighting design" – that's the sun, to you and me.
But it's not just technology that makes this building different. Remember all those workers reluctant to return to the office? Well, the tower's owner is all too aware of the creature comforts people have got used to at home. To pamper the fussy financiers who'll work in the building, "wellness" is central to its design – even new age guru Deepak Chopra is credited as a consultant on the project.
So there you have it, an ultra-modern skyscraper to help put a city back on the map. But, before we get ahead of ourselves, it's important to remember that this is owned by the world's richest bank.
New York is one of the most complicated and expensive cities in the world to build in and creating towers like this is financially impossible for the majority of businesses, most developers and even some billionaires.
Will the rise of super premium office space help New York get its mojo back or will this be just another deserted tower in a city in decline? Well, that all remains to be seen. What's certain is that New York has never been a place for the faint hearted and there are few things more iconic here than a sky high megabuild.

Head to brilliant.org/theb1m for a 30-day free trial + the first 200 people will receive 20% off their annual subscription
Video narrated by Fred Mills. Additional footage and images courtesy of Encyclopedia Britannica Films, HBO, Devin Smith, Kevin Dooley, Miramax Films, Juan Pablo Cruz Bastida, Flibust1er, Thomas O'Halloran, Marc Smith, Dietmar Rabich, Foster + Partners, The Dronalist, United Artists, 20th Century Fox, JPMorgan Chase, Max Touhey, CSCEC Egypt, Tun Razak Exchange, Michael Young, THEHORNET, Elisa Rolle, PERI Formwork Systems and The Miriam and Ira D. Wallach Division of Art.
We welcome you sharing our content to inspire others, but please be nice and play by our rules.
Comments
---