Cities
The $4BN Museum War
Youtube Views

457,047

VIDEO VIEWS
Video narrated by Fred Mills.
THERE'S A STORM brewing down under. An Australian rivalry that's captured millions and costing billions - and no, we're not talking about Kylie and Dannii Minogue.
Right now, Hobart and Melbourne are locked in a battle for supremacy – one that's ignited an unprecedented construction blitz, is reshaping cities and fundamentally upending entire economies.
Like all good stories this is one about hubris, revenge, sex, death and really big buildings. Welcome to the $4BN museum war.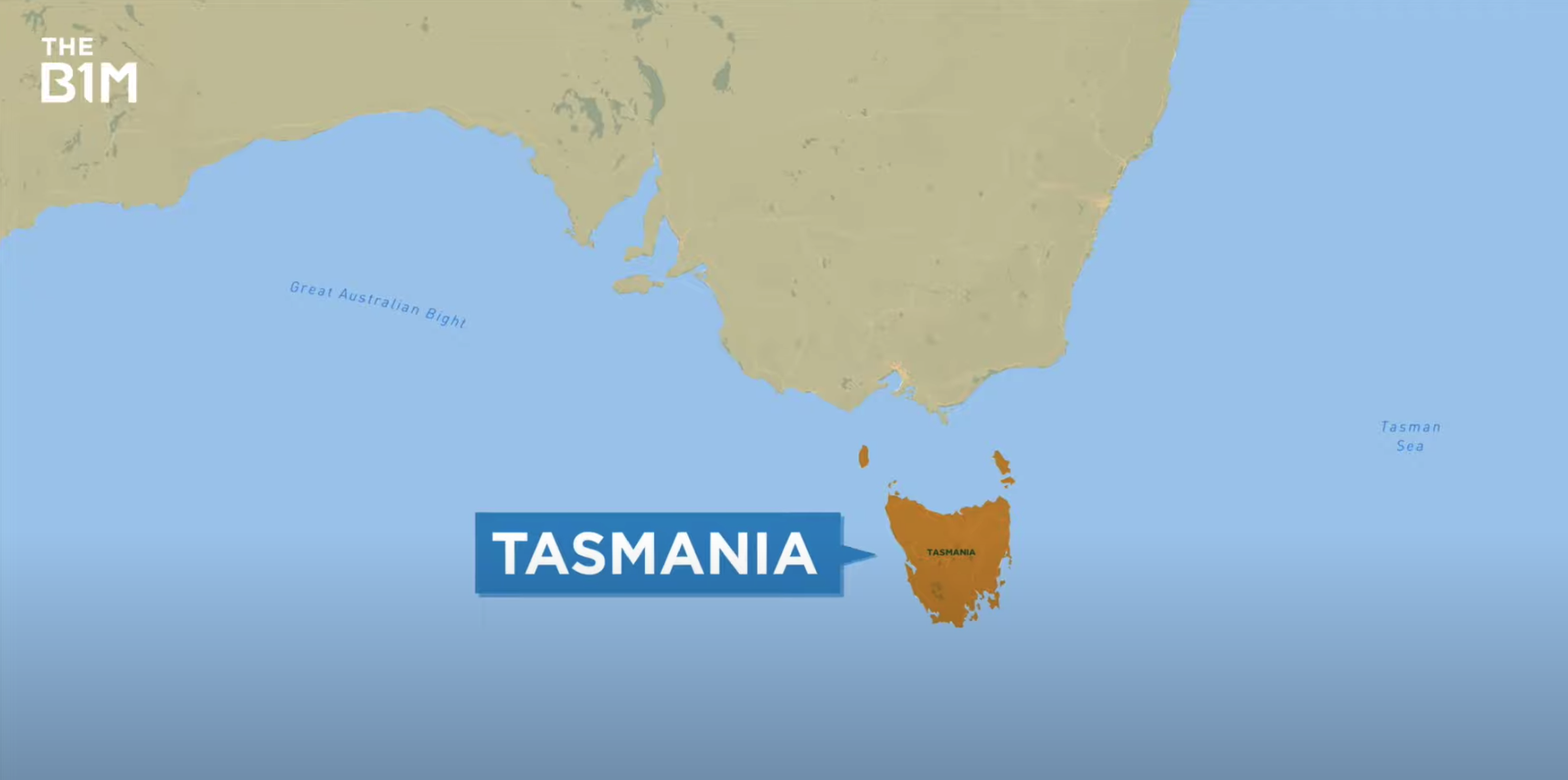 Above: Tasmania is an island at the southern most point of Australia.
Now if you're not Australian, you're probably wondering where on Earth Hobart actually is. It's on that bit of Australia that is so often sadly lopped-off world maps. It shouldn't be. Tasmania is an island of wonders – the Tasmanian Devil, Hannah Gadsby, and MONA – the Museum of Old and New Art, and the largest privately funded museum in the Southern Hemisphere.
It has been described as a "subversive adult Disneyland" and its exhibits range from the serene to the truly surreal.
The museum has garnered a cultural cachet that has lured in millions of visitors and tourism is now the biggest industry in the state; a fact largely attributed to the "MONA effect". So many visitors were coming from China that Qantas and Jetstar added more flights just to keep up.
It's thought that MONA and its offshoots have helped to add more than $2.3BN a year to the state's economy.
This is even more incredible when taken into account that a decade ago, before the museum opened, Tasmania was the country's weakest economy.
The whole thing is the pet project of millionaire David Walsh, the so-called "Willy Wonka of Tasmania".
He wanted to create something extraordinary for his home state after making his fortune developing a gambling system that turns over billions of dollars every year.
To preserve historic houses on the site, the team at Fender Katsalidis designed most of the museum underground.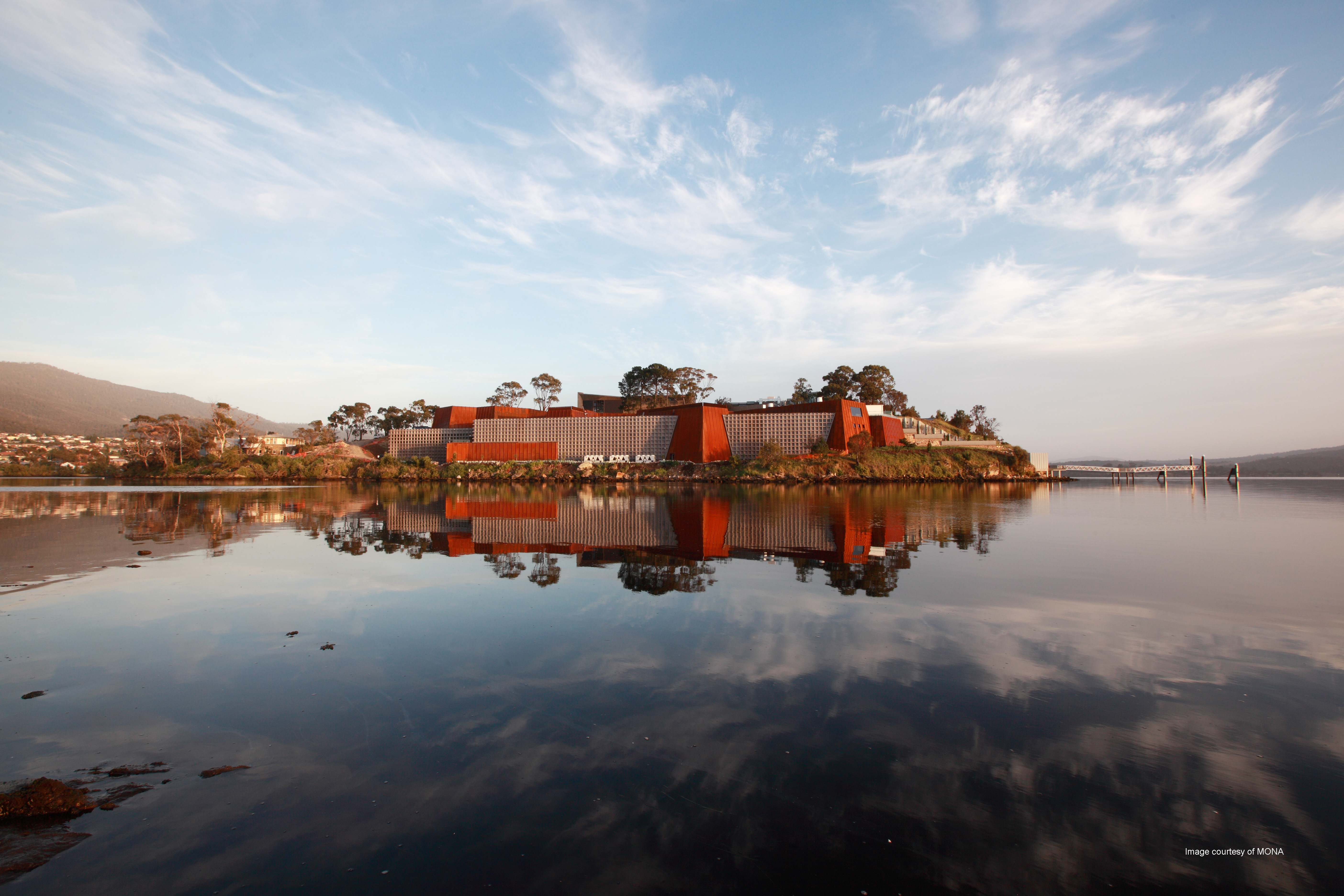 Above: MONA sits on the edge of a peninsula and is accessed via ferry. Image courtesy of Hansen Yuncken and MONA.
The experience of entering MONA is described as similar to the ancient city of Petra. It's carved into the Triassic sandstone cliffs of the Berriedale peninsula and extends some 12 metres below the surface, on the banks of Derwent River.
Visitors descend a series of zigzagging, overlapping staircases into a space with no windows – the idea was to create an atmosphere of danger and foreboding that's appropriate for a museum whose self described themes are sex and death.
Inside is more than 6,000 square metres of exhibition space with a theatre, galleries, pavilions, a restaurant, a winery, a boutique and even a tennis court.
Once you're in, the exhibits are … well pretty out there. Perhaps the most famous was Wim Delvoye's machine which replicates the human digestive system and turns food into faeces that's excreted daily.
That's right, you pay them to go see it.
Now this could have been the end of the story: an eccentric millionaire builds an avant garde museum and saves his home state from economic ruin. Only it isn't.
Enter: Melbourne.
You might not have heard of Hobart, but you should have heard of this place – a city of nearly five million people that's on track to be Australia's largest by 2027.
It's frequently ranked as the world's most liveable city - and has been featured maybe a few too many times on this channel.
It's got skyscrapers, the Olympic Games and world class restaurants, and has even been called the country's cultural capital. Until recently that is.
The pandemic wreaked havoc on many economies, but Melbourne was hit especially hard. The city had one of the world's longest lockdowns, affecting every industry but having a particularly devastating impact on arts and tourism.
Hobart has been steadily but surely taking from Melbourne's cultural status, and Melbourne has been unable to do anything about it. But restrictions have now lifted and the stakes are high.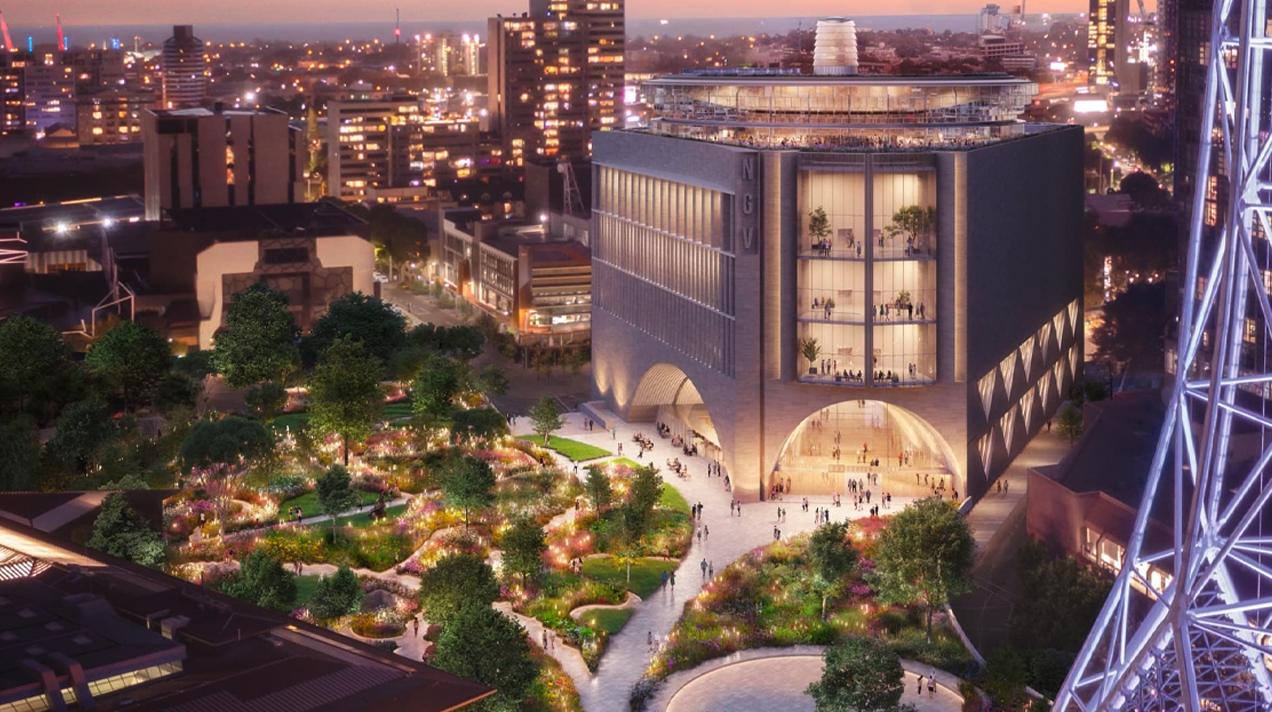 Above: The NGV Comtemporary will be the largest of its kind in the country. Image courtesy of the National Gallery of Victoria.
Melbourne has announced the NGV Contemporary, otherwise known as "The Fox" – a $1.7BN project that will rival London's Tate Modern for size.
Described as a "once in a generation cultural landmark" the new museum will feature more than 13,000 square metres of dedicated exhibition space, more than double that of MONA and is set to become the country's largest gallery dedicated to contemporary art.
Designed by Angelo Candalepas and Associates the enormous new museum will anchor Melbourne's Arts Precinct - an area of the city now being radically transformed to the tune of several billion dollars.
New elevated public gardens are being added to the site. Southbank Boulevard is turning away cars and partially becoming a public park. Spaces for outdoor events and performances are being created.
A new Centre of Creativity will be built alongside the existing Arts Centre. And new connections and underground services are being carved beneath the city.
It has been called the largest cultural infrastructure project in Australia's history and once it is complete it will be home to one of the highest concentrations of arts, cultural and creative organisations anywhere in the world.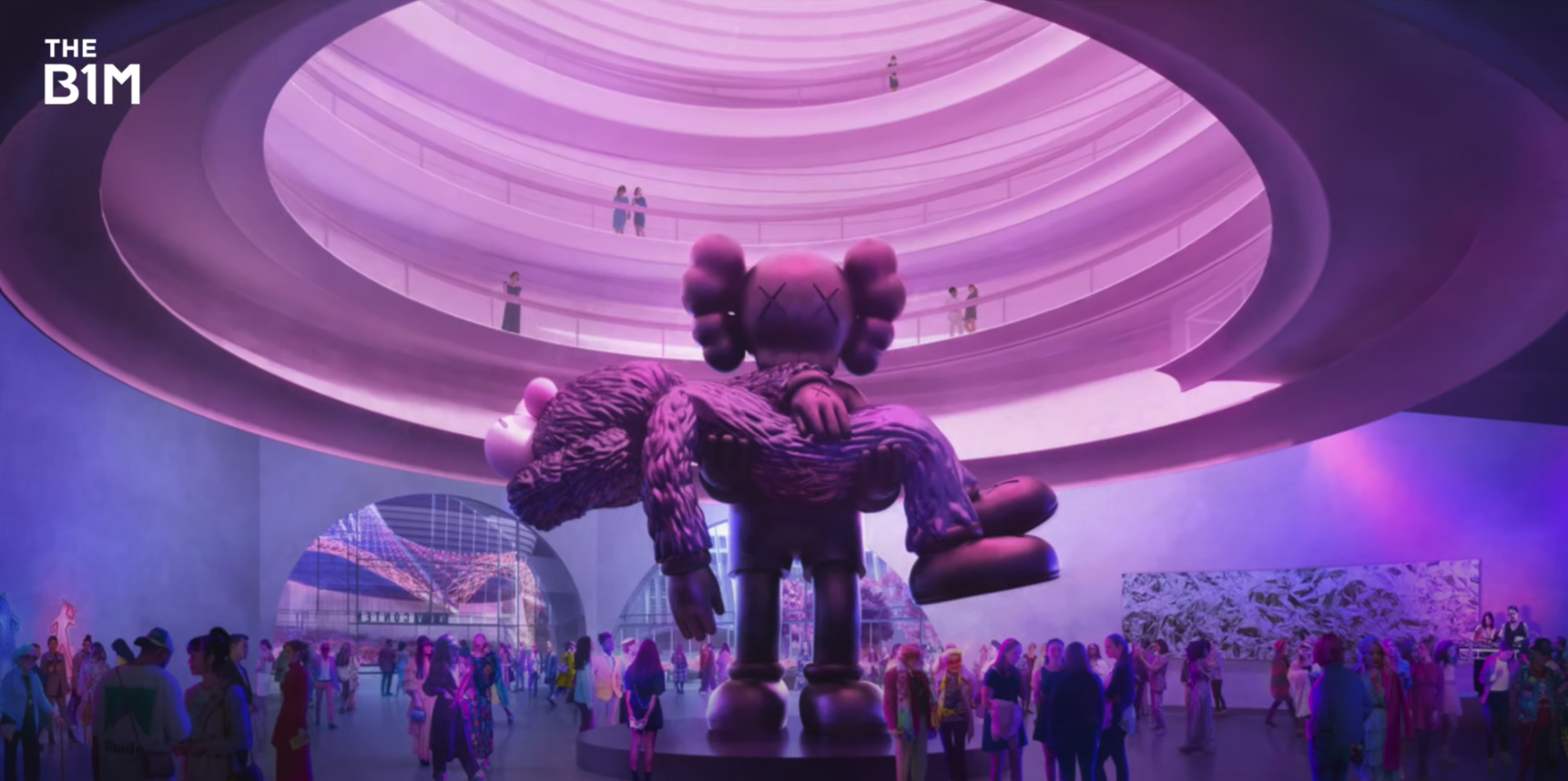 Above: The Fox has been described as a game changer for Melbourne. Image courtesy of the National Gallery of Victoria.
This transformation isn't happening somewhere on the outskirts of Melbourne either, it's all being built right smack in the middle of one of Australia's largest cities. MONA, by contrast, is accessed by ferry and sits on the edge of Hobart.
But Hobart isn't giving up without a fight.
With Melbourne going big there are now plans to add an enormous cantilevered hotel over MONA. Called "Motown", locals are already referring to it as Hobart's giant shopping trolley.
The $400M development will include a sprawling three storey library, theatre, spa and outdoor concert stage.
There have also been long-gestating plans to upgrade the waterfront surrounding MONA. That $2BN project could take more than thirty years. But it would transform the former industrial site into another landmark for the city, complete with a brand new Aboriginal History Centre.
Enormous amounts of cash are being splashed everywhere you look – Kylie would be spinning around just to keep with it all and Dannii – well, we don't really know her songs.
Both MONA and the Melbourne Arts Precinct are transforming their respective cities for the better and for all the time that the battle to be Australia's cultural capital rages, it's the public that's really winning.
Video presented and narrated by Fred Mills. Additional footage and images courtesy of Hansen Yuncken and Raef Sawford, Travel with Lei, Aeonian Nomads, 1001nights, It's All Dan Hill From Here, James and Laurent, the National Gallery of Victoria, the City of Melbourne, ABC News, Warner Bros., Netflix, Jeff Owen Photos/CC BY-SA 4.0, Happywaldo/CC BY-SA 4.0, Fraser Mummery/CC BY-SA 4.0, Al Jazeera English, Che Lydia Xyang/CC BY-SA 4.0, 7News Australia, 60 Minutes Australia, Google Earth and Contributors / Earthstar Geographics SIO (https://www.openstreetmap.org/copyright).
We welcome you sharing our content to inspire others, but please be nice and play by our rules.
Comments
---