NORTH AMERICA
Fly Through Seattle's New Double-Decker Tunnel
Youtube Views

VIDEO VIEWS
CONSTRUCTION of Seattle's Alaskan Way Viaduct replacement tunnel is well underway, following a two-year delay between 2013 and 2015, as shown in this video by the Washington State Department of Transportation (WSDOT).
Replacing the 2-mile long Alaskan Way Viaduct, the new tunnel will improve the connection between downtown Seattle and the city's waterfront. The scheme is currently the largest infrastructure project in the state of Washington.
The works became necessary following the 2001 Nisqually Earthquake, which led to continuing and potentially dangerous subsidence along the elevated highway.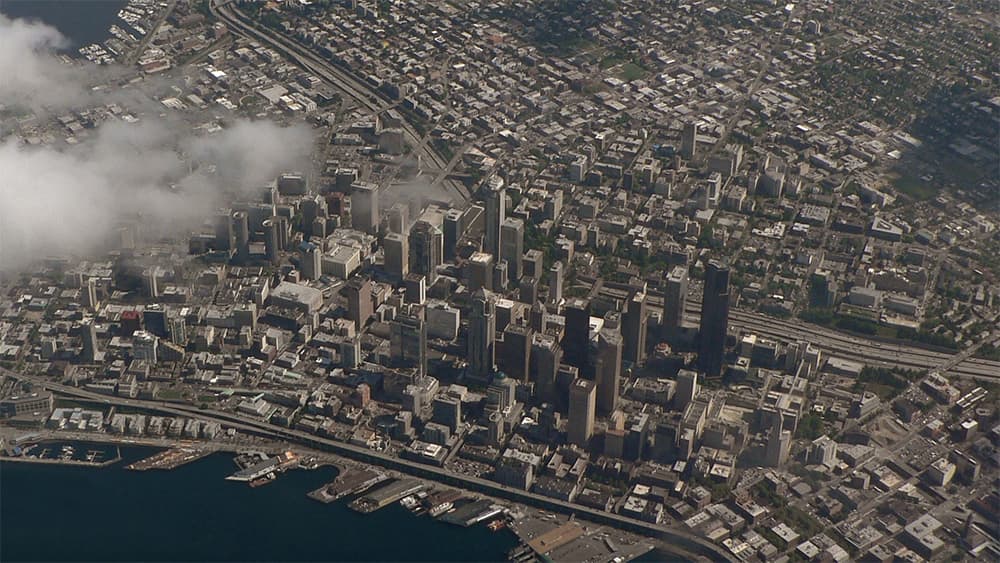 Above: An aerial photograph of central Seattle showing the Alaskan Way Viaduct in the foreground (image courtesy of Walter Siegmund). Below: The Alaskan Way Viaduct separated the downtown area of Seattle from the waterfront (image courtesy of Wikimedia).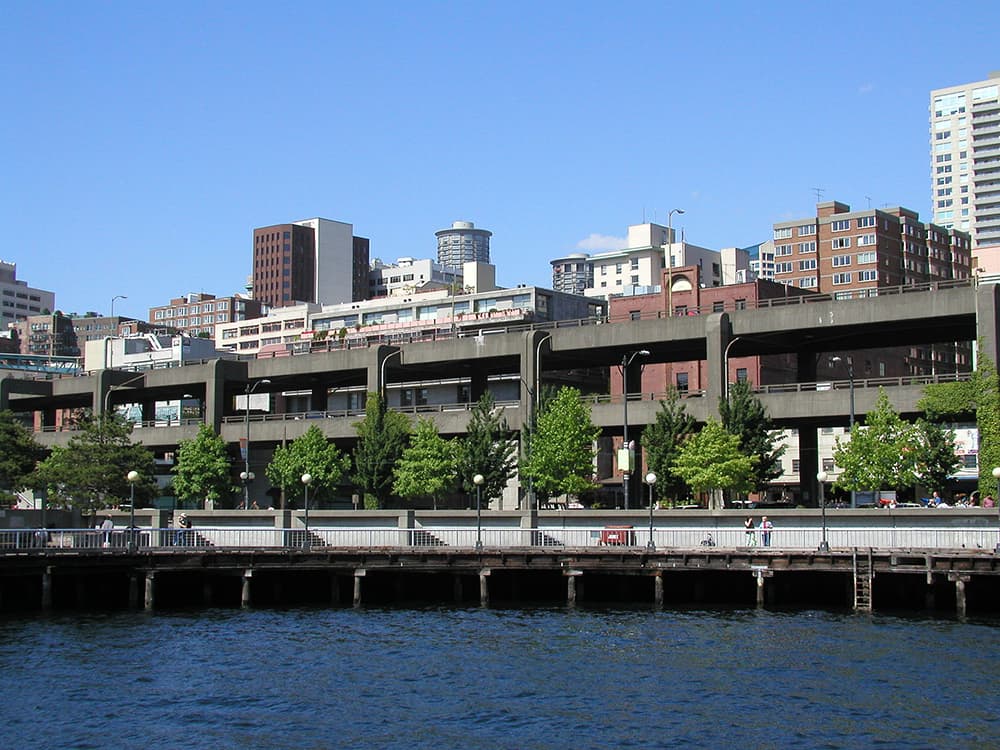 The Alaska Way Viaduct is three-lane, double-decker highway which carries about 110,000 vehicles a day. The reinforced concrete structure was originally built in 1953 and required some USD $14.5M in emergency repairs after the 2001 earthquake.

Officials from Seattle and the state of Washington have proposed a number of solutions over the years, including a cut-and-cover tunnel, a more seismically resistant elevated structure, and a hybrid solution which would include a smaller, double-decker bored tunnel combined with surface transit improvements in the city.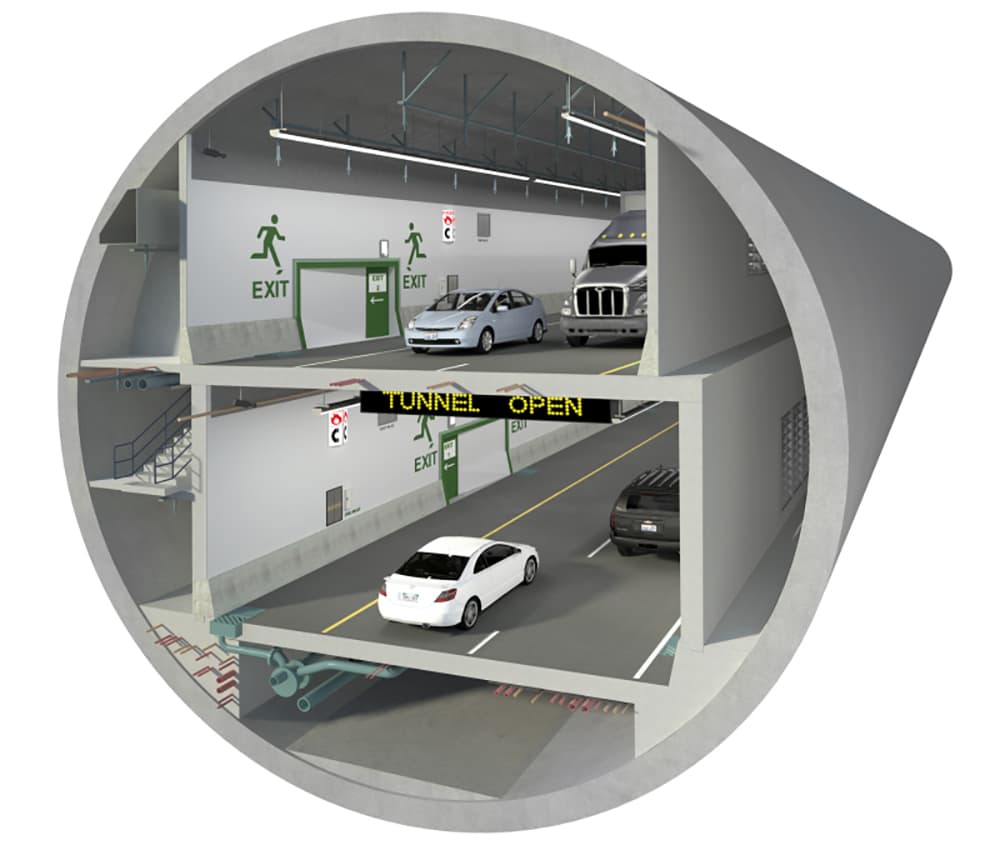 Above: A cross section of the new tunnel showing the stacking of two double carriageways inside (image courtesy of Hitachi Zosen).
Officials progressed with the tunnel option. Originally budgeted at USD $4.25BN and with a completion date of late 2015, the project employed the "world's largest boring machine" with a 57.5-foot (17.5 metre) diameter cutting head. The machine was affectionately nicknamed "Bertha" after Seattle's first and only female mayor, Bertha Knight Landes.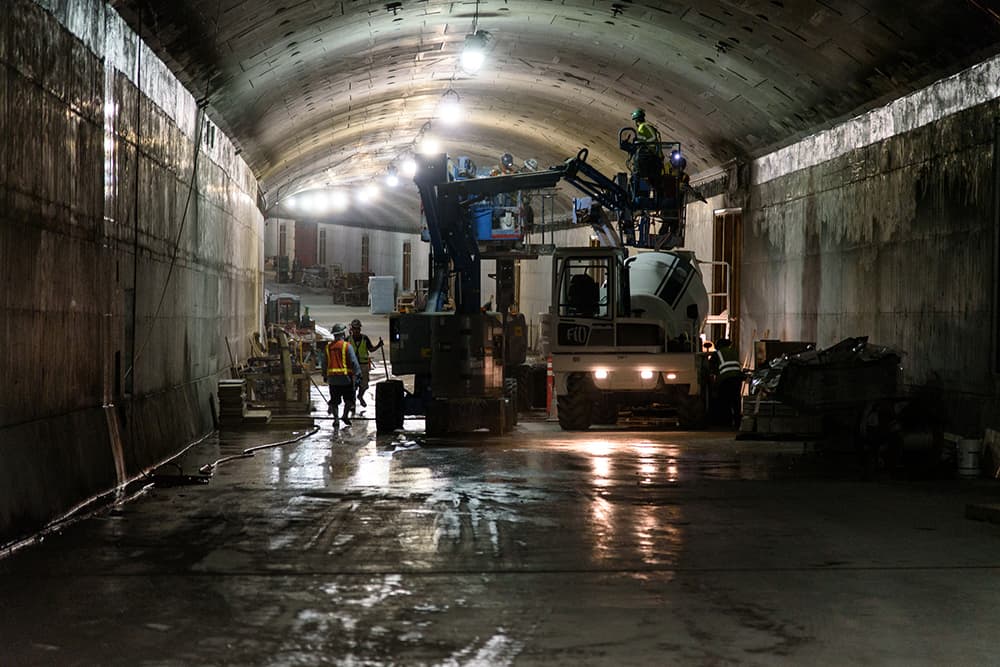 Above: Construction workers fitting out the upper deck of the tunnel (image courtesy of WSDOT).
Unfortunately, Bertha's cutting head became damaged soon after the works began, and a shaft had to be dug in order to repair the machine.
Further delays were then caused by the appearance of sinkholes in the tunnel's path. Nevertheless, the excavation process was successfully completed in April 2017.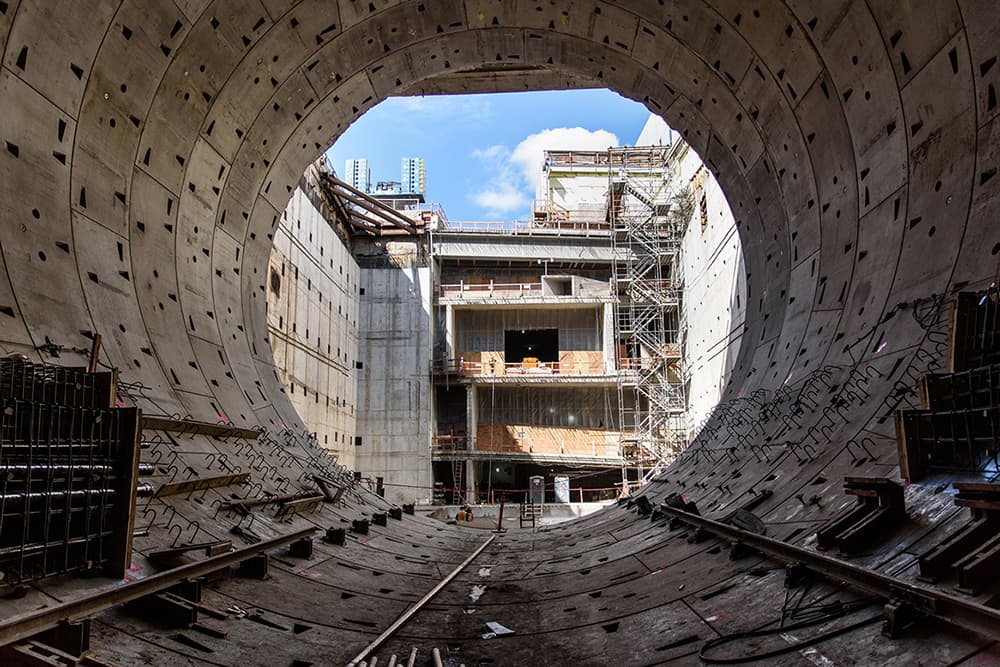 Above: The transition from bored to a cut and cover portion of the tunnel (image courtesy of WSDOT).
With the tunnel's main tube now complete, contractors have begun installing the road decks, safety exists and ventilation and sprinkler systems. If works continue smoothly, the tunnel looks set to open in the spring of 2019 (and at around USD $223M over budget).
Don't miss our exclusive interview with Andrew Wolstenholme OBE - the man leading London's vast Crossrail project.
Comments
---