TECH
Building the World's First Floating Offshore Wind Farm
Youtube Views

36,192

VIDEO VIEWS
THE WORLD'S first "offshore floating wind farm" has begun operating at Buchan Deep, 25km off the coast of Aberdeenshire in Scotland, UK.
Built by Norway's state-owned oil and energy company Statoil and UAE-based clean energy expert Masdar, the facility is producing 30 Megawatts of power, supplying approximately 20,000 homes.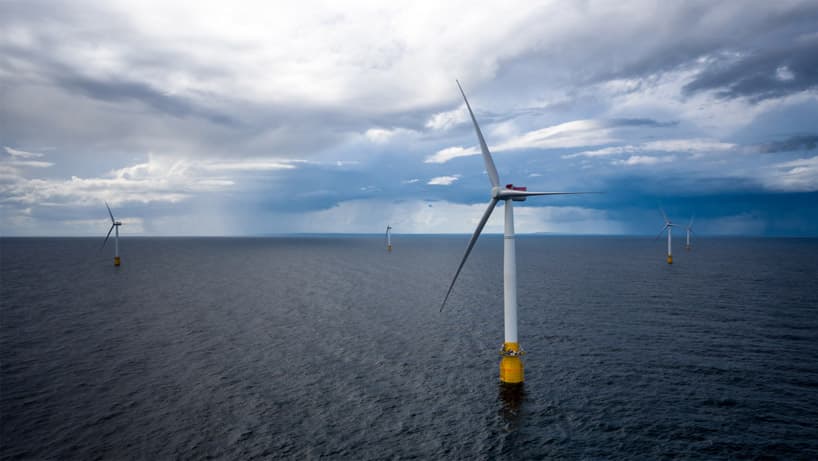 Above: Hywind Scotland is the world's first footing offshore wind farm (image courtesy of Statoil).
Called "Hywind Scotland", the project takes the technology first tested with a 2.3 Megawatt floating wind turbine in 2009, and scales it up to a park configuration with five 6-Megawatt turbines. The site covers around 4 square kilometers of sea.
While conventional offshore wind farms are only viable at depths of up to 50 metres (165 feet), floating turbines can be installed in waters as deep as 800 metres (2,624 feet). The turbines are not attached directly to the sea bed, but float on massive spar structures that are tethered to sea floor by three mooring lines.
Above and Below: The wind turbines are tethered to the sea bed in order to retain their stability under extreme weather conditions (images courtesy of Statoil).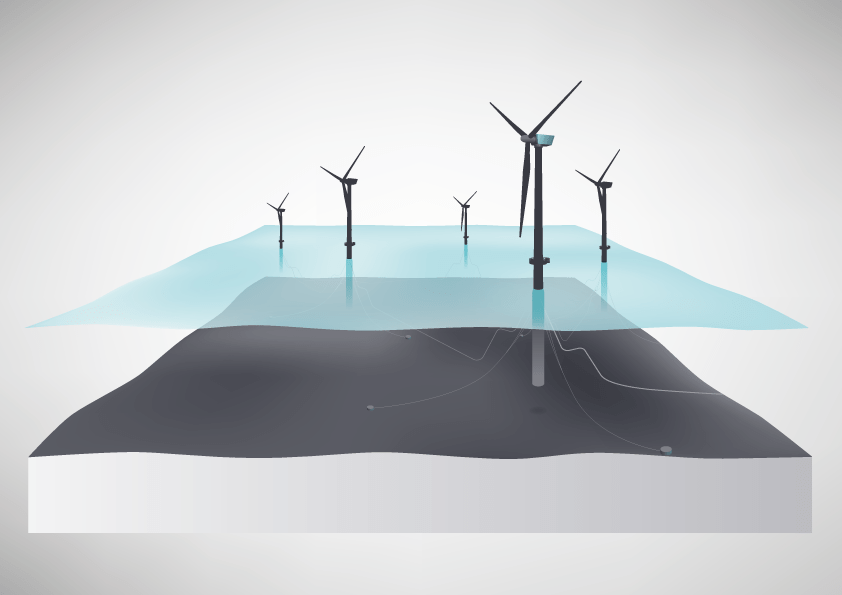 According to Masdar, the system is engineered to withstand winds of up to 90 miles per hour (40 meters/second) and waves up to 20 metres high.
In total, the giant wind turbines surpass both Big Ben and the Statue of Liberty in height, standing 253 metres tall (78 metres of which is submerged under water) and weighing in at a hefty 11,500 tonnes.
CONSTRUCTION
After manufacture, the vast turbines were assembled on land in Norway using large cranes while the enormous floating structures - distinguishable by their clear yellow colour - were towed over from Spain, laying horizontally in the water. These structures were then up-ended and ballasted (balanced) in the sea.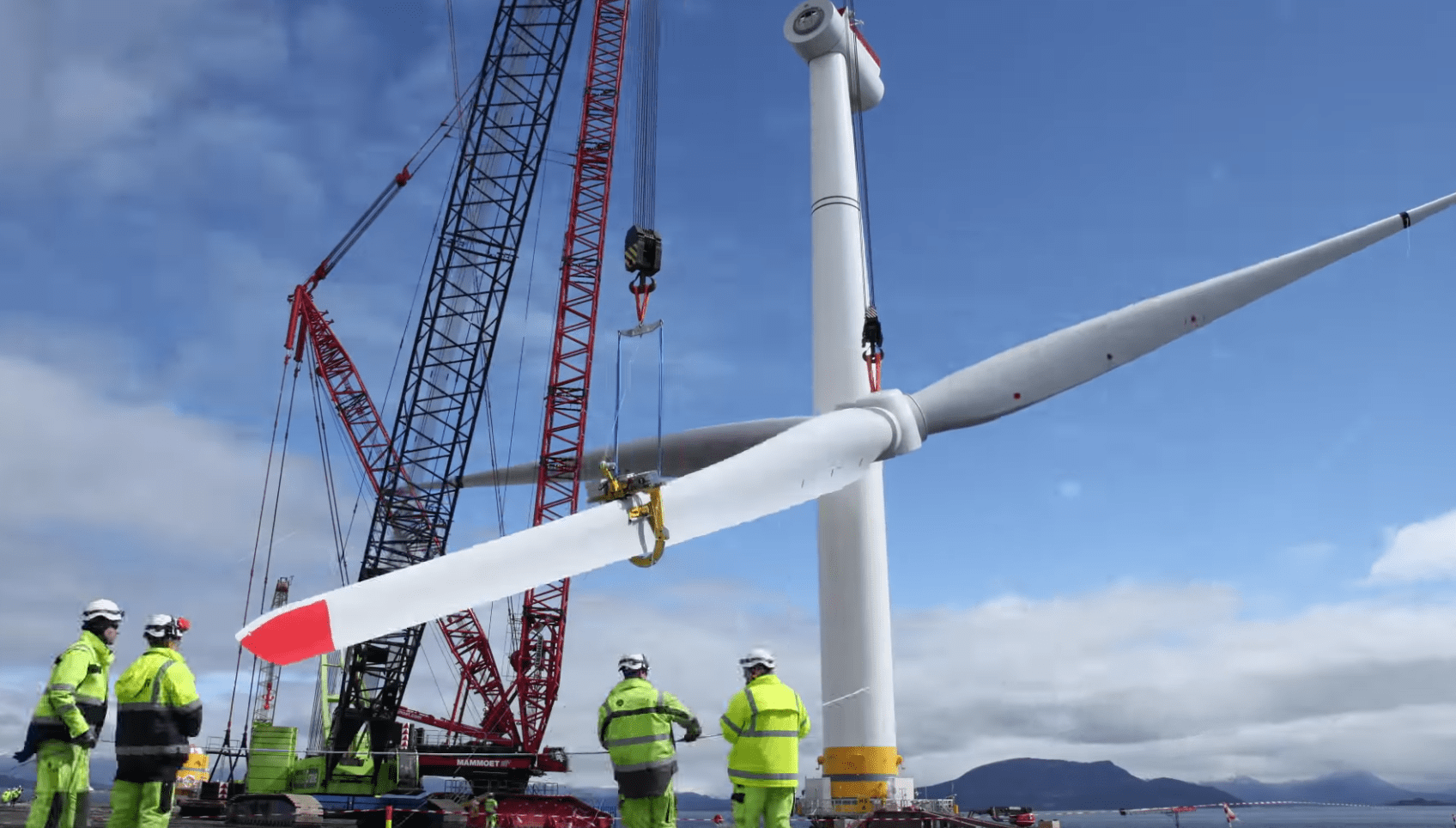 Above: The turbines being assembled on dry land in Norway. Below: The large floating structures were brought over from Spain in a horizontal position before being up-ended (images courtesy of Statoil).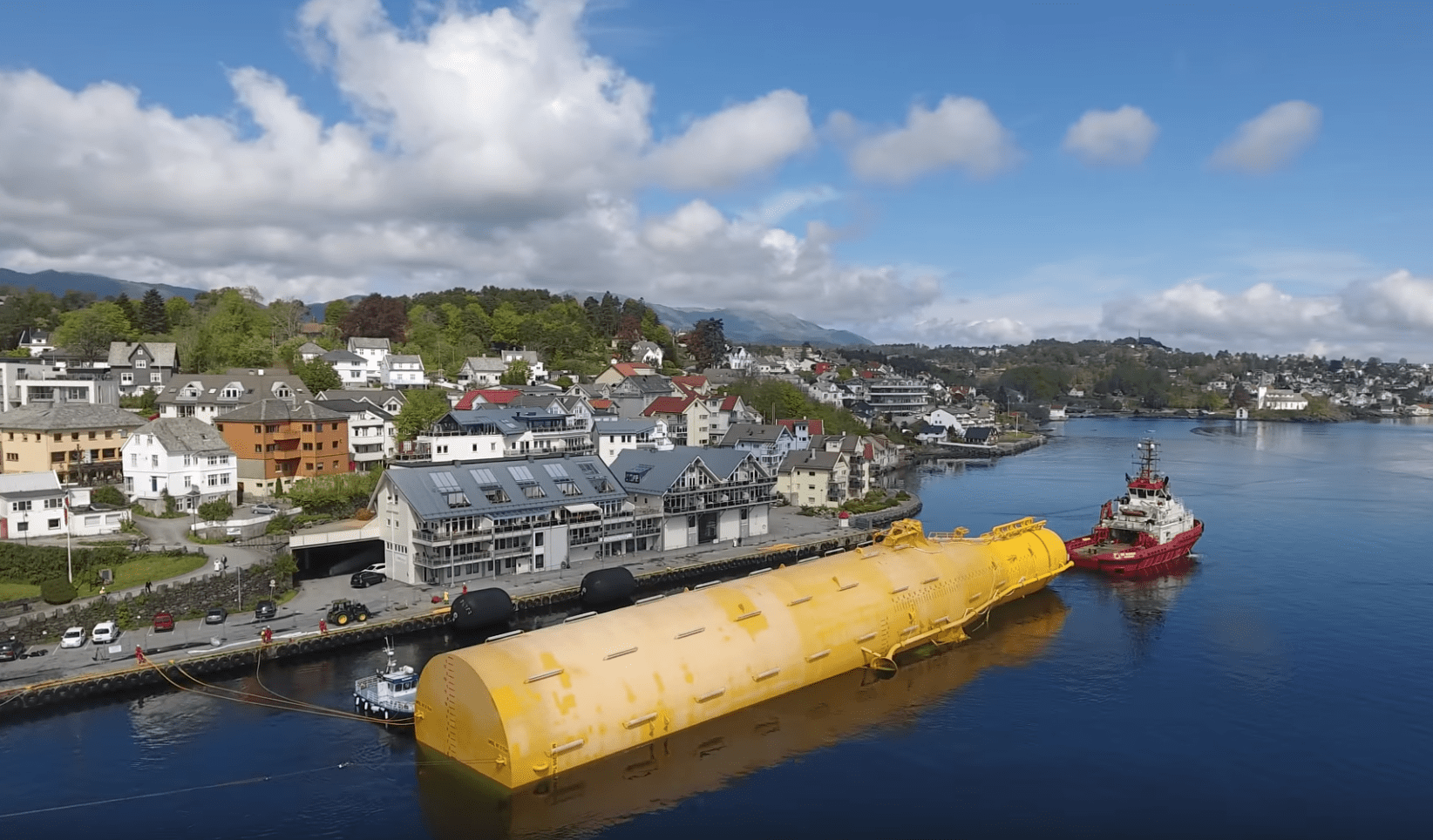 The turbines were then brought together with the floating support structures in waters near the Norwegian coast, lifted into place by large cranes aboard a floating rig. The completed structures were then towed across the North Sea to their positions near the Scottish coast.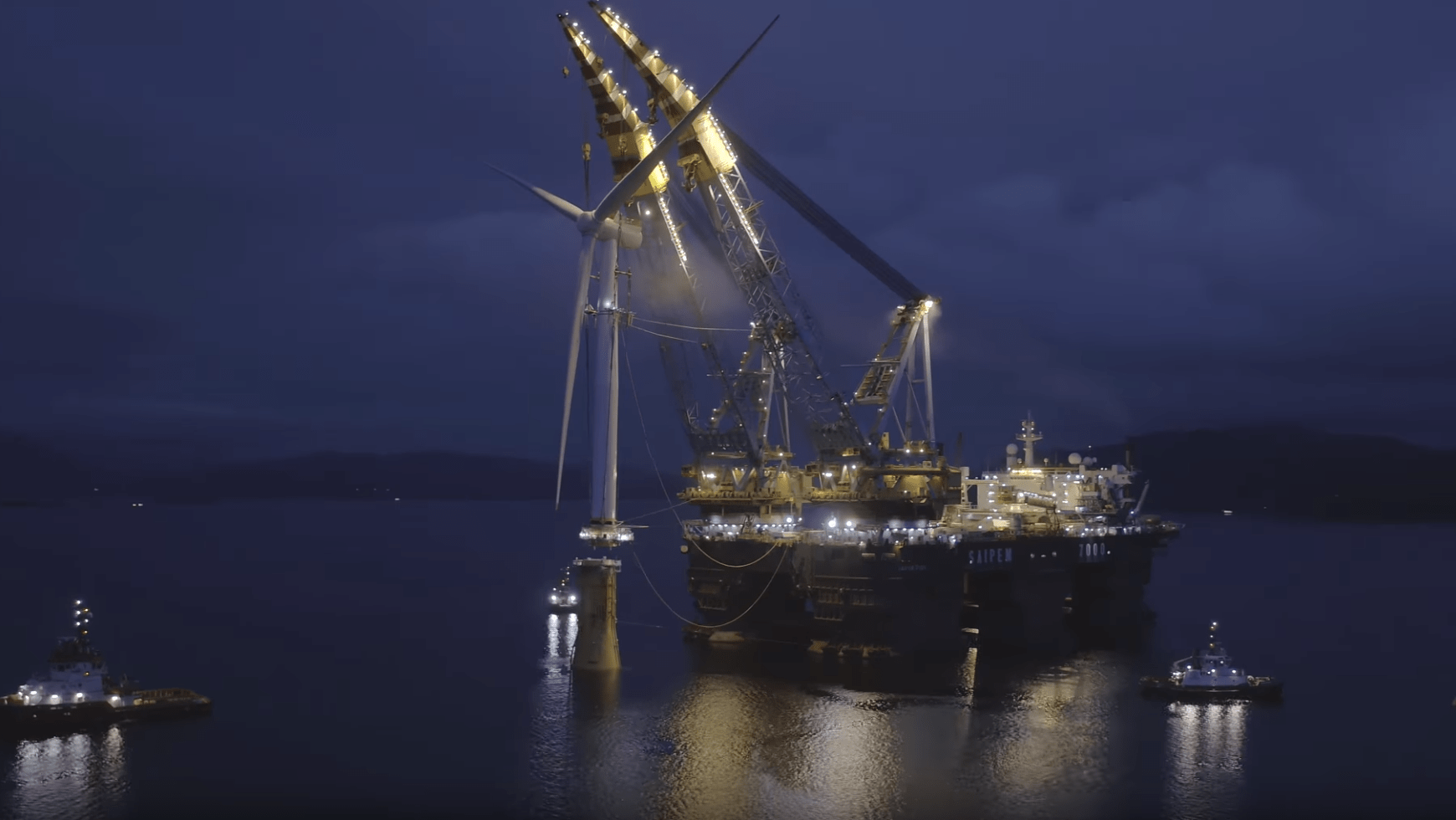 Above: A turbine being lifted into place atop one of the floating yellow support structures in Norway. Below: After assembly, the turbines were towed to Scotland (images courtesy of Statoil).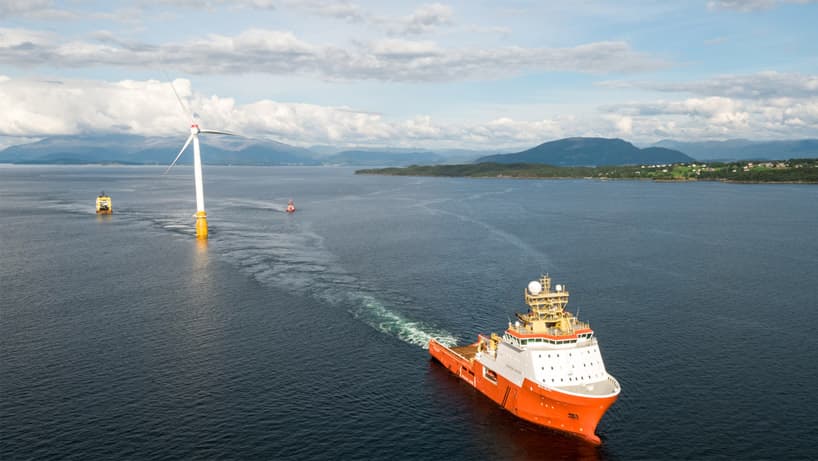 The video at the top of the page gives a fantastic insight into the construction and assembly process.
Although the new wind farm achieved a 60 percent cost reduction per megawatt from the initial demo in Norway, the £200M project still reportedly received a "generous subsidy" from the Scottish government. Of course, it is expected that wider adoption of this technology will lead to a reduction in building costs in the future as manufacturing is scaled and as the market matures.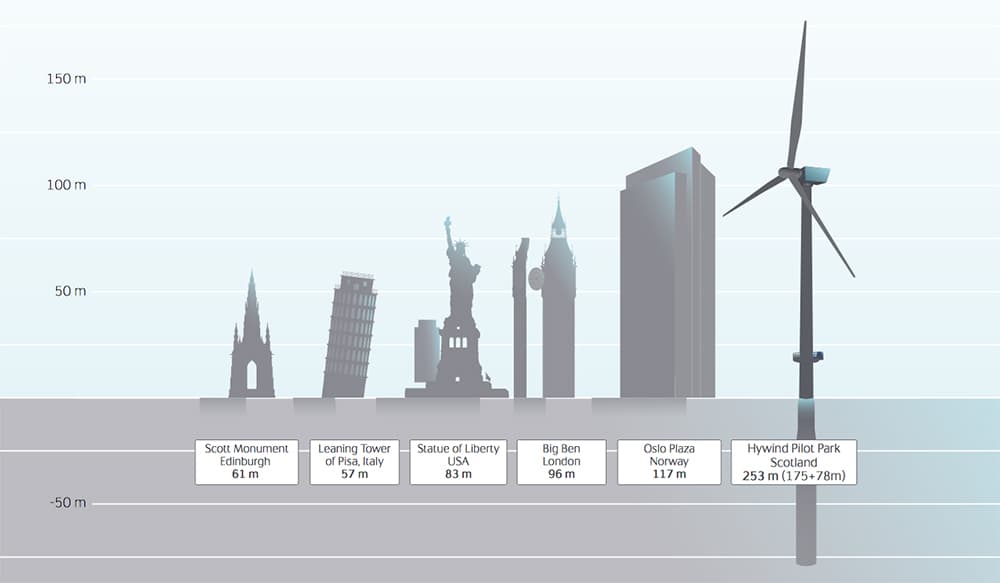 Above: The size of a Hywind turbine as compared to some of the world's key landmarks (image courtesy of Statoil).
Other floating wind farms are currently in development in Scotland with planned sites at both Kincardine and Dounreay Tri, while Portugal is also developing a wind farm on its Atlantic coast.
Statoil experts estimate that Europe's floating wind energy potential is around 4,000 Gigawatts.
How do floating wind farms stay upright?
Love videos on construction technology advancements? Watch more here.
Comments
---