Cities
Building London's Multi-Faceted Skyscraper
Youtube Views

260,379

VIDEO VIEWS
ONCE a series of derelict East London docklands, the thriving Canary Wharf is now home to skyscrapers like One Park Drive.

Positioned to the east of Canary Wharf and rising to over 200 metres in height, the striking tower is the centrepiece of Wood Wharf – an entire new district being constructed on land reclaimed from the Thames.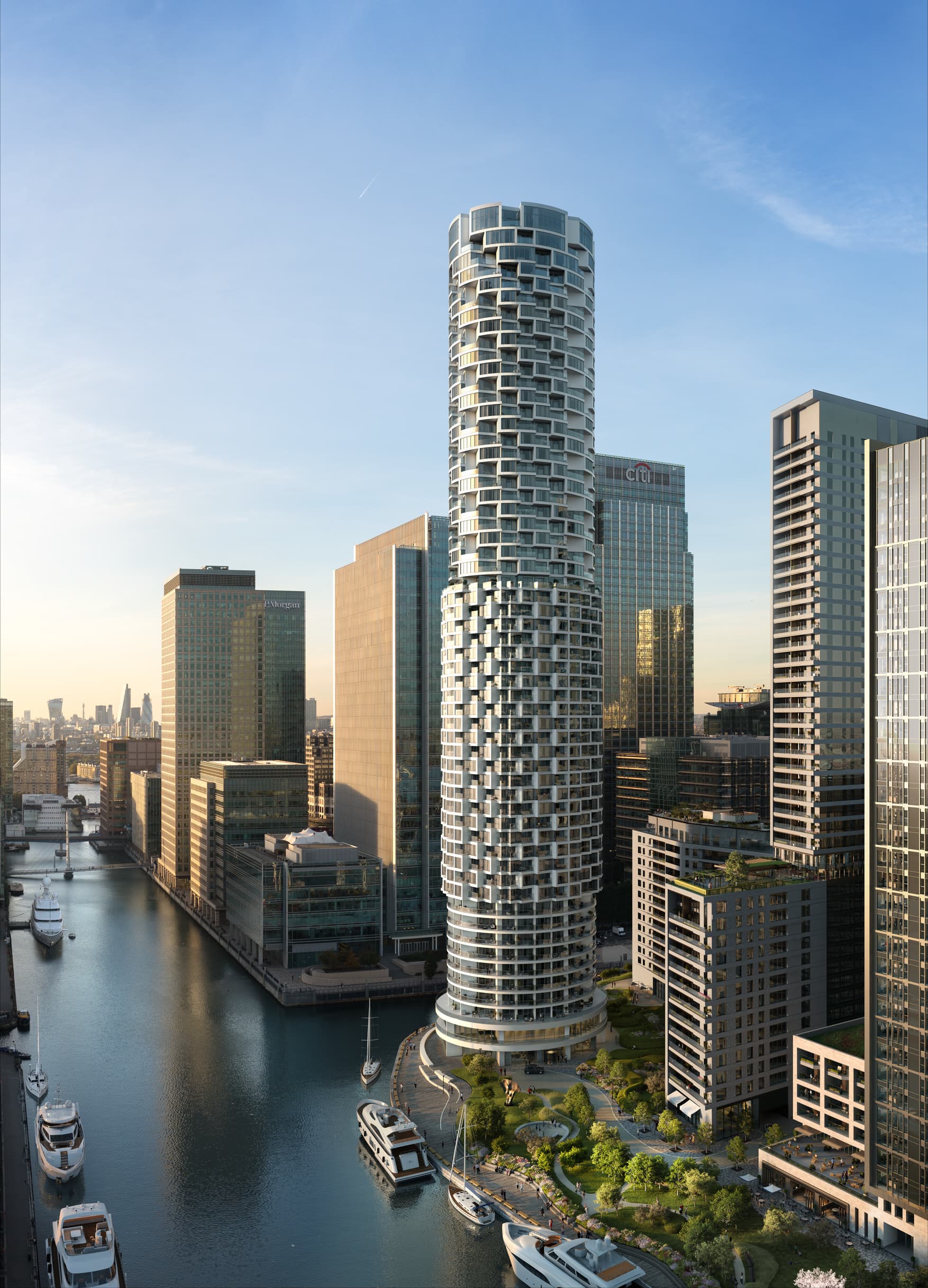 Above: One Park Drive is the centrepiece of the new Wood Wharf district. Image courtesy of Canary Wharf Group.
London's Canary Wharf has changed dramatically over the last 30 years. Sitting as a disused dockland in the 1980s, continued investment has completely transformed it, and it now stands as one of the city's most vibrant districts.
From the completion of One Canada Square in 1990 – then the UK's tallest building – Canary Wharf has steadily expanded over the past three decades.
While many recognise the City of London as the UK's economic hub, it was in fact the growth and success of Canary Wharf in conjunction that helped to make London the global financial centre it is today.
While the district continues to attract businesses and commercial talent from around the world, demand for space in the area is increasing and changing cultures require its appeal to continually evolve and improve.
In response, Canary Wharf Group – who own and operate the estate – are investing in the creation of a vast new neighbourhood. Wood Wharf adds a significant new element of fabric to the UK's capital.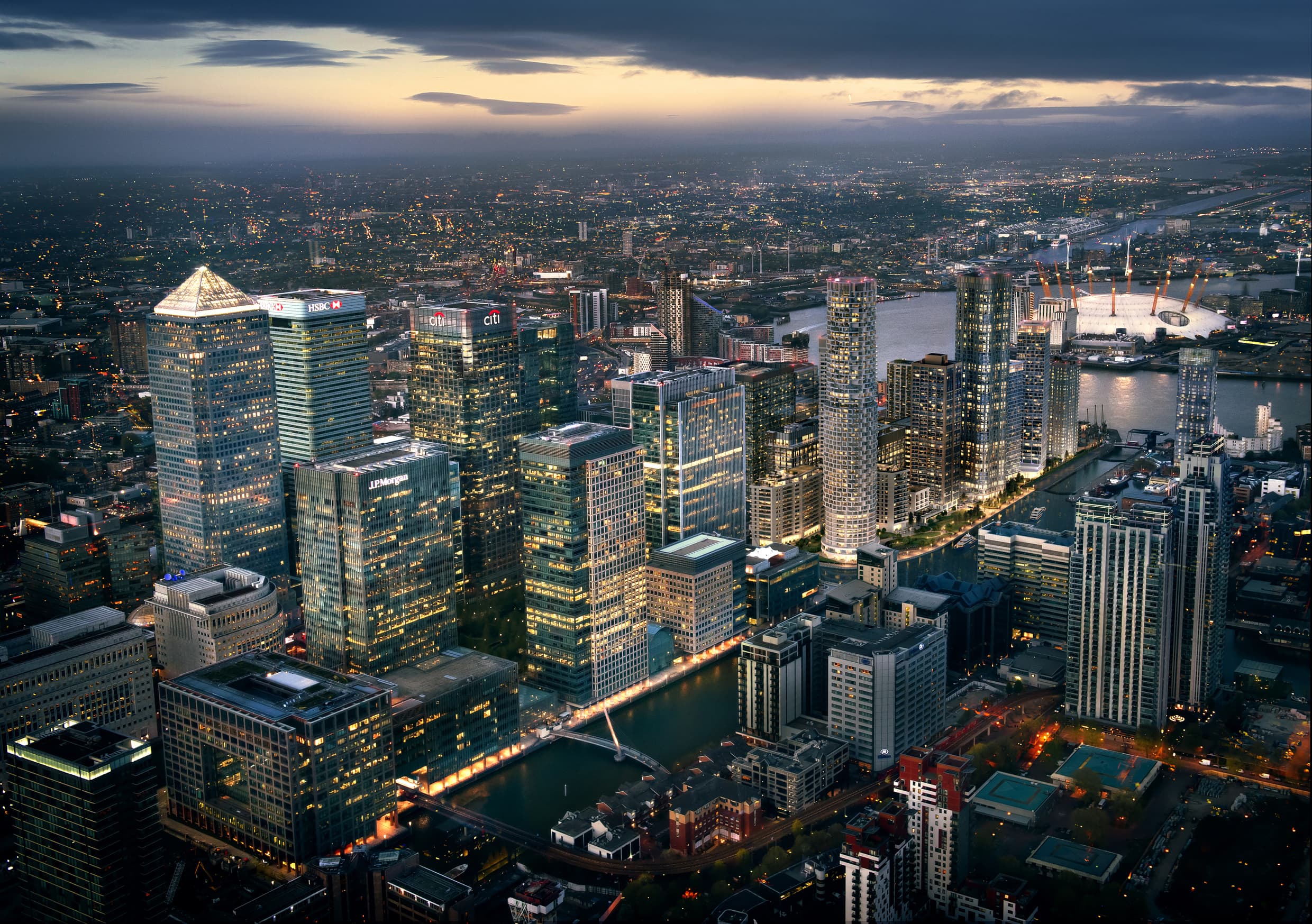 Above: Wood Wharf will become a residential and mixed-use neighbourhood within the wider Canary Wharf district. Image courtesy of Canary Wharf Group.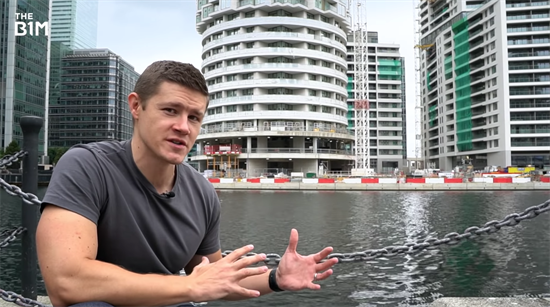 Above: The B1M's Fred Mills on site at One Park Drive.
The decade-long development, which commenced in 2015, is set to deliver up to 3,600 new homes, 2.8 million square feet of office accommodation and up to 490,000 square feet of retail space alongside a GP surgery and a two-form entry primary school. There's also extensive new public space - with over eight acres of new squares and parks being formed.
One Park Drive is the centre-piece of this new district. Designed by Swiss architects Herzog and de Meuron, the cylindrical tower will rise to a height of 58 storeys and become one of the tallest residential skyscrapers in the UK.
While many luxury residential towers in major cities are notable for their height, One Park Drive uses its 215-metre profile to express the range of apartment types that it contains.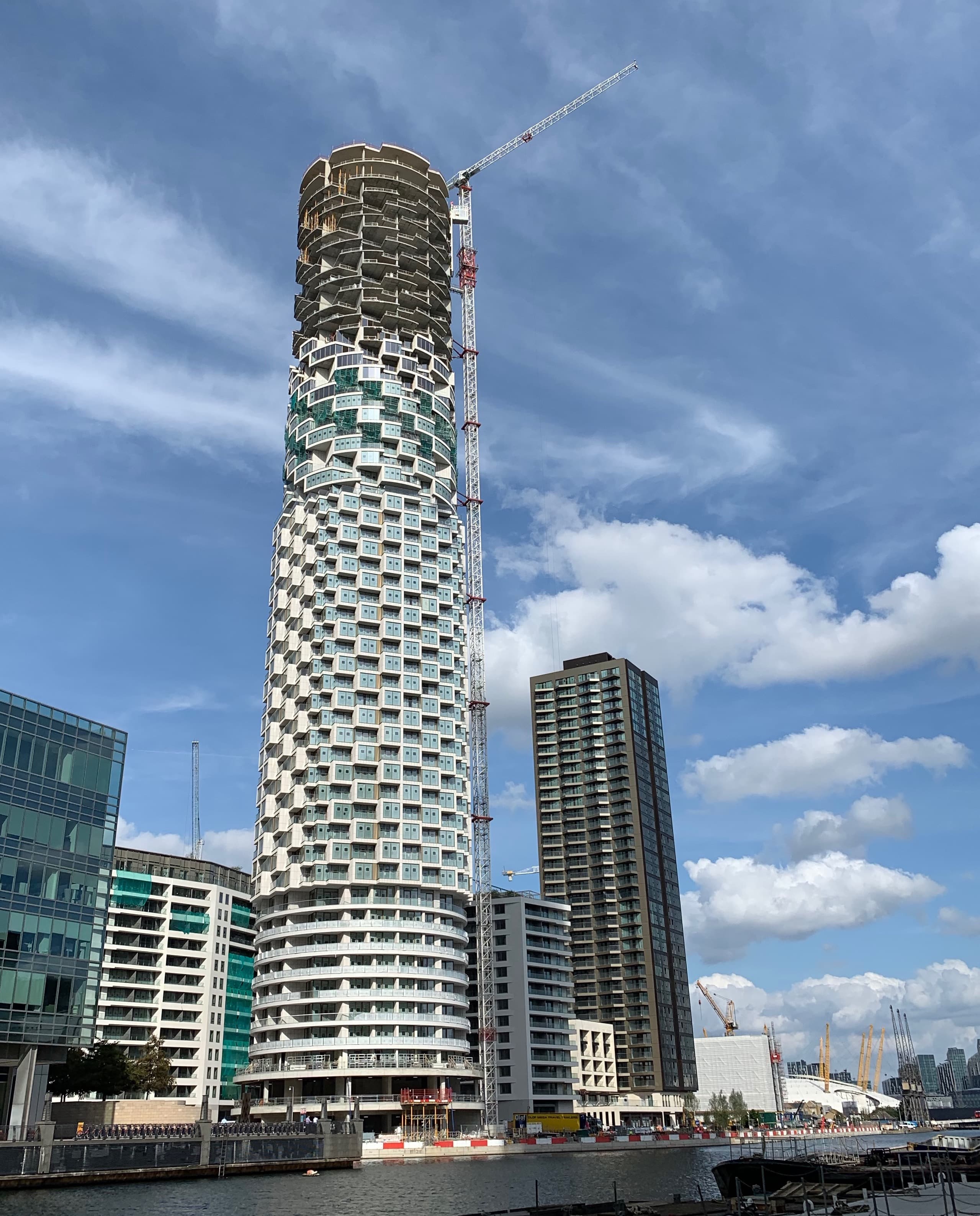 Above: One Park Drive's alternating facade is a reflection of the apartment types available in the building. Image courtesy of Dan Cortese.
The structure's façade is broken up into three distinct elements. While the lower levels offer loft-style apartments with large wrap-around terraces, the middle section is pixelated to create private balconies for every residence while maximising light and views of the surrounding waterways.
Herzog and de Meuron employed a similar design feature in the upper levels of their 56 Leonard tower in New York.
The upper section of One Park Drive takes things a step further, offsetting each floor to the one below to create large, double-height terraces with sweeping views across London.
RISING FROM THE RIVER
While some of the new Wood Wharf district is being built on the former dockland, One Park Drive – one of London's tallest new structures – is actually being built on land that has been reclaimed from the south dock, essentially on a site that used to be water.
In 2016, sheet piling was driven into the river bed to form a lagoon in the dock. Then, material from the Isle of Wight was transported to London and pumped into the lagoon.
The process of establishing this new area of land within the river required over 57 million litres of water to be pumped from the lagoon back over into the dock – a process that took more than a week to complete.
Above: Land being reclaimed in 2016 to create the area that would become Wood Wharf. Image courtesy of Canary Wharf Group.
While building in new districts often helps to avoid many of the challenges that come with inner-city development, One Park Drive faced a number of challenges in its construction phase.
Rising alongside 12 other new structures in phase one of the Wood Wharf masterplan – some of which stand over 40 storeys tall themselves – construction teams have invested heavily in advanced logistics, planning and sequencing, and have worked to maximise communication between the different project sites.
Having successfully navigated these logistical challenges, the end result will be a new city district that is likely to feel like a cohesive community much faster than if works had continued across multiple projects over an extended period of time.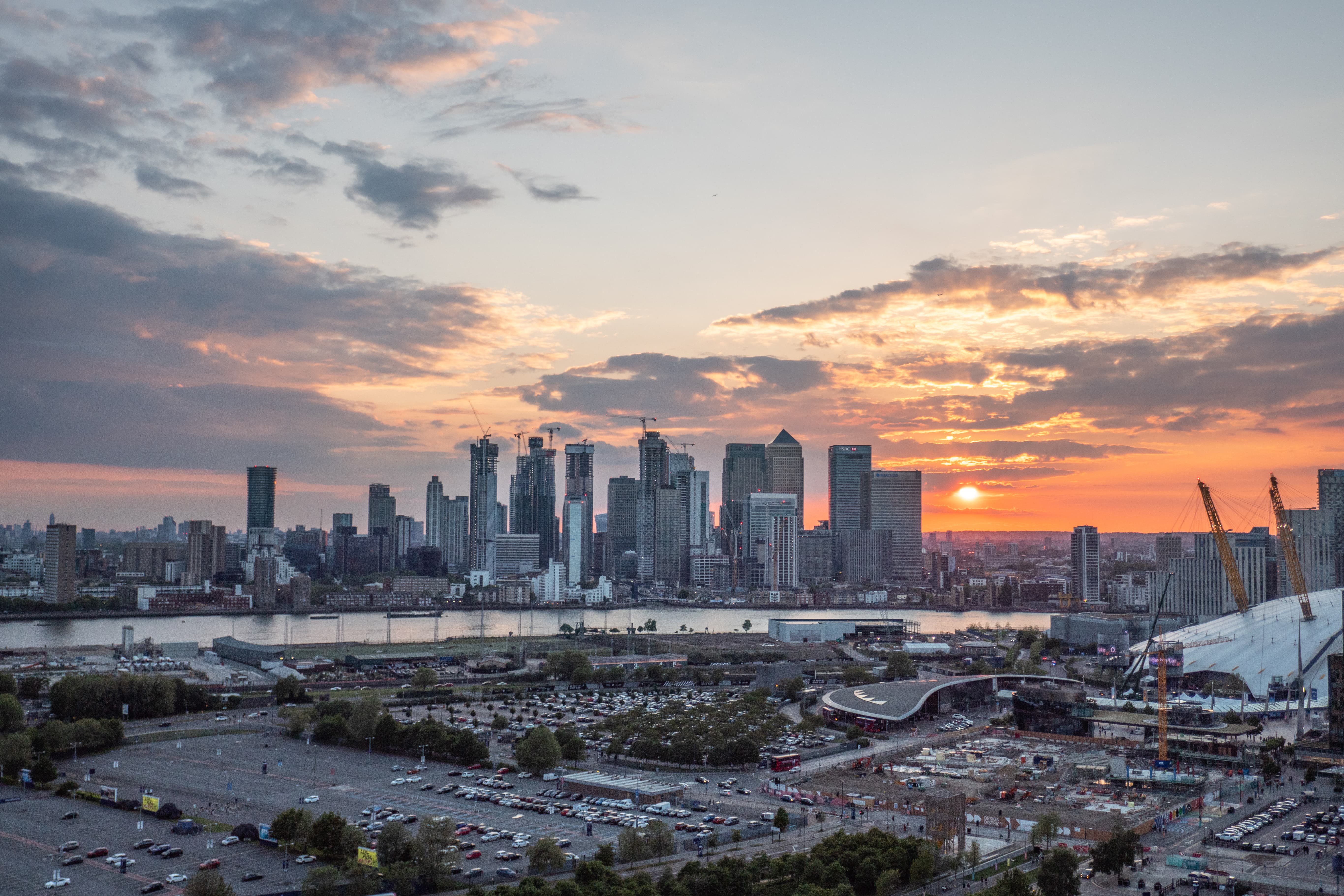 Above: The Canary Wharf skyline has grown significantly as Wood Wharf has progressed. Image courtesy of Rupert Sliwa.
When it completes at the end of 2019, the residents of One Park Drive will be able to enjoy a range of amenities including a pool, library, private lounge and cinema.
Rising from a newly formed site, One Park Drive is set to make a notable mark on the skyline and start the next chapter in the remarkable history of London's docklands – an impressive centre-piece, to a compelling new neighbourhood, in one of the world's greatest cities.
Footage and images courtesy of Google Earth, Canary Wharf Group, Rupert Sliwa, Dan Cortese, The Dronalist and Studio Oran O'Reilly.
Comments
---