Cities
The Mystery of Dubai's Frozen Ferris Wheel
Youtube Views

1,103,667

VIDEO VIEWS
Video hosted by Fred Mills. This video contains paid promotion for Brilliant.
IN late 2021, Dubai unveiled the world's largest observation wheel. Called Ain Dubai, it was the latest in a series of projects here designed to go bigger, taller or deeper than anywhere else on Earth — in this case by a considerable margin.
Almost twice the size of the London Eye, the colossal structure was finally unveiled to much fanfare and fireworks. Dubai had done it again.
But after just a few months, Ain Dubai suddenly closed. Few details were given, other than it was undergoing "enhancement works" and would be running again in a matter of weeks.
However, more than a year has passed since then and it still hasn't reopened. What's more, big questions are now being asked about when — or even if — we'll see it moving again.
So, is Ain Dubai really just getting some very serious upgrades, or could the world's record-breaking ferris wheel be … broken?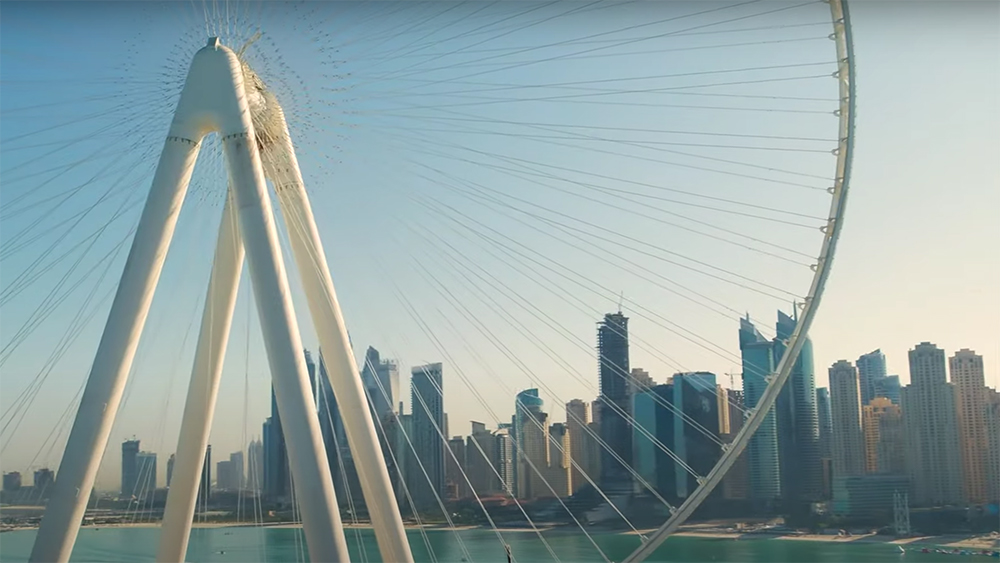 Above: Ain Dubai took six years to build.
Bluewaters Island is one of several new land masses added to the coastline of Dubai, built using land reclamation. It's home to high-end residences, restaurants, shops, a hotel …
Oh, and a 250-metre-high observation wheel that absolutely dominates everything else around it.
But you could be forgiven for not taking much notice of this immense structure, despite its size, if you were to visit now.
Why? Because it's been out of action for over a year, and when it's supposed to be a major draw for tourists, that's not ideal.
Before we delve any deeper, what makes this more than a simple fairground ride on steroids? Well, it's not just a really big ferris wheel. Over 11,000 tonnes of steel were needed for the construction, and it was designed to carry 1,750 people at a time across its 48 passenger cabins.
Each leg is 126 metres long and the spoke cables contain hundreds of 9mm-thick wires, which would span 2,400km if they were laid end to end. That's the rough distance between Dubai and Cairo.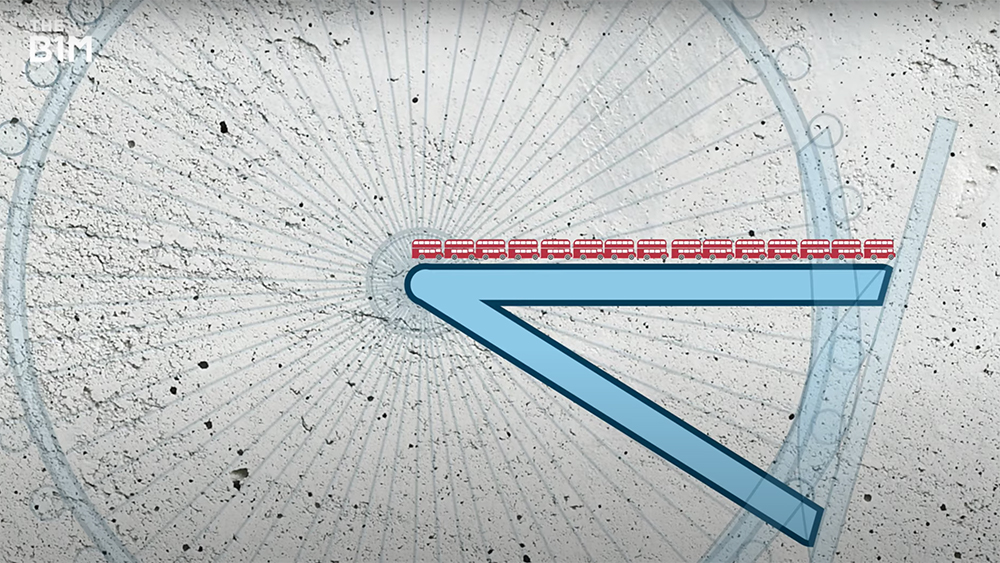 Above: The legs are as long as 15 London buses.
They all radiate outwards from the hub and spindle, a sort of central axle fitted with bearings.
On a lot of big wheels there are roller bearings made from steel — like on the London Eye — but Ain Dubai instead has sliding plain bearings made from a composite material.
In the words of the company that made them, "they needed to be inspectable, replaceable, durable, cost efficient, maintenance free and absolutely fail safe."
Just the hub and spindle alone is 40 metres long and 20 metres high, and comes in at over 1,800 tonnes.
Overall, it's a lot of weight, which is why the whole structure sits on 35-metre piles. The wheel was designed to withstand massive earthquakes and 100-mile-per-hour storms, too.
Building it took some time — more than half a decade — although it was supposed to complete quicker. Delays scuppered the original 2019 finish date, so it was pushed back to late 2020.
COVID-19 put a stop to these plans as well though, meaning it wasn't until October 2021 that Dubai Holding, which owns the structure, could finally welcome the first passengers.
For several months after launch, all seemed well. Hundreds of thousands of visitors took the 38-minute ride, there would have been countless selfies and Instagram stories, and the island itself became a hive of activity. But it wasn't to last.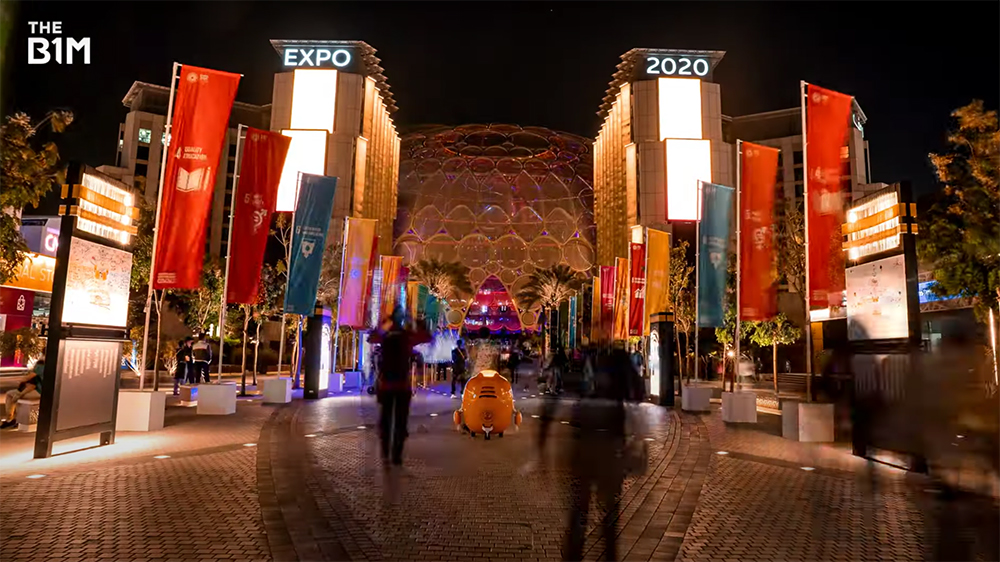 Above: The attraction opened during the delayed Dubai Expo.
Fast forward to March 2022 and everything changed. The attraction was abruptly shut down, and the explanation given wasn't what you'd call detailed.
There was only a statement on the Ain Dubai website saying it has closed "for periodic enhancements" and it was planned to reopen at the end of Ramadan. A bit strange, but not a huge deal because that was only a couple of months away.
And yet, just a few weeks later, Ain Dubai announced on that it will remain closed for the duration of the summer, which then became Q1 2023 — again, without any real specifics.
When this deadline had passed and the wheel still hadn't moved, an update appeared on the site, which said:
"Ain Dubai remains closed until further notice as we continue to rigorously work on completing the enhancement works that have been taking place over the past months. Once a reopening date is set, a further announcement will be made."
Today, another 18 months have been and gone with no extra news, and attempts to get more information out of Ain Dubai have failed.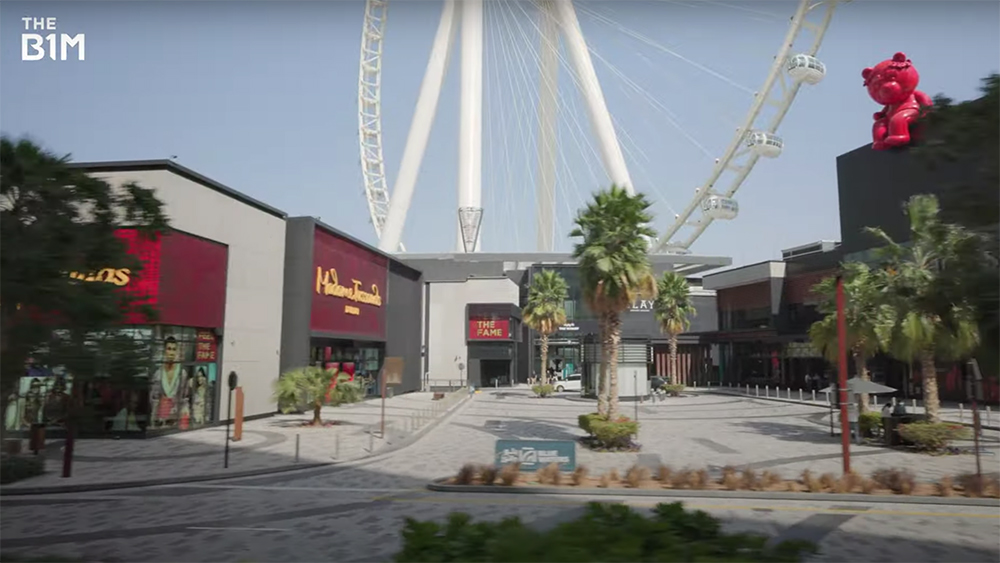 Above: Bluewaters Island is reportedly quieter than in early 2022, when the main landmark was in full swing.
The big question, then, is what could have happened? Well, it's difficult to say when we've had no official word, and even people with links to the project won't speak publicly.
Despite this, recent reports have seen anonymous sources from the area offer some pretty shocking theories.
Local residents say they heard the structure vibrating loudly and that it shook the ground when it turned, according to a Washington Post article from July 2023.
Another unnamed person told the Washington Post "some from the building management say something broke inside the main axle mechanism, and others say it is sinking."
"I've heard hotel managers in the beach area facing the wheel say they're calculating risk and damage estimates for the possibility that it falls."
Although many of these claims are new, rumours about alleged design flaws that may have contributed to those earlier delays have been around for years.
A CNN story published in 2021 just before Ain Dubai opened mentioned "seized bearings that needed to be replaced to sound issues with the cabins."
These issues were denied at the time by a spokesperson for the lead consultant and architect of record, who said: "I've not heard one rumour that is actually based on any fact. I've heard rumours that the foundations were sinking, for example."
"The Ain Dubai is the safest place to be in Dubai."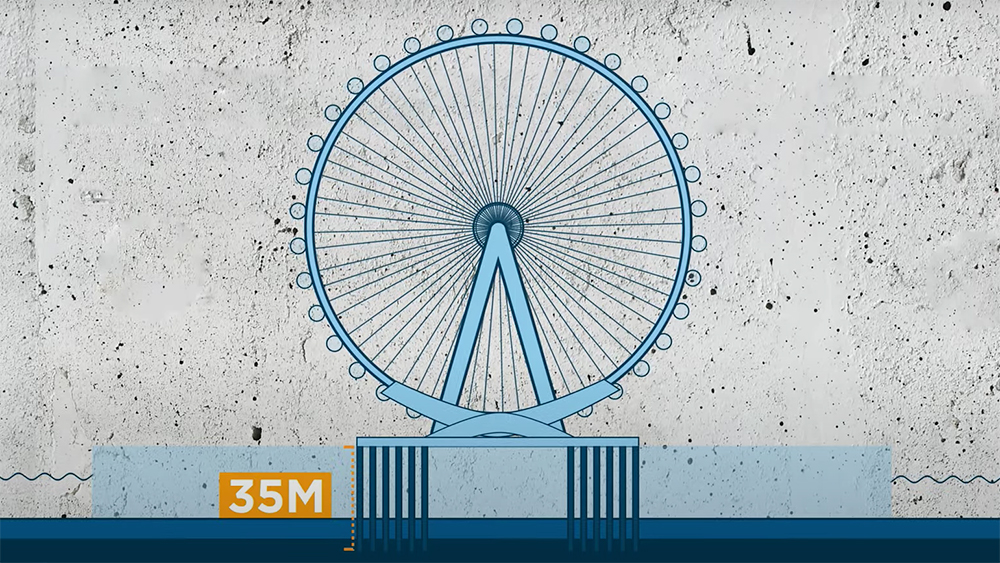 Above: The wheel's foundations extend all the way through to the bedrock.
The B1M reached out to several of the companies that worked on the project, including Hyundai Engineering & Construction, Mace, Starneth, TÜV SÜD and WSP, as well as the media team for Ain Dubai, to get some official comment on the situation.
We either received no response, or were told they were under a non-disclosure agreement and couldn't comment.
So for now, the wait for definitive news on the future of this incredible structure continues.
One day, the world will know what's gone on at Ain Dubai, but until then it will remain one of construction's biggest mysteries.

When first unveiled, Ain Dubai offered further proof of the city's ability to build bigger than anywhere else. The work that went into making this enormous wheel operational — even temporarily — is remarkable.
But whether it reopens again or not, the structure is perhaps a sign that breaking new ground in construction does have its limits — even in Dubai.
According to a director for one of the construction companies midway through the build, "the sheer size of the Dubai Wheel means we are pushing the boundaries of engineering design."
Could it be that on this occasion, Dubai pushed them too far?
This video contains paid promotion for Brilliant. Head to brilliant.org/TheB1M/ for a 30-day free trial and the first 200 people will receive 20% off their annual subscription.
Video narrated by Fred Mills. Additional footage and images courtesy of Propsearch.ae/CC BY-NC 4.0, Ashgar Syed, Brian Snelson, Deep Dive Dubai, UAE tv and Yash Rao.
We welcome you sharing our content to inspire others, but please be nice and play by our rules.
Comments
---