NORTH AMERICA
A Stadium Fit for the SuperBowl
Youtube Views

VIDEO VIEWS
AN amalgamation of hundreds of thousands of 3D images, dramatic music and a jewel in the crown of American sporting architecture - that's right, it is time for another EarthCam time-lapse video!
What makes this clip really unique is that it not only showcases a construction, but also a demolition and stunning pictures of the stadium in use. It is fair to say that the people of Minnesota are pleased with this fantastic new facility.
We're in Minneapolis for a look at some supreme architecture and are honing in on the brilliance that is the U.S. Bank Stadium, home to the Minnesota Vikings NFL team. Now this author in particular has yet to focus on a sports venue, and what a way to start than with this masterpiece with a brilliant set of stunning facades, an eye-catching roof and that vibrant purple colour scheme that the Purple One himself, and Minneapolis' own Prince would have loved. Tidbit: Prince was in talks to perform at the new stadium before his untimely passing.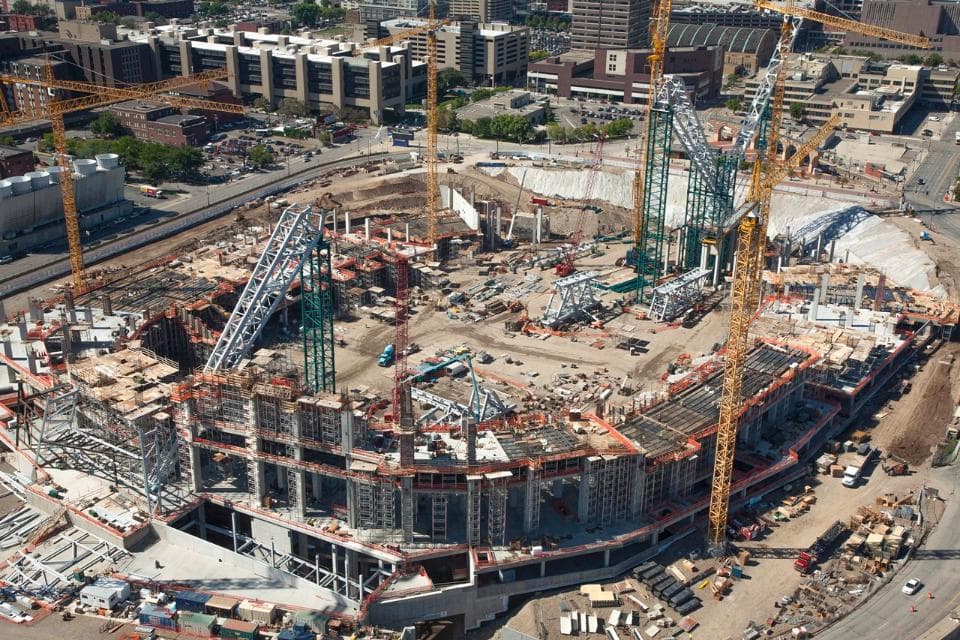 Above: The billion dollar venue was quite the project (image courtesy of Vikings) Below: Work gets underway on the stunning new arena (image courtesy of Vikings Panorama).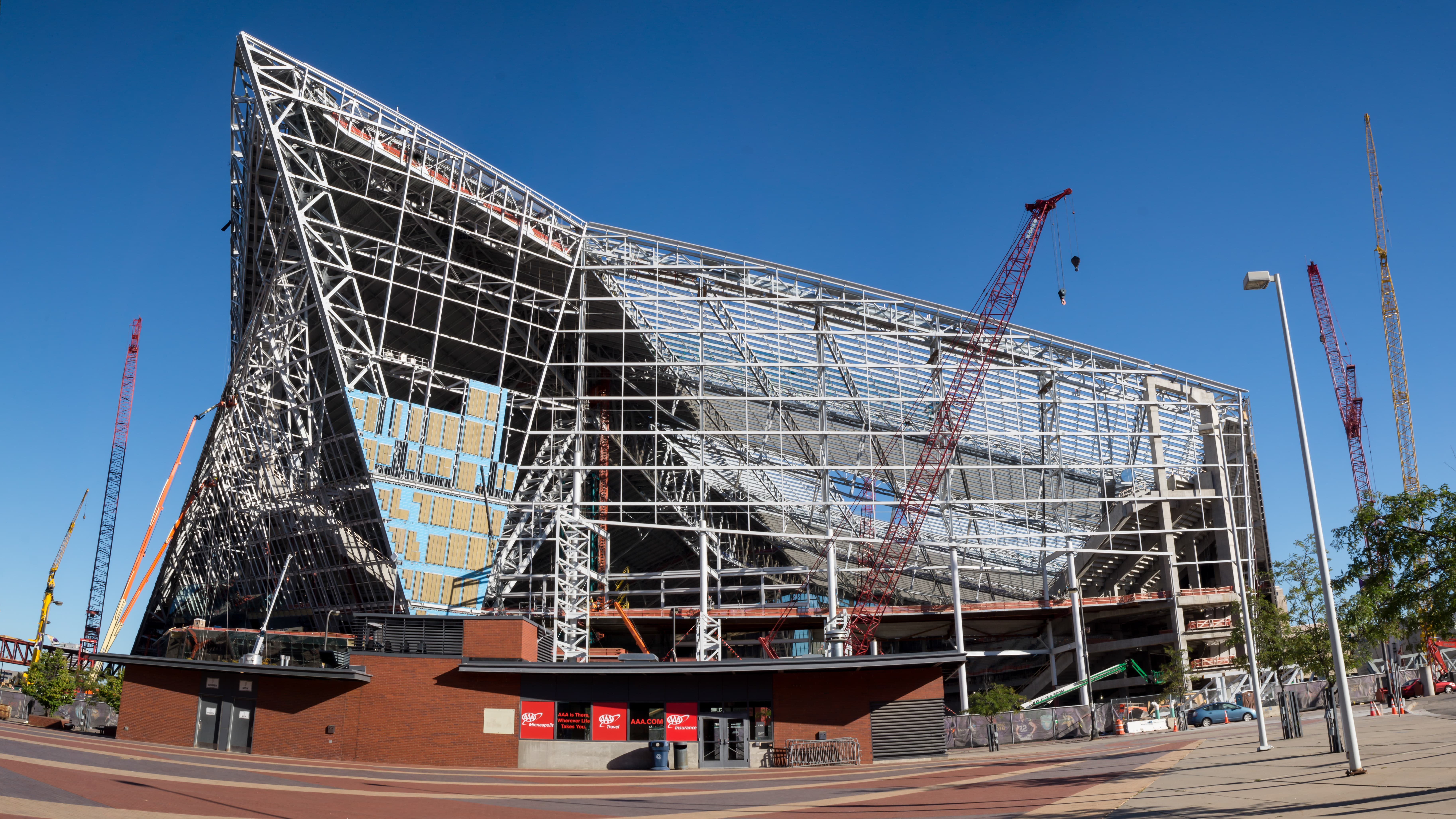 So what was the site before the U.S. Bank Stadium made it home? That would be the iconic Metrodome; a multi-discipline facility that served baseball and football teams for 30+ years. The time-lapse visual here starts with the Metrodome's demolition. Whilst it's sad to see an important piece of what makes up the Minneapolis jigsaw perish, it is hard not to conclude that it was the right decision given the imposing, glimmering structure that stands today.

Within the video, pay close attention to the captivating shots of the roof being laid into place and the breath-taking footage of both sporting and music events being played. The Minnesota Vikings played their first game of the season at their new home on September 18 2016; an event captured in the time-lapse.
Also shown is a gig played by country artist Luke Bryan, and rock gods Metallica, big names in music to coincide with the triumphant opening.
Let's talk specifications. The U.S. Bank Stadium cost USD $1.061 BN in all to develop, and is a whopping 1.75 million square feet in size; twice as big as its predecessor, and clearly more attractive. Gone are the greys and beiges and instead, a plethora of glass and ETFE plastic is paired with mirrored and sleek black facades.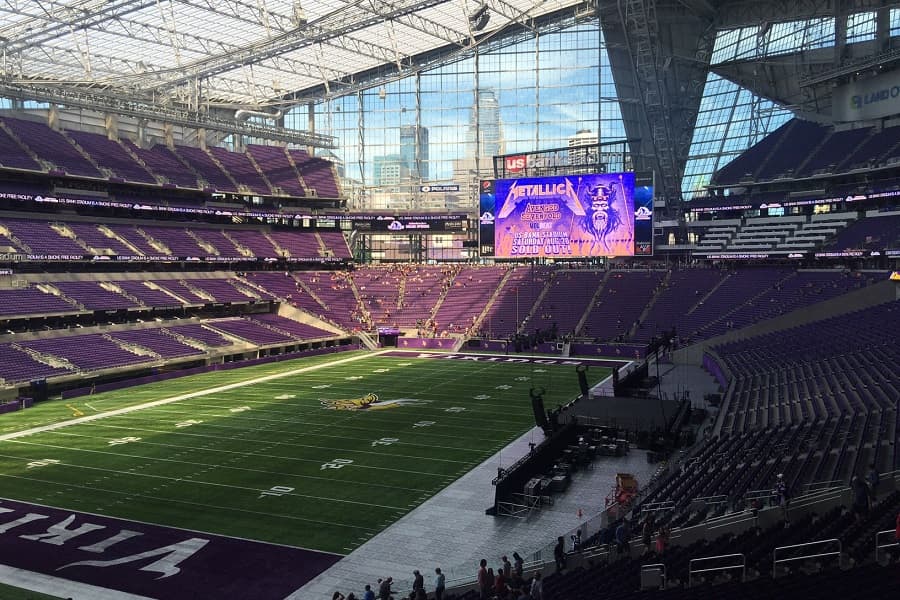 Above: The Minneapolis skyline can be seen from the arena (image courtesy of Vikings Journal).
The HKS.Inc-designed stadium features the largest glass roof in North America, spanning 240,000 square feet. Not only does that create a transparent effect with natural light pouring in, there's also a slant, which is super cool of course – who doesn't like a good slant?! The ascending roof was actually designed to allow the stadium to endure heavy snowfall. The arena's Western façade also reflects the city's skyline, a striking added bonus.
"The HKS.Inc-designed stadium features the largest glass roof in North America, spanning 240,000 square feet"
The euphoria of scoring a touchdown in the arena may not even feel as good as it does for the members of the project team who managed to erect it – they must be feeling pretty chuffed. The normal capacity crowd of 66,200 will surely be smiling from ear-to-ear when inside, and who wouldn't?! I've not watched an American Football game before, but I know where to go if I fancy fangirling over the architecture as well.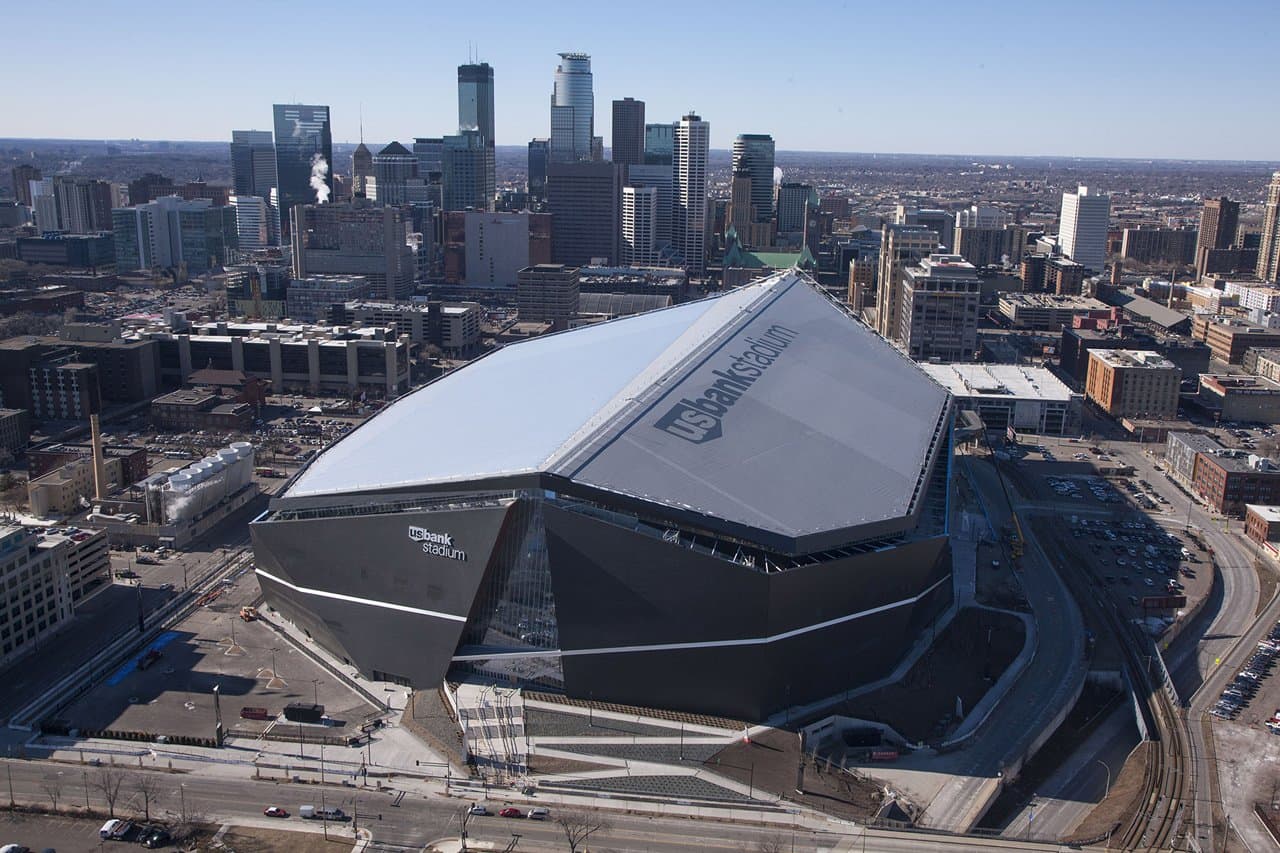 Above: The U.S. Bank Stadium is a premier location in Minneapolis (image courtesy of vikings.com).

The building's secret weapon? Seating can be expanded to 73,000 for special events, like say, the Superbowl. That's a good job then, considering Superbowl LII is just over one year away. You guessed it, the US Bank Stadium is due to welcome it with open arms.
Do you have a great video to share or original footage that you would like us to publish? Submit here.
Watch more incredible time-lapse videos by EarthCam here.
We welcome you sharing our content to inspire others, but please be nice and play by our rules.
Comments
---