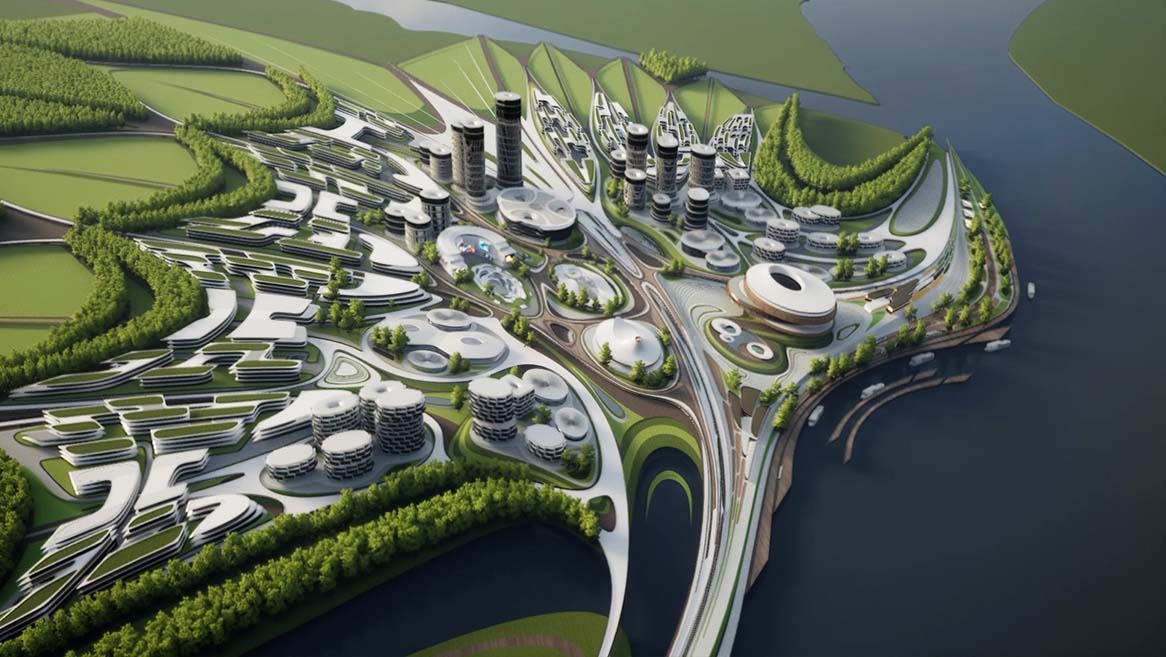 TECH
Zaha Hadid Architects is Entering the Metaverse
Welcome to Liberland. Designed by one of the world's top architecture studios, Zaha Hadid Architects, the sprawling new city looks like nothing you've seen before.
From above, the urban environment is warped around nature – almost like you took a toothpick to a white, futuristic city and swirled it into the surrounding greenland.
On the ground you'll find a national assembly hall, office towers and an NFT market – all wrapped up in Zaha Hadid Architects's signature free-flowing, parametric architectural style. It's a striking design for a nation you've probably never heard of.
Only, it's not real. This version of Liberland only exists in the metaverse.
In the physical world, Liberland is just a few square miles of uninhabited land in a disputed area between Croatia and Serbia. Back in 2015, libertarian Czech politician Vít Jedlička claimed it was now the Free Republic of Liberland.
The self-proclaimed micronation isn't widely recognised by other governments. And the land remains largely undeveloped. But the metaverse version paints a picture of what Liberland could be.
Above: Patrik Schumacher is designing a metaverse version for the real-life micronation Liberland. Image courtesy of Zaha Hadid Architects
What is the metaverse?
Now if you don't know what the metaverse is, you're certainly not alone.
The metaverse is a concept, not a single company, app or website. The idea has actually been around for some time. Science fiction paints it as a virtual world that exists alongside the physical world, think The Matrix or Ready Player One.

Today, when people talk about the metaverse, they essentially mean a 3D version of the internet where you can explore and interact with people as a digital avatar. It's what some people see as the logical next step in the evolution of our virtual lives.
The metaverse holds some games and platforms that you can access through your desktop already – like Fortnite, Roblox, Decentraland and The Sandbox – but ultimately it's a grand vision for a singular 3D reality which connects everyone in the world. Needless to say, that doesn't really exist yet.
The company pushing the hardest to build the metaverse is ... Meta. The tech giant, which you used to know as Facebook, is developing its own metaverse platform that will be rooted in virtual reality. Its marketing has painted a world where you can spend time with friends, play games, attend work meetings, exercise, all through its Oculus VR headset.
The next frontier for architecture
So, what does this all have to do with architecture? Well, real-life brands with real-life buildings are exploring the possibilities of creating virtual spaces beyond a traditional website. And that presents a potential business opportunity for architects.

Today, digital information models are core to the design process and working environment. Most firms already build virtual models of buildings for their clients before they ever start construction on the ground. But in the Metaverse, the digital render isn't a step along the way, it is the final destination.
Principal architect Patrik Schumacher is leading ZHA's effort to add "metaverse design" to the firm's list of offerings.
"At Zaha Hadid Architects, we are heavily investing currently in building teams around the multiple [metaverse-related] projects coming online," principal architect Patrik Schumacher said.
"But we don't want to switch away from architecture in the physical world and urbanism in the physical world. I think that we can be a multidisciplinary design firm, and we have always been."
To Schumacher, the metaverse is not about competing with the physical space. It's an opportunity to augment urban life by introducing windows into the virtual world.
And he believes all his clients will eventually want venues online. For example – a university building a new campus will also be thinking about virtual learning. In Schumacher's vision, those two things are intertwined and his firm could take on a hybrid role of designing both the physical campus and online spaces that all interact with each other.
Buildings could start to be equipped with augmented reality, or people could join international meetings as a hologram, rather than 2D pictures on a screen.
"That's true globalisation without the isolated physical isolation," Schumacher said. "That's my vision and my dream of the metaverse."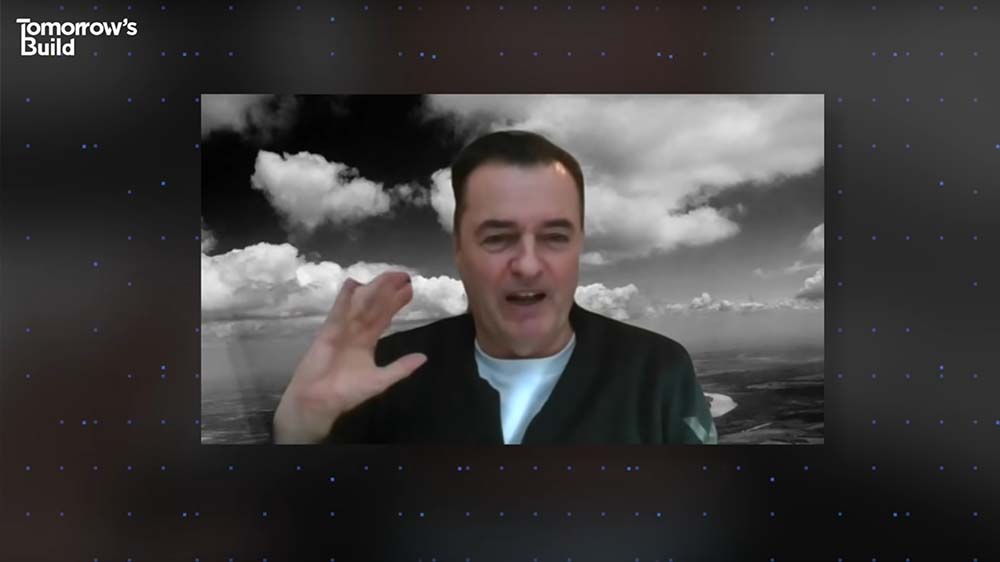 Above: ZHA principal architect Patrik Schumacher spoke with The B1M's sister channel, Tomorrow's Build, in an interview.
A new set of engineering challenges
Design in the metaverse isn't restricted by the same factors as you'd face in the real world. You don't have to adhere to the laws of physics, there's no big construction site to manage and no weather to account for.
"The design remains pretty much driven by the same social functionality criteria of organisation, aesthetics and logical orientation, but then the engineering is radically different," Schumacher said.
"We have a new set of constraints, but they also have parallels. We will have curvature and we love the light to play on the curvature. This is expensive both in the physical world and in the virtual world because these geometries are more complex and harder to render."
The metaverse is still in its infancy, and much of it doesn't look as seamless as the photorealistic renders from ZHA.
Epic Games, the company that makes the software behind some of the most advanced video games graphics, is also working on its vision for the metaverse. And the worlds it's been used on so far look a lot more realistic than some of the other metaverse platforms like Decentraland and The Sandbox.
"I think the experience has reached the level of feasibility that it starts to make sense," Schumacher said.
"We wouldn't have been so interested in the metaverse if it would have been just a voxel or pixel video game style, cartoonish world. The more complex scenes and beautifully rendered scenes are harder, but they're now achievable."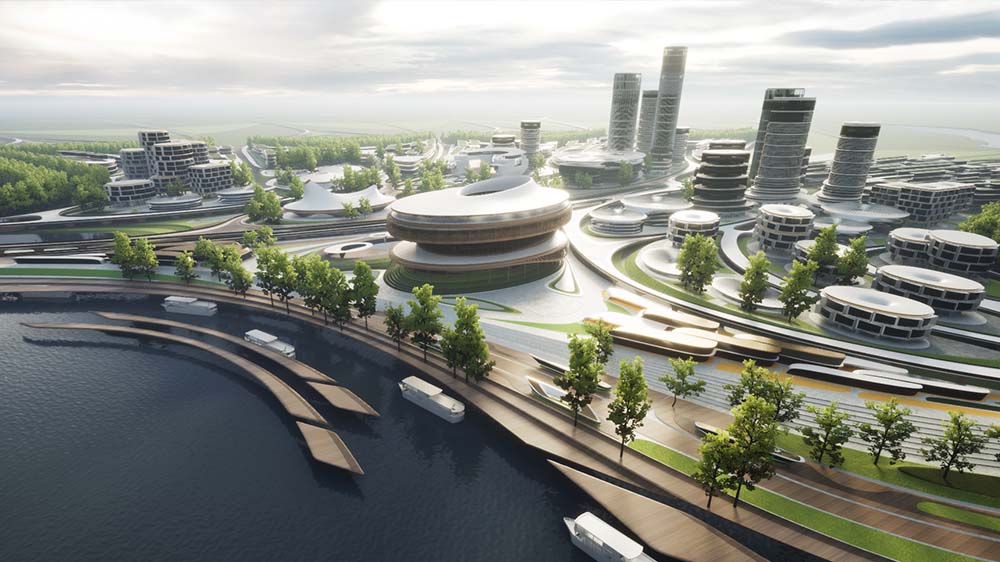 Above: Liberland's metaverse master plan incorporates ZHA's signature design style. Image courtesy of Zaha Hadid Architects / Mytaverse.
What's next
While so far the metaverse has mostly been used for video games, like Fortnite or Roblox, the landscape seems to be shifting. Or at least, a lot of people are trying it out.
Fashion brands like Balenciaga and Gucci, even Sotheby's, the high-end auction house, have all launched metaverse extensions of their brands. With the sudden shift to remote work, some companies have experimented with virtual conferences and meeting spaces. And Ariana Grande apparently performed in Fortnite. If Mark Zuckerberg gets his way, we'll be doing everything on Meta!
It's not clear yet whose vision of the metaverse will win out, or if any of the ideas floating around right now will stick. What is clear is that the lines between the physical and virtual words are blurring. And if ZHA's ambitions are any indication of what our future world will look like – we're in for a wild ride.
Comments
---