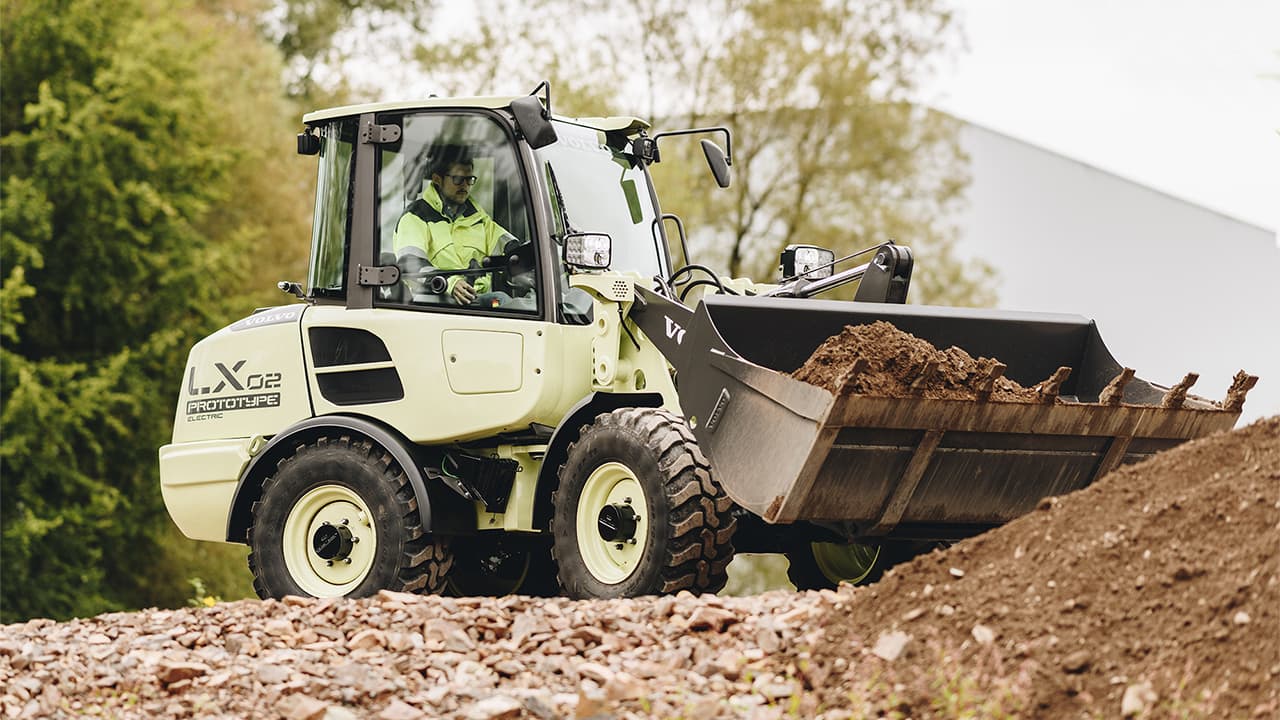 The Future is Electric at Volvo's Innovation Summit
EARLIER this month Germany's leading politicians, environmentalists and local campaigners came together to discuss the future of urban mobility and construction at Volvo Group's Innovation Summit in Berlin.
The B1M partnered with Volvo to gain exclusive access to the event and our team broadcast live coverage as new fully electric construction equipment and autonomous truck concepts were unveiled to the world.
The event was the latest in a series of global summits initiated by the Sweden-based company; one of the world's leading manufacturers of trucks, buses and construction equipment. Previous gatherings took place in Beijing, Brussels and London.
Above: The latest Volvo Group Innovation Summit took place in Berlin. Below: The B1M's co-founder Fred Mills live streaming from Berlin with Thomas Bitter, Senior Vice President of Marketing and Product Portfolio at Volvo Construction Equipment (images courtesy of Fred Mills).
German cities, like cities everywhere, are dealing with the pressures of increased traffic, development work and rising pollution.
In addition, the recent diesel emissions scandal - where some car makers had manipulated emission data for their vehicles - has chipped away at the country's confidence and pointed towards a long road ahead in tackling pollution and curbing greenhouse gas emissions.
The response to these challenges lies in "automation, electromobility and connectivity" according to Volvo Group's Chief Technical Officer Lars Stenquist, and the latest range of the company's concepts reflects this growing awareness.
Above: Ulrich Faß, manager of emerging technologies Europe, presenting the concept LX2 electric compact wheel loader (image courtesy of Fred Mills).
Notably, the company showcased two new concept construction vehicles during the summit: the Electric Compact Excavator (EX2) and the new Electric Compact Wheel Loader (LX2), unveiled for the first time in Berlin. Both are fully electric and have been designed for use in cities.
The vehicles are zero-emission, 10 times quieter and up to 10 times more energy efficient than comparable construction machines.
Above: Fully electric plant, such as the concept EX2 electric compact excavator, open the possibilities of automation (image courtesy of Fred Mills).
Although full autonomy on live construction sites will remain out of reach for some time, Volvo Group is making significant steps towards total automation.
EX2, for instance, can already be controlled remotely through a smartphone app and its operators can record and repeat certain complex actions - such as those required to grade land.
Earlier in the year, Volvo Group's Construction Equipment (CE) division unveiled their HX2 concept, an autonomous electric load carrier.
Together with other prototypes - namely a larger-scale digger EX1 and loader LX1 - these vehicles are being trialled by Skanska in a large scale experiment called the "Electric Site"; a quarry which has already reported a 95% reduction in carbon emissions and a 25% increase in efficiency.
Above: Skanska and Volvo Construction Equipment have opened an experimental quarry testing electric plant ( video courtesy of Volvo Construction Equipment).
Volvo Group also demonstrated its other products, such as its well-established electric hybrid bus, as well as the first concept model of an autonomous vehicle that could be used to transport containers across short distances in ports and other logistical centres.
Above: A fully autonomous vehicle concept for use in logistics was unveiled at the Volvo Group Innovation Summit in Berlin ( video courtesy of Volvo Group Videos).
Unlike its Silicon-Valley competitors Volvo Group is cautious to promise the perfect solution here and now.
Whilst electric vehicles will be able to create more efficient work flows and theoretically operate day and night due to their quiet engines, much still depends on increasing battery production and capacity.
RELATED: THE B1M'S SMART CITIES VIDEO SERIES
With other major players in the market such as Tesla driving innovation - and with logistical companies beginning to look toward long-haul EVs - these breakthroughs may come to prevalence in the not too distant future.
Fully electric engines could enable a different kind of city planning, which could see the creation of indoor bus stops in large hospitals, shopping malls and other large buildings. Whether both of these scenarios will play out though, depends on lawmakers and the wider public going beyond current ways of thinking.
Above: Volvo Group's vision for future mobility may be autonomous, electric and connected, but it will not happen overnight ( video courtesy of Volvo Group Videos).
Volvo Group believe that autonomous vehicles are here, and here to stay, but that their initial use will be restricted to repetitive tasks in confined areas, such as mines, quarries and logistical hubs where their performance can be monitored and perfected.
According to Volvo Group experts, it is unlikely that we will switch to fully autonomous traffic on our roads overnight.
While not professing to answer all of the challenges, Volvo Group's Innovation Summit in Berlin demonstrated impressive innovations for the construction and logistics industries which make strides towards building a better and a more sustainable future.
Missed The B1M's live coverage of the Volvo Group Innovation Summit in Berlin? You can watch it back here:
Live unveiling of the new concept electric compact wheel loader LX2.
Interview with Ahcene Nedjimi, Electromobility Specialist at Volvo Construction Equipment, about the development of the concept electric compact excavator EX2.
Interview with Ulrich Faß, Manager of Emerging Technologies Europe at Volvo Construction Equipment, about the new concept electric compact wheel loader LX2.
Interview with Thomas Bitter, Senior Vice President of Marketing and Product Portfolio at Volvo Construction Equipment, about the future of electric and autonomous construction plant.
Live unveiling of Vera, a concept autonomous electric vehicle by Volvo Trucks.
Comments
---