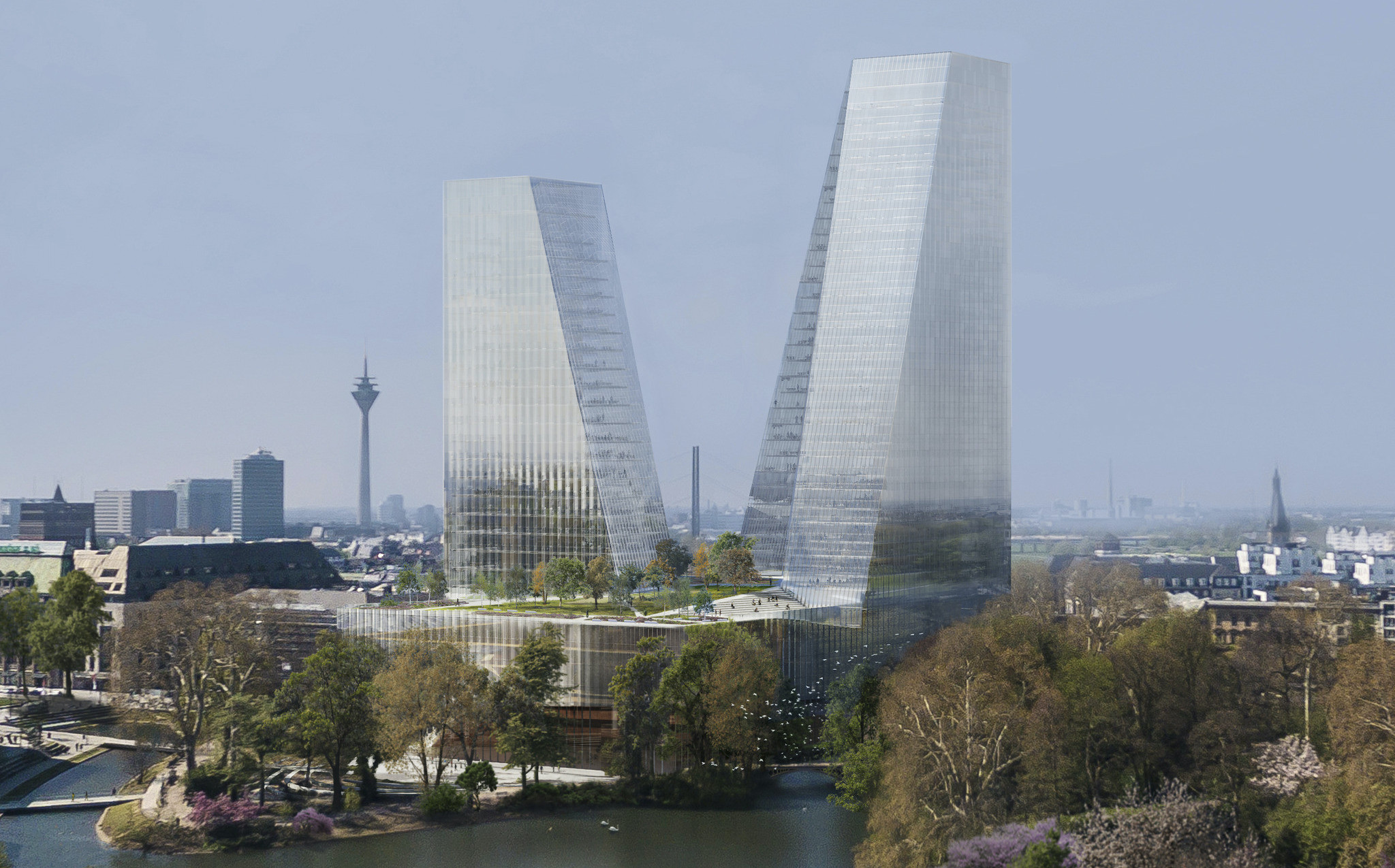 CITIES
Düsseldorf announces state-of-the-art opera house topped by two glass towers
A STATE-OF-THE ART cultural centre has been announced for the German city of Düsseldorf.
The complex will hold an opera house and public garden with two glass towers containing a hotel, office space, and apartments rising above.
Oslo-based architecture studio Snøhetta has been announced as designers of the Duett Düsseldorf centre following an international competition.
The project will neighbour the historic Hofgarten park and the Rhein river while anchoring a modern new cultural district
Careful attention has been paid to the ground floor which blurs the lines between indoor and outdoor, public and private, with its immense open glass facade and spiralling wooden foyer, welcoming concert goers and residents alike.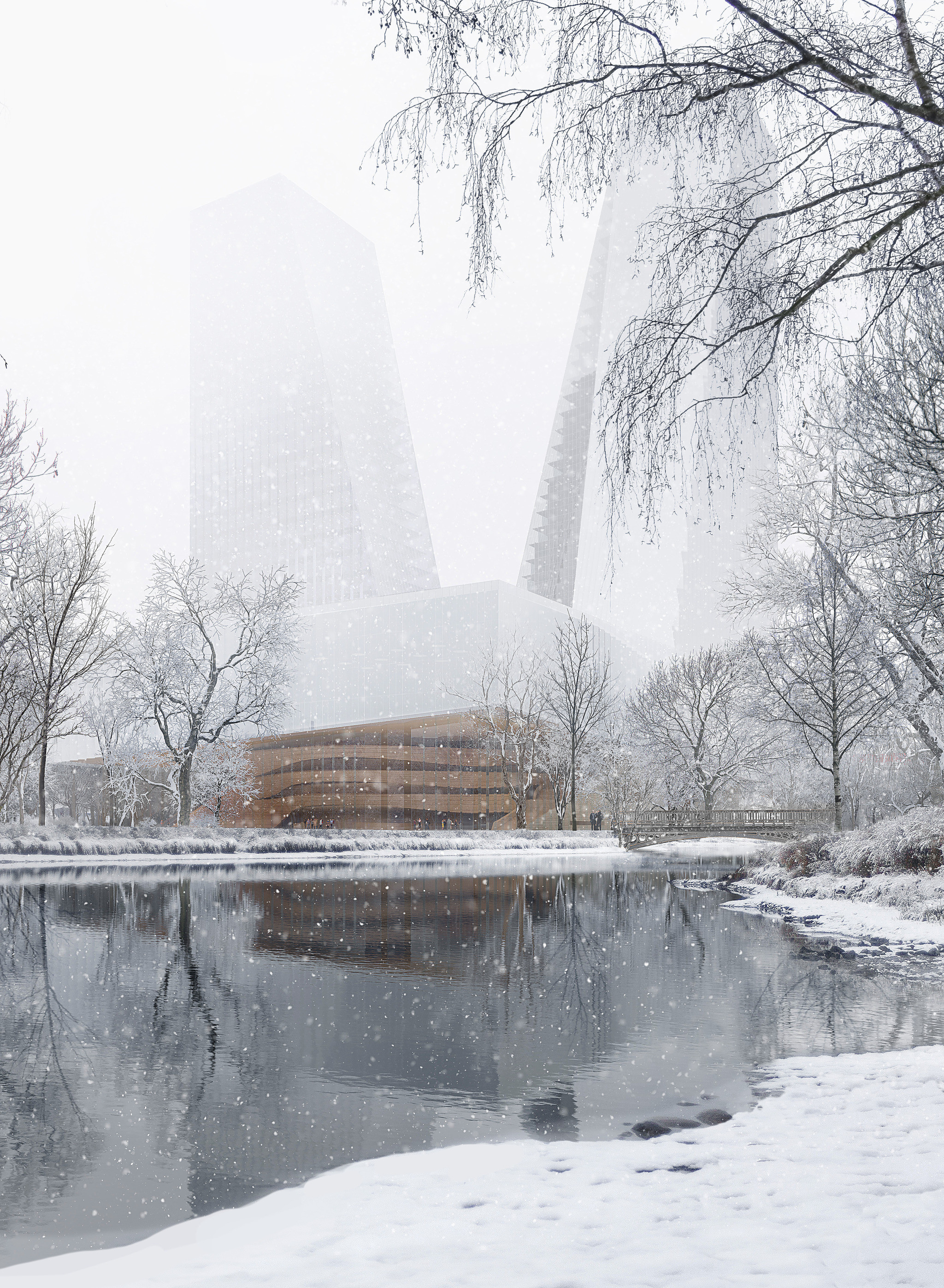 Above and Below: Interior and exterior spaces are blurred by the project's immense glass facade on the ground floor. Images courtesy of Snøhetta.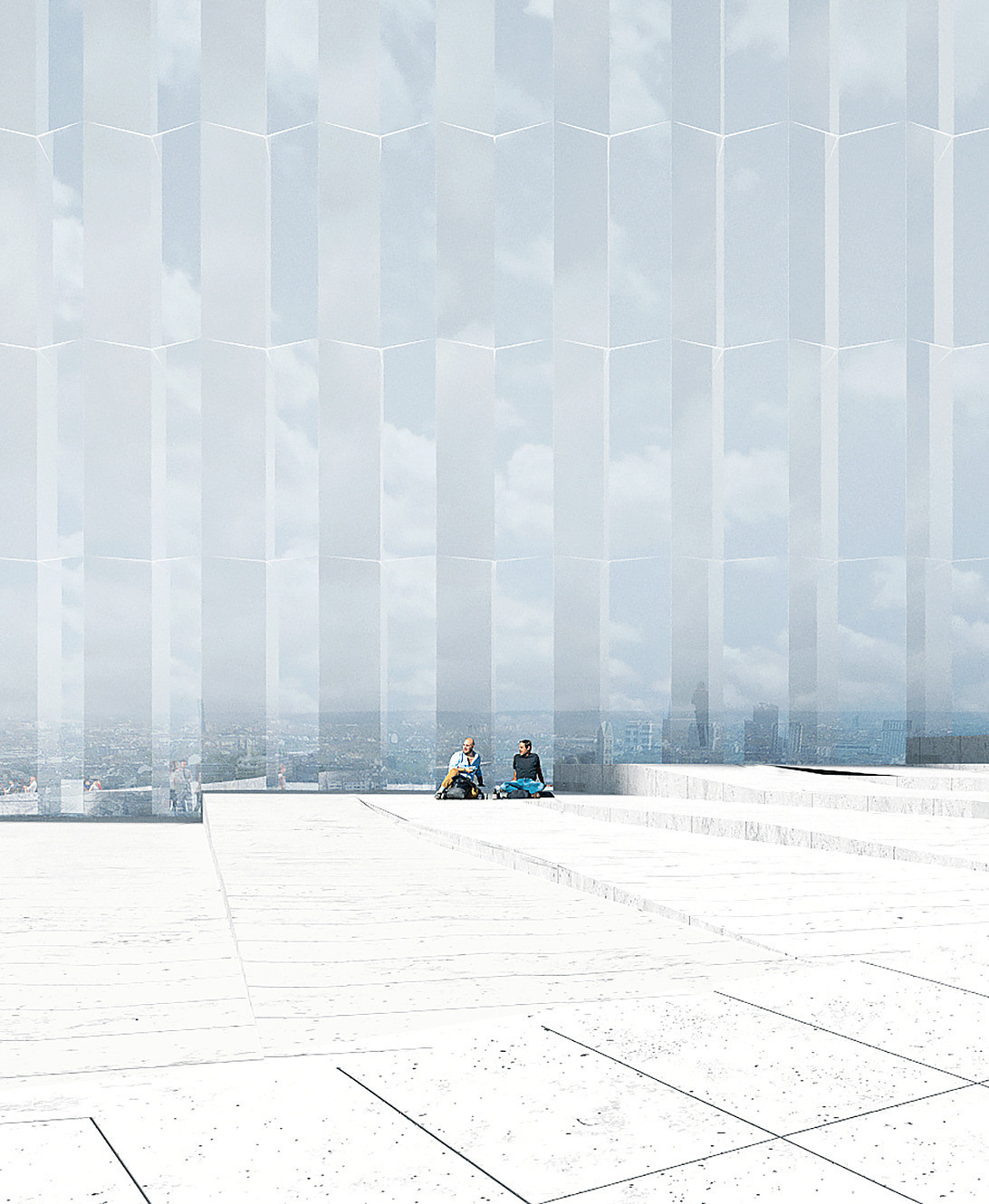 Surrounding this foyer is a new urban forest and green public spaces, while a roof garden sits atop the lower horizontal volume of the development.
This rooftop garden can accommodate a wide range of activities, from cultural events to performances.
Towering above are two V-shaped sloping buildings, designed specifically to reduce shading in the surrounding areas.
The entire centre is replacing an old existing cultural venue that no longer has enough space to serve the city's needs.
The new buildings add 1,350 square metres to the north and 1,455 square metres to the east.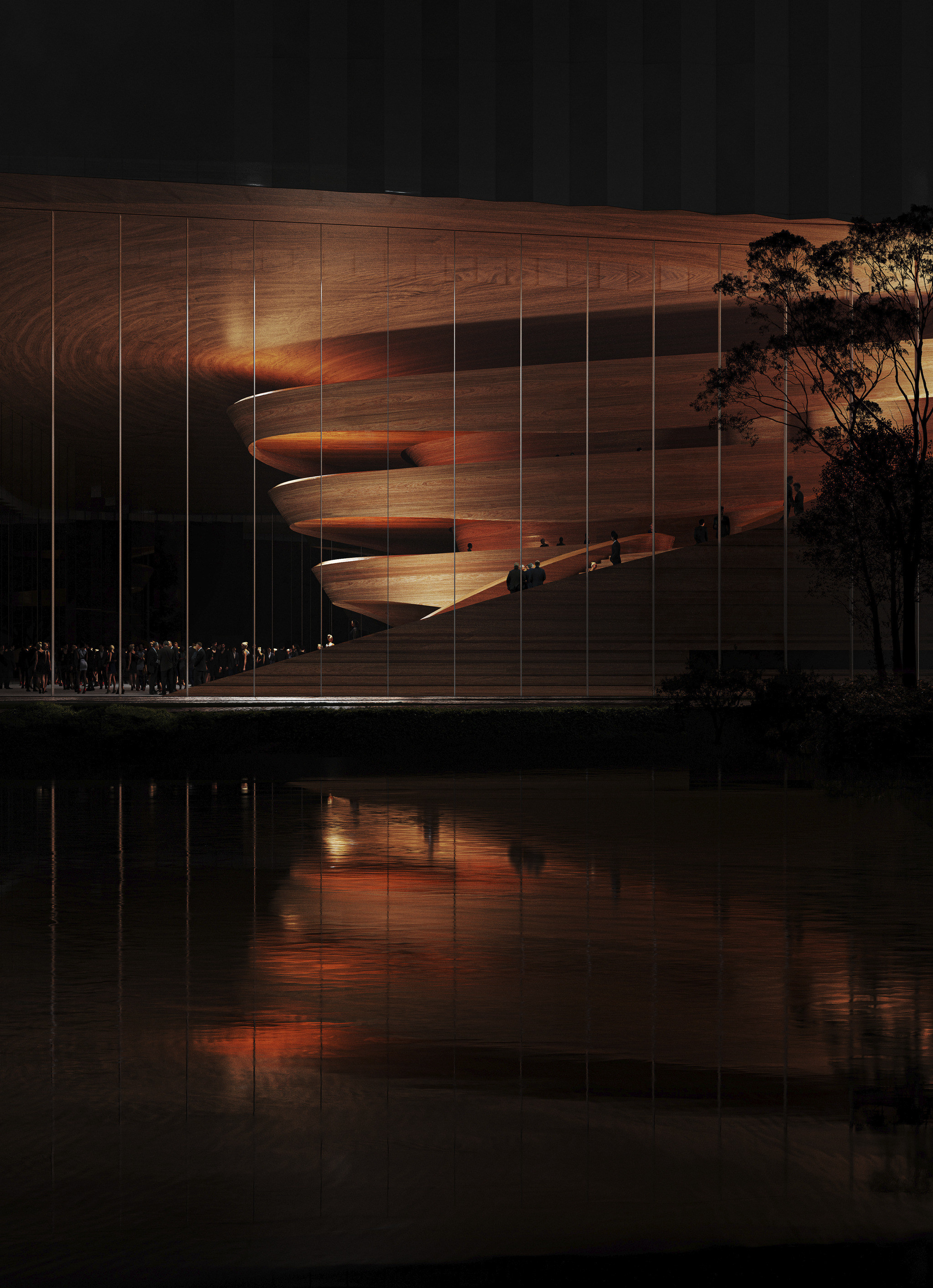 Above and Below: A timber foyer welcomes visitors and residents alike, spiralling upwards towards a rooftop garden. Images courtesy of Snøhetta.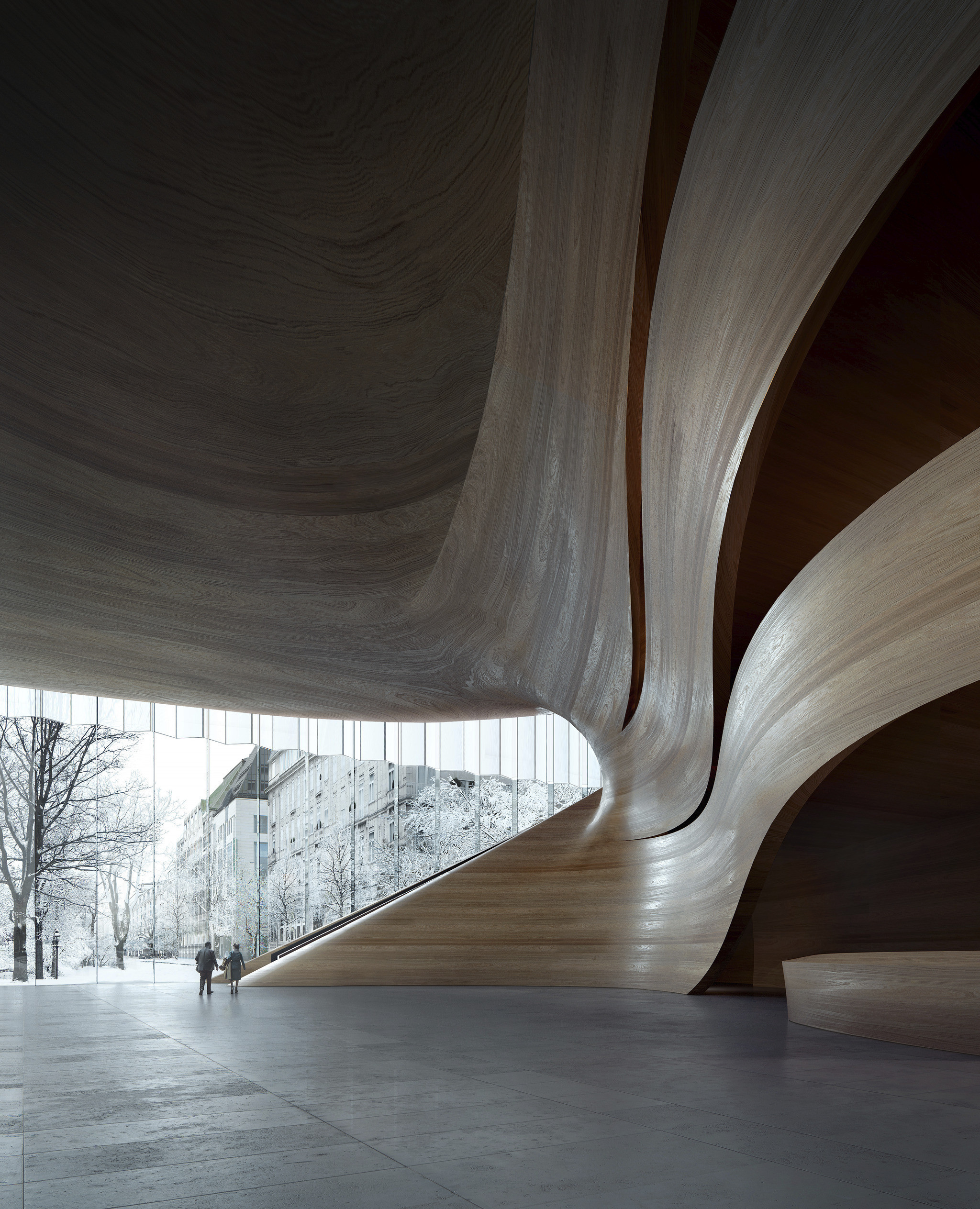 "With two iconic dancing towers, a generous public roof garden and a world-class opera house, Duett Düsseldorf is set to give the German city a new cultural epicenter," explains Snøhetta in a press release.
"Situated in the heart of Düsseldorf city center...the new opera house creates clear connections to the nearby Hofgarten park, the Rhein river and the popular Königsallee street, aiming to create a publicly accessible space that brings people together.
"The multilayered Duett Düsseldorf is set to create a cultural meeting space and public attraction, further building on Düsseldorf's standing as a hub for arts and culture."

Comments
---