CITIES
What is Vertical Farming?
Youtube Views

239,281

VIDEO VIEWS
BY 2050, some 80% of the world's population will live in cities.

Such growth is placing immense pressure on our built infrastructure and driving considerable research and exploration into sustainable development and the evolving concept of "smart cities".
One specific area of focus is on sustainable food sourcing. If population growth follows it's projected path, there simply won't be enough land available to farm many of our foods by 2050. The "food miles" related to transporting produce from farms to urban centers is also set to soar.
One potential solution now being trialled by Japan-based MIRAI (among others) is the concept of a "vertical farm" - as seen in this video.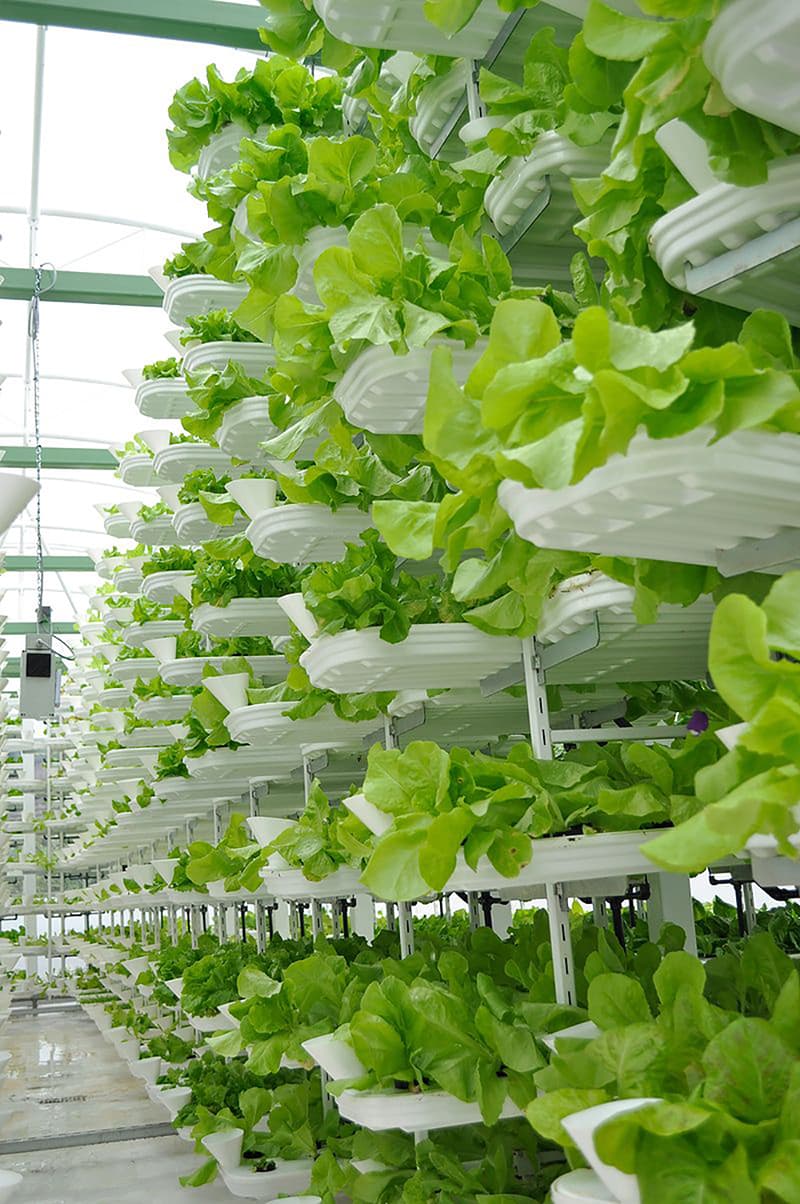 Above: Vertical farming could be an efficient way to grow vegetables in cities (image courtesy of Valcenteu).
Vertical farming literally turns the concept of traditional farming on its side and sees food produced in high rise buildings occupying small footprints in some of the world's densest cities (Tokyo, in this example).
Internal climates are optimised and controlled in order improve efficiency - MIRAI believe that yields per square meter are 50-100 times that of traditional farm sites.
Indeed vertical farming has many advantages: it is immune from yearly weather patterns and the availability of quality soil.
MIRAI's vertical farm in Tokyo - currently the world's largest - produces up to 10,000 heads of lettuce per day, while using 40% less power and 99% less water than conventional methods. The crops (mainly salad greens) are grown in a mix of nutrients and water called a "hydroponic solution".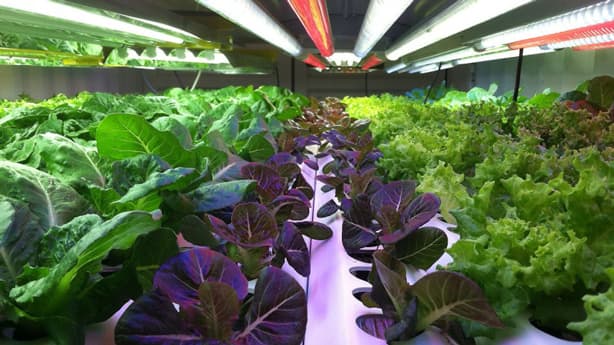 Above: In MIRAI's Tokyo facility, farmers are able to control the quality and quantity of light and nutrients necessary for plant growth (image courtesy of MIRAI).
Meanwhile in Singapore, Panasonic have invested in an alternative method of vertical farming that uses more conventional soil growing beds.
The crops are grown in a sterile environment where farmers can control conditions and do not need to use pesticides.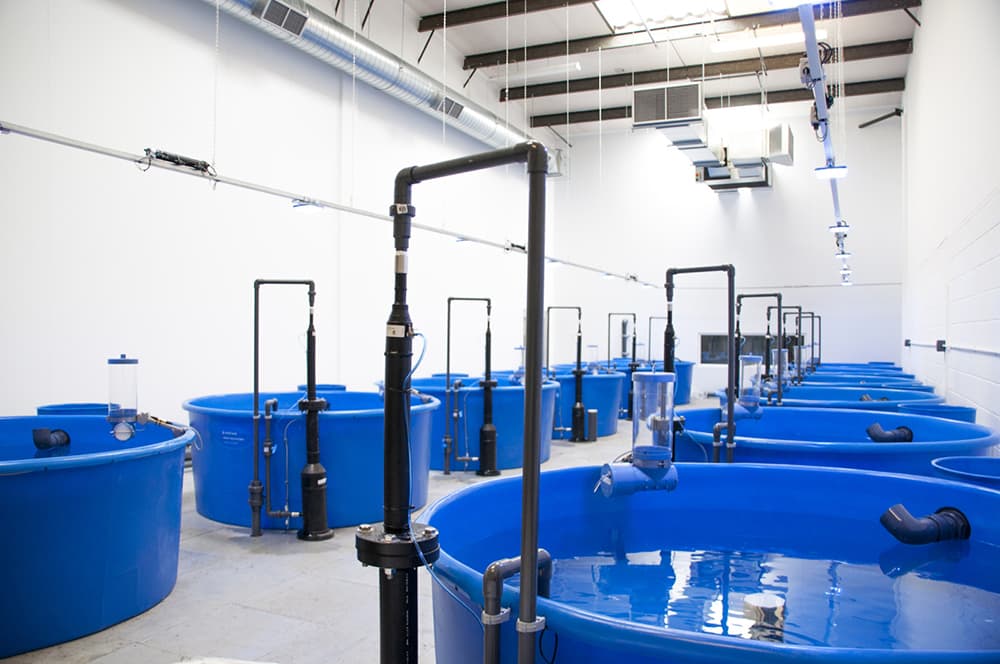 Above: "Grow Up" vertical farm in Beckton uses fish to provide nutrients for plants (image courtesy of Grow Up/Mandy Zammit).
Vertical farms have also been trialled in the United Kingdom (UK).
Grow Up, a 6,000 square foot vertical farm in Beckton, east London (with possibly the best brand name ever), combines hydroponics with "aquaculture" (the farming of fish).
In this instance, the fish provide nutrient rich-water for the plants, which in turn filter the water for the fish. In total, the facility provides up to 44,000 pounds of greens and 8,800 pounds of fish every year.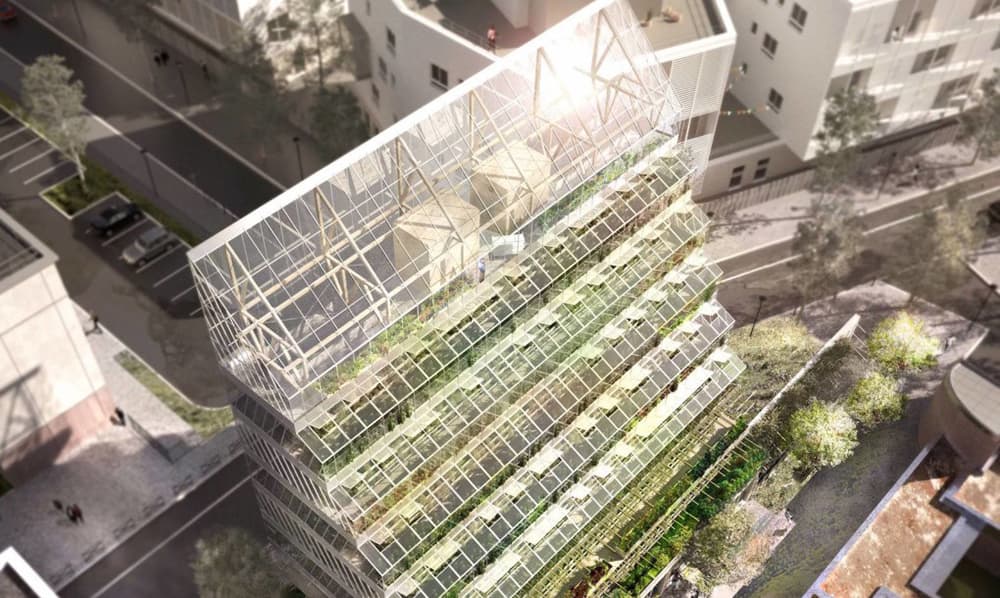 Above: Architecture practice ABF-Lan proposes building a vertical farm glasshouse in Paris to provide locally grown food (image courtesy of ABF-Lab).
Each of these approaches illustrate how vertical farming could become an important source of fresh, locally grown food in urban areas, supporting the trend of our population growth.
"Old MacDonald had a vertical farm" could even catch-on...
Don't miss WIRED's fantastic video series on "Shaping Smarter Cities"
Comments
---