COUNTDOWNS
Top 5: The World's Tallest Timber Buildings
Youtube Views

109,004

VIDEO VIEWS
TIMBER is making a comeback.
While the majority of skyscrapers are constructed from concrete and steel, a new generation of timber towers are now rising ever higher into the sky. This ecologically sustainable and traditional material is being used to create lightweight and strong super-materials such as cross-laminated timber, or CLT, and glue-laminated timber, commonly known as glulam.
Architects and contractors are now using these to develop buildings from timber that are larger, taller and more impressive than was ever thought possible. Here we countdown the five structures that have pushed the boundaries furthest and risen to the highest heights.
5. FORTÉ, MELBOURNE, AUSTRALIA, 32.3 METRES
Kicking off our timber race to the skies is a 10-storey apartment block in Melbourne that was completed in 2012. Designed and built by developer Lendlease, this tower was Australia's first timber high-rise and the world's tallest CLT building when it first completed.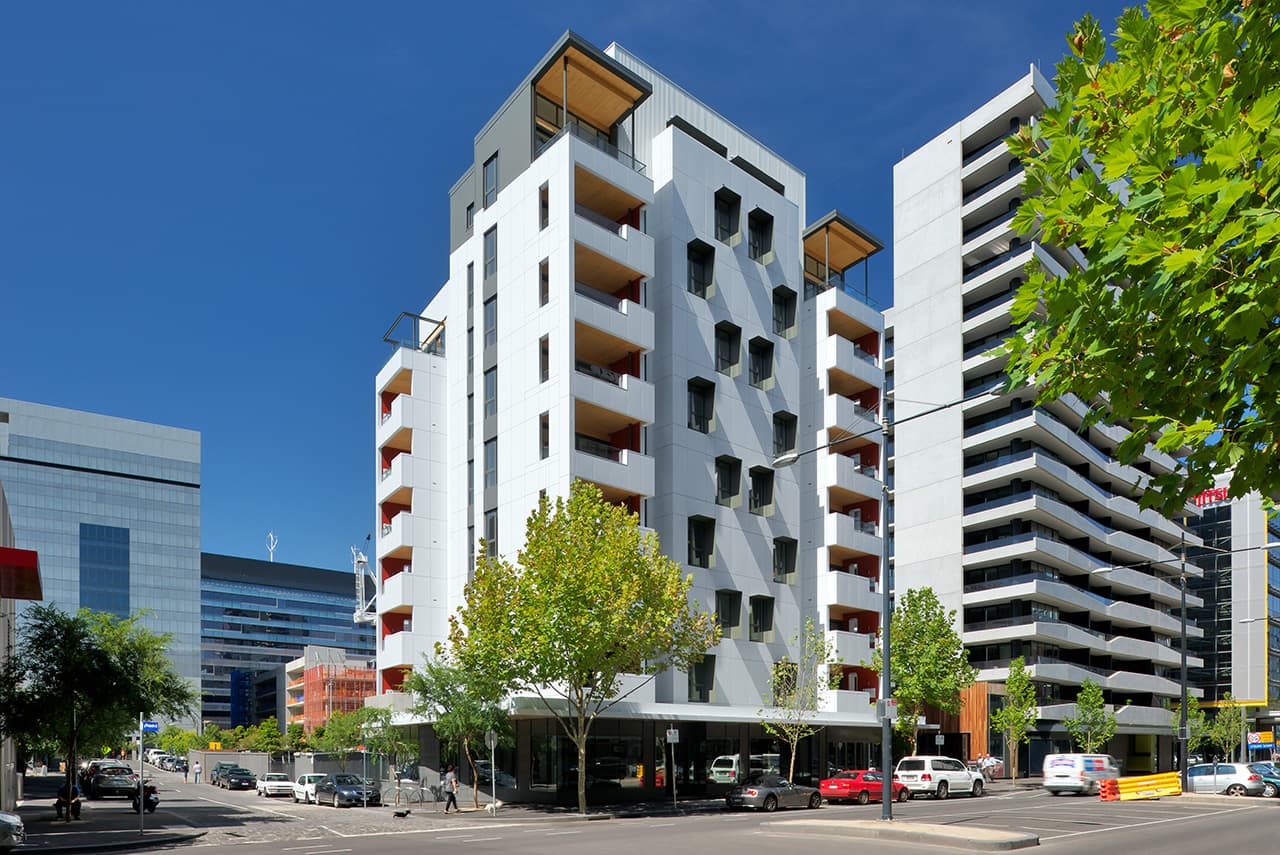 Above: Forté was the world's tallest CLT building when it completed in 2012 (image courtesy of Victoria Harbour).
Replacing the steel and concrete that would have been used in the building with timber meant CO2-equivalent emissions from the construction process were reduced by some 1,400 tonnes. Completed in just 11 months, the building still claims to be the country's "greenest" apartment complex.
4. THE CUBE, LONDON, UK, 33 METRES
Rising less than a metre taller than Forte are a pair of towers in London that both stand 33 metres tall. The first of these, the Cube, was completed in 2015.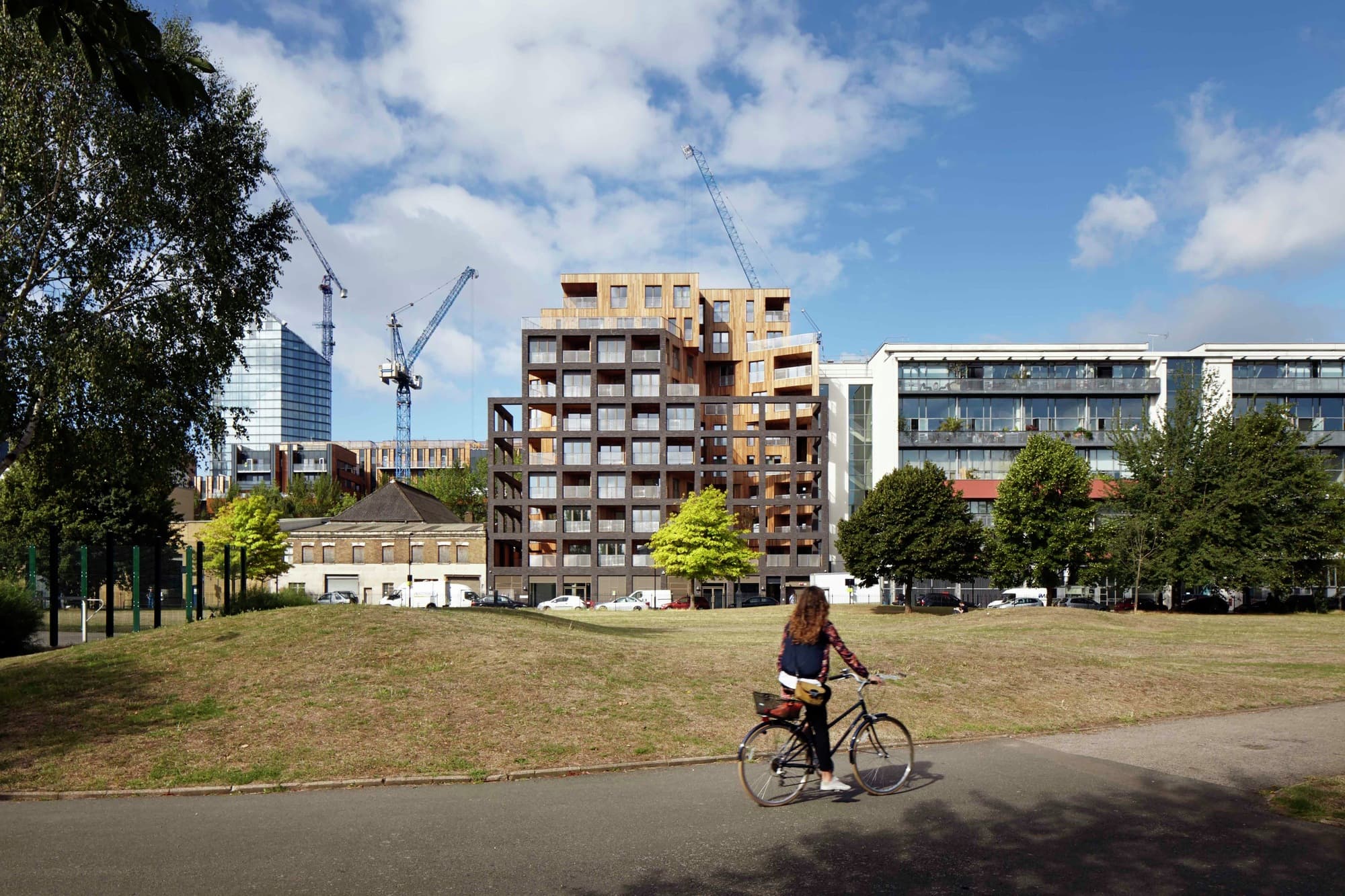 Above: The Cube is one of several tall timber towers grouped in Hackney, London (image courtesy of Jack Hobhouse).
The innovative design combines cross-laminated timber with steel reinforcement to create a hybrid structure that gets the best from both materials. Designed by British architecture practice Hawkins/Brown, the 10-storey residential tower became the tallest timber building in the world when it completed.
3. DALSTON LANE, LONDON, UK, 33 METRES
Just a short distance away from The Cube, and part of the cluster of timber buildings in east London, is a recently completed residential block that equals the Cube in height at 33 metres. Designed by British architect, Waugh Thistleton, the 121-unit residential plywood building is not only one of the tallest timber buildings ever created, but also the largest CLT building constructed to date.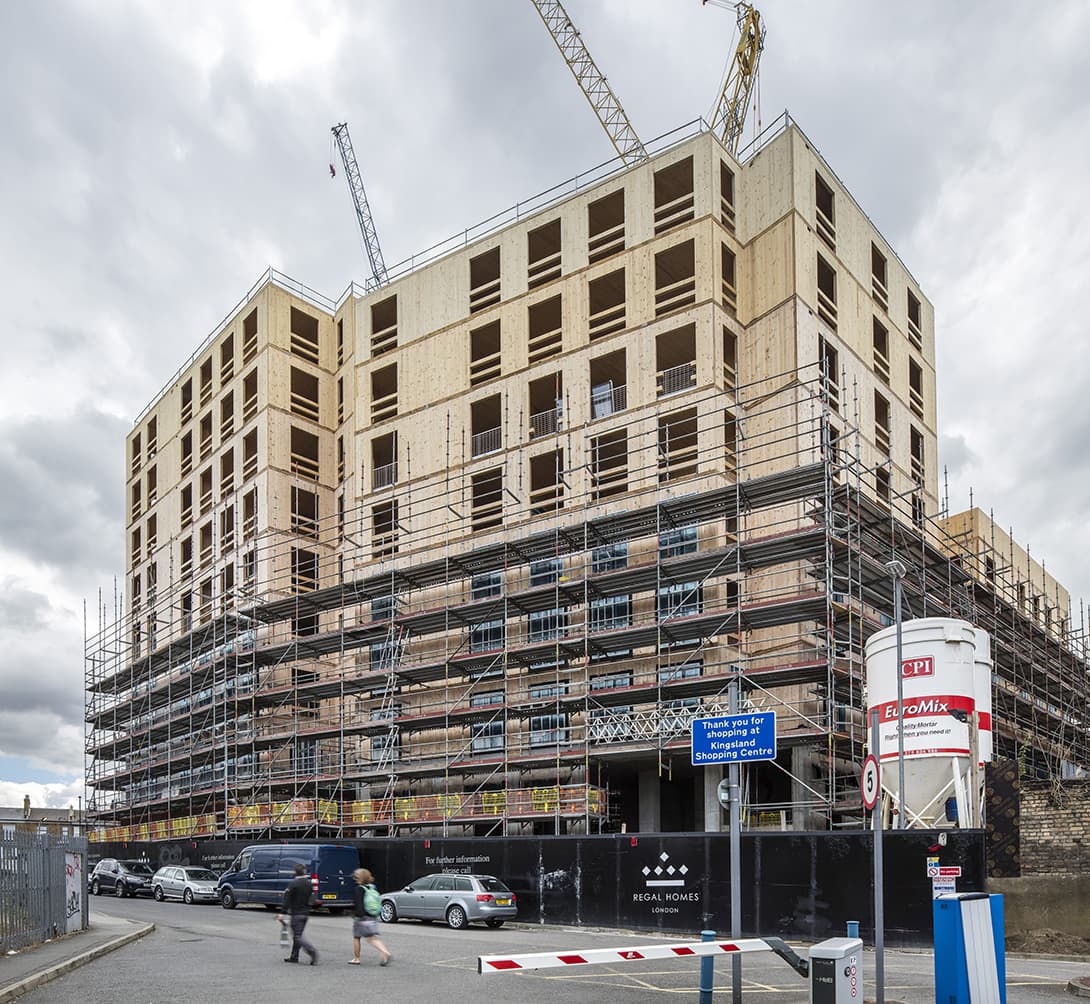 Above: The 121-unit residential building is the tallest and largest CLT building ever built (image courtesy of Waugh Thistleton).
The 10-storey development is made entirely of CLT, from the external, party and core walls, right through to the floors and stairs. It weighs a fifth of a concrete building of its equivalent size, and during construction, the number of deliveries to the site were reduced by a staggering 80%.
2. THE TREE, BERGEN, NORWAY, 49 METRES
Rising higher still, is a 14-storey timber tower in the Norwegian city of Bergen. Standing 49 metres tall, "The Tree" is held up with structural glulam timber columns that are up to half a metre thick, while cross-laminated timber is used to form the floors and walls.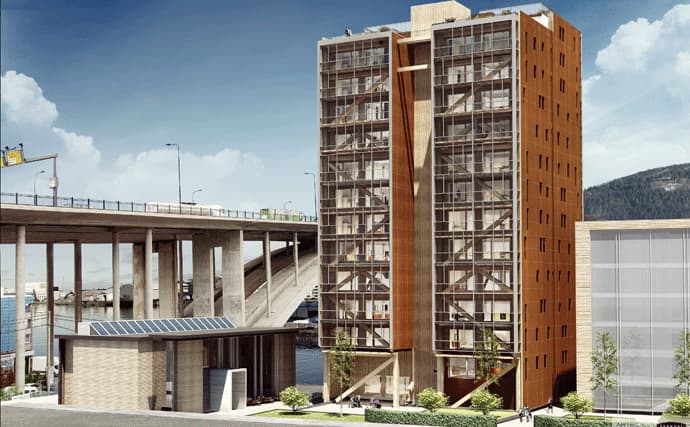 Above: Built from CLT and Glulam, the Tree, was once the tallest timber building in the world (image courtesy of Bergen and Omegn Building Society).

The Tree's developer, the Bergen and Omegn Building Society, believes that using timber construction helped to avoid the emission of more than 21,000 metric tons of carbon dioxide.
1. TALL WOOD RESIDENCE, VANCOUVER, CANADA, 53 METRES
Topping our list, and towering above the competition (ahem), is a building that was completed in the summer of 2017. The Tall Wood Residence at the University of British Columbia in Vancouver stands 53 metres high, making it the tallest timber building constructed to date.
At a cost of USD $52M, the 18-storey skyscraper is a hybrid structure, with a concrete podium and lift cores, and cross-laminated timber floors and walls held up by glulam timber columns. The building was designed by Canadian practice Acton Ostry Architects with Austrian practice Architekten Hermann Kaufmann acting as tall wood advisors. It is now home to 400 students.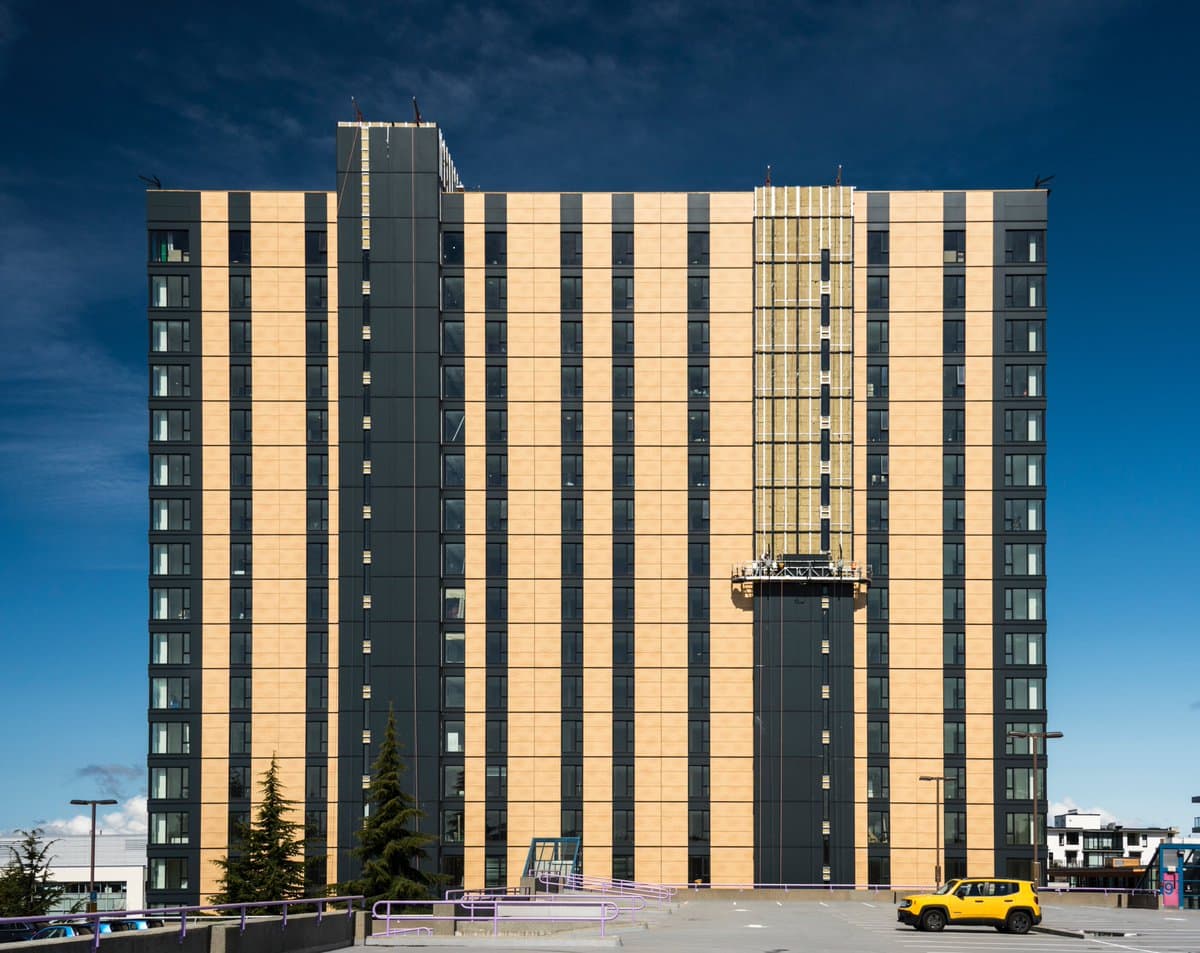 Above: The 18-storey skyscraper is a hybrid structure made from concrete, CLT and glulam timber (image courtesy of Acton Ostry).

Over the past five years, timber towers have grown taller and taller and this trend doesn't look set to stop with even higher towers planned that will surpass even the Tall Wood Residence, including: HAUT, a project being developed by Arup to create a 21-storey tower in Amsterdam; Anders Berensson Architects plans for a 40-storey skyscraper in Stockholm; "Tree Tower Toronto", an impressive looking 18-storey structure developed by Penda and PLP Architecture and Cambridge University's proposal for an 80-storey, 300 meter high wooden building integrated within London's Barbican Centre.
Images courtesy of Acton Ostry, Waugh Thistleton, Ema Peter, Lend Lease, Victoria Harbor, Jack Hobhouse, Bergen and Omegn Building Society, Teknisk Ukeblad, UBC, Team V Architectuur, A Berensson Architects, Penda and PLP Architecture.
We welcome you sharing our content to inspire others, but please be nice and play by our rules.
Comments
---