INFRASTRUCTURE
This Robot Could Build Zaha Hadid Architects' Next Project
Youtube Views

8,208

VIDEO VIEWS
LUSHAN Primary School, the latest project announced by Zaha Hadid Architects last week, could be built using robots similar to the one seen in this video by Danish robotics specialist Odico - Formwork Robotics.
Known as "robotic hot-wire cutting", the method enables manufacturing of complex, doubly curved concrete moulds. The process, which uses robotic arms equipped with a hot-wire cutters and large foam blocks is able to produce mould segments in a fraction of the time and much cheaper than is more traditional concrete formwork techniques.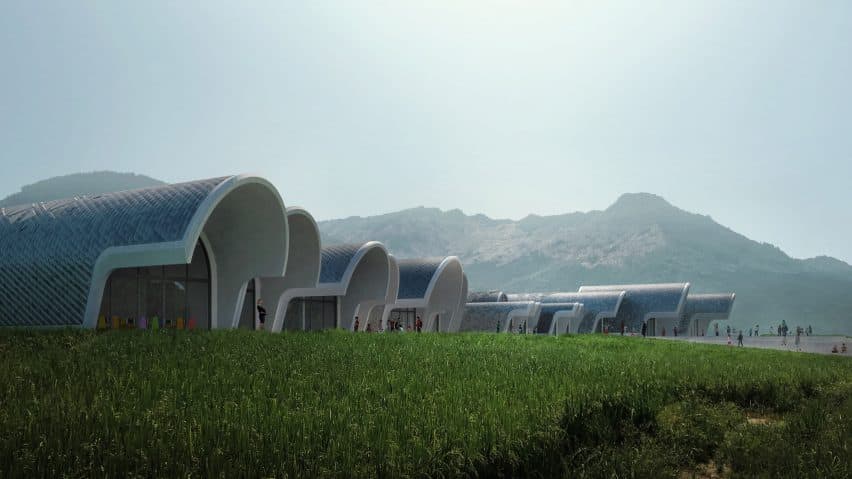 Above: Lushan Primary School designed by Zaha Hadid Architects could be built using robots. Below: The school's remote location, as well as the modular nature of its vaults makes it an ideal case study for fabrication using "robotic-hot wire cutting" (images courtesy of ZHA).
The school's design comprises a number of parallel concrete vaults to accommodate classrooms, play spaces and other common areas for 120 local children.

Robotic hot-wire cutting was chosen by the architects due to the project's remote location in China's south eastern Jiangxi province. The robot would be brought onto the site and deployed from a single shipping container.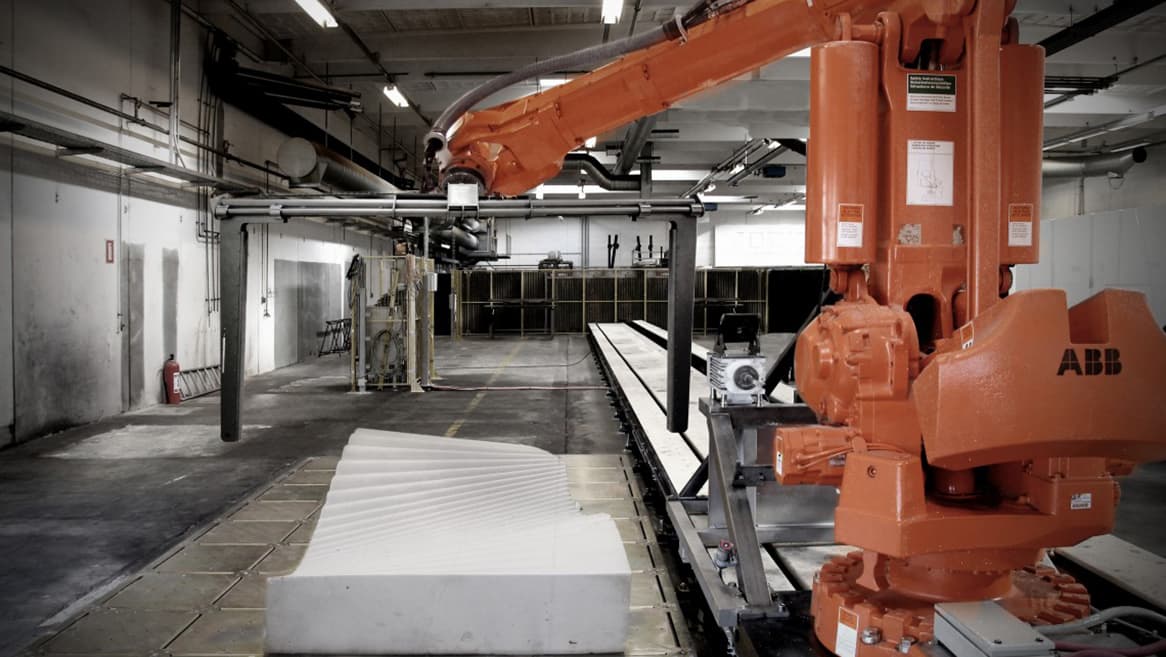 Above: Odico's industrial robot can manufacture a large range of forms and textures (image courtesy of Odico).
This approach could remove the need to transport large amounts of specialist prefabricated elements to the site. Instead, the project would be built by local contractors accustomed to working with in-situ concrete.
With the building's modular design, many of the moulds can be reused during the construction process, speeding up the project programme and reducing material waste.
According to Odico, waste foam off-cuts as well as used moulds can be recycled for insulating panels.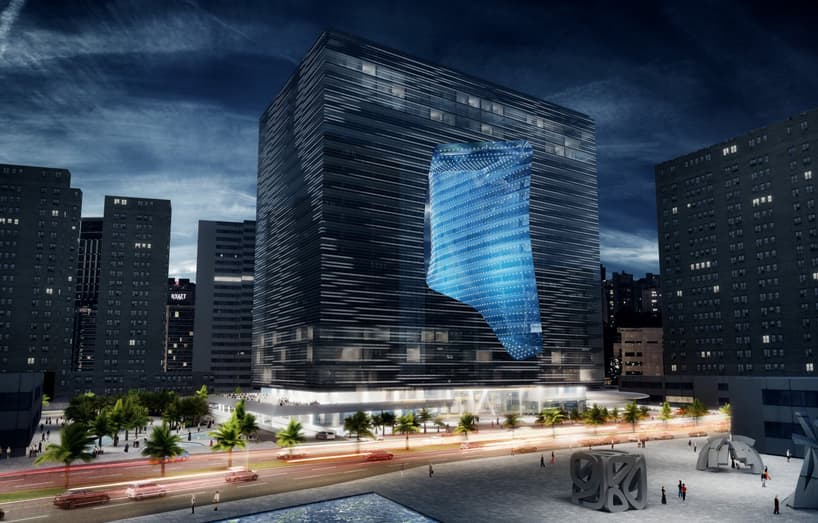 Above: Odico has manufactured aluminium profiles that hold up the spectacular free-form facade of Zaha Hadid's Opus building in Dubai (image courtesy of ZHA).
This is not the first time that Zaha Hadid Architects and Odico have collaborated: the robotics firm has manufactured custom aluminium profiles to support the double-curved glass facade of the Opus building in Dubai.
Odico has already successfully used the new method to create formwork for Fjordenhus, a headquarters for Danish investment firm Kirk Kapital in Velje designed by artist Olafur Eliasson, due for completion later this year.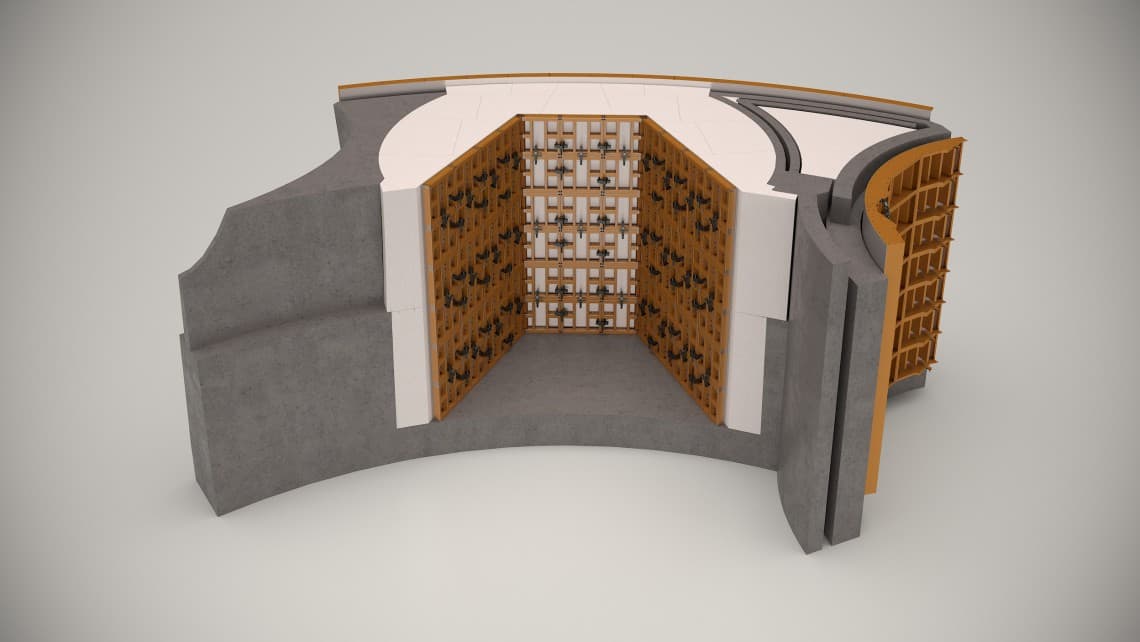 Above and Below: Odico has already manufactured formwork for curving columns of Kirk Kapital's new office building in Denmark, which will complete this summer (images courtesy of Odico and Kirk Kapital).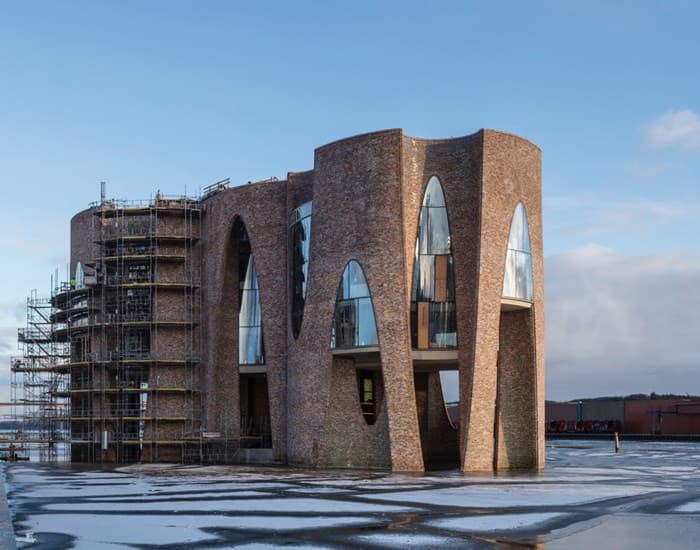 Comments
---