Infrastructure
The Greatest Stadium Builds by 2025
Youtube Views

5,664,246

VIDEO VIEWS
Video hosted by Fred Mills.
FEW construction projects manage to generate as much intrigue and excitement as stadium builds.
These awe-inspiring structures have continually pushed the boundaries of design to meet increasingly ambitious demands.
Whether it's boosting capacity, improving fan experience, adopting radically different styles or taking more versatile approaches, stadium planners have been setting new standards for decades.
Recent builds have continued this trend and further raised the bar. India's Sardar Patel Stadium is a prime example. The vast venue is about to take the title of world's biggest cricket stadium, offering space for 110,000 fans.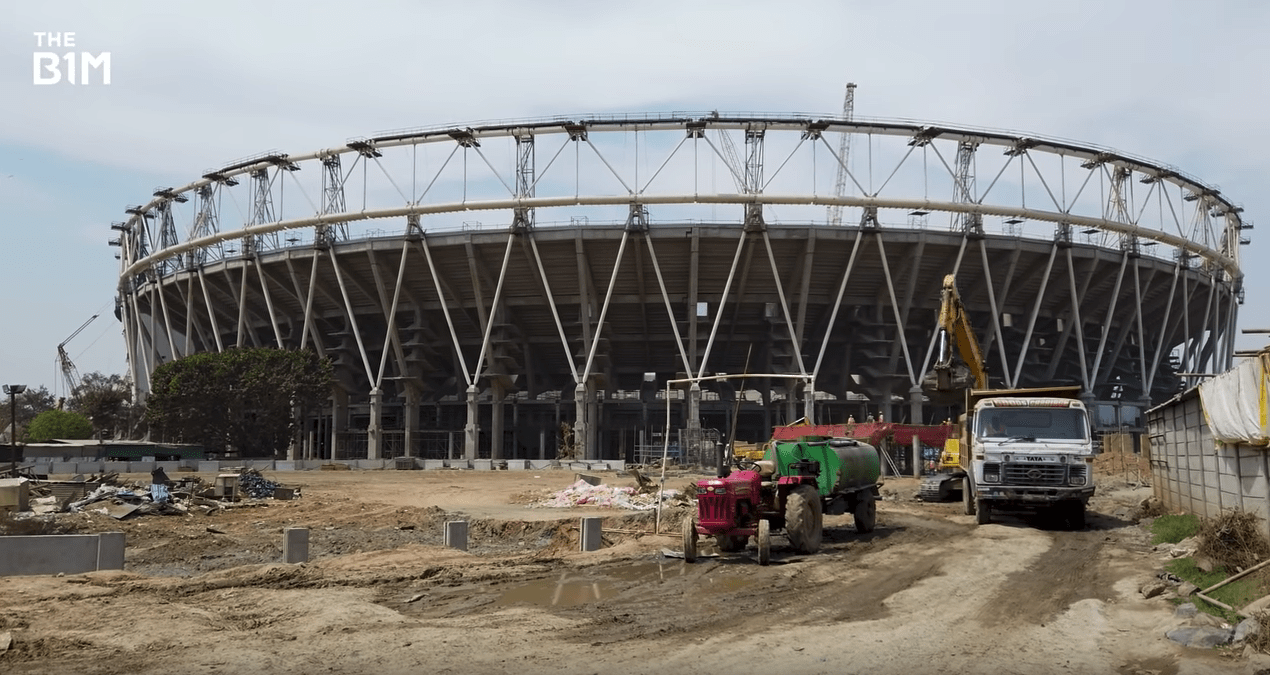 Above: The vast Sardar Patel Stadium in Ahmedabad is on the verge of completion.
The newly-opened Al Janoub Stadium in Qatar also stands-out. One of eight venues that will host matches at the controversial 2022 FIFA World Cup, the ground was designed to resemble the traditional Arabian fishing boats that hold great cultural significance in the region.

Now, as we enter a new decade, architects and engineers are once again redefining what is possible with stadium construction.
ALLEGIANT STADIUM, UNITED STATES
We begin our round-up in Nevada, where one of the most spectacular (and expensive) stadiums ever conceived is entering its final stage of construction.
Costing almost USD $2 billion, the Allegiant Stadium in Las Vegas will be the long-awaited new home of the Raiders, an NFL club that is relocating from Oakland in California.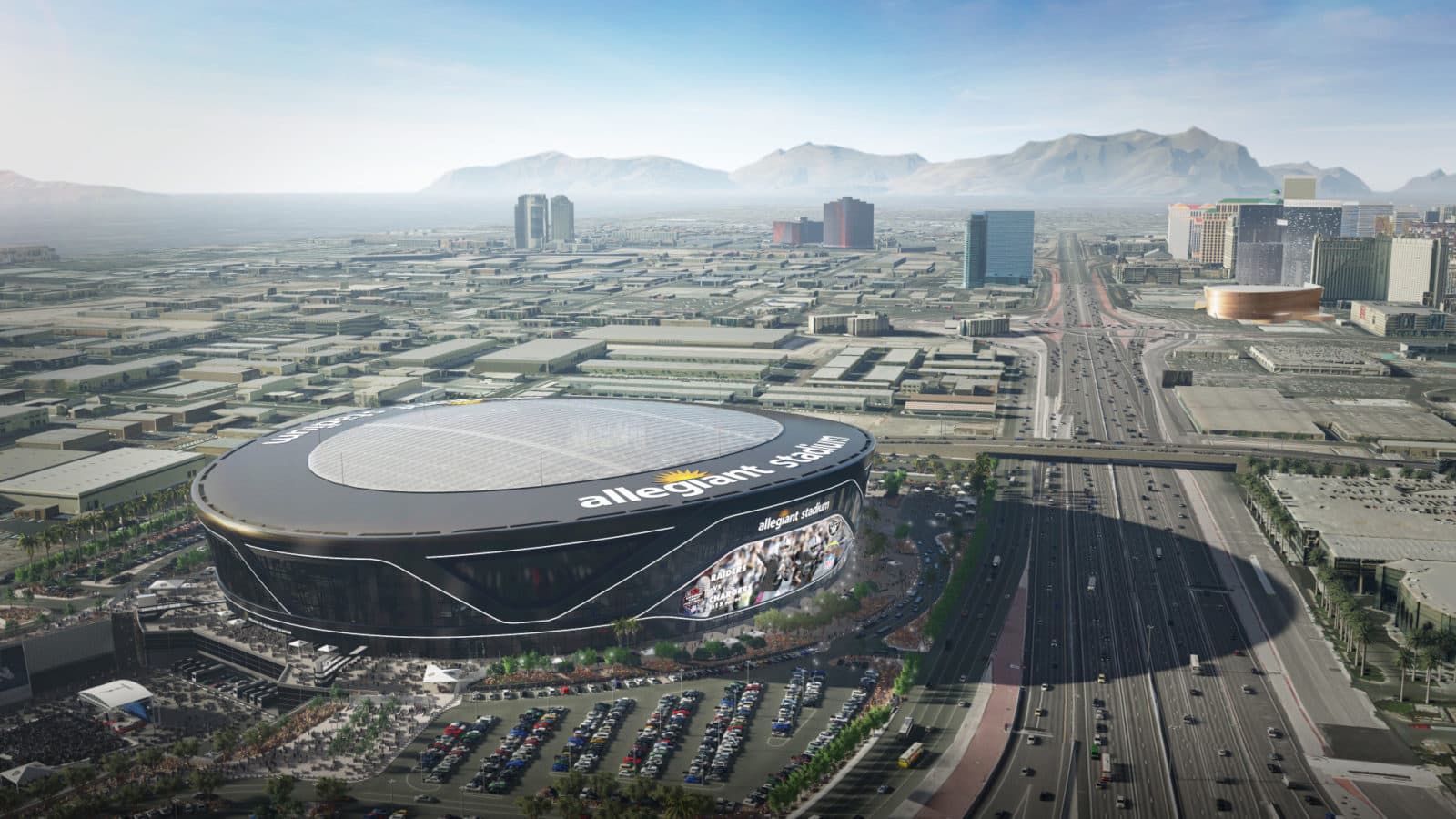 Above: A domed ETFE roof will help to keep out the fierce desert sun (image courtesy of Manica Architecture).
Once complete, the venue will feature a retractable field of natural turf, a black glass exterior and four large rolling doors that open up to impressive views of the Las Vegas Strip.
Spreading out over 1.75 million square feet, and with room for 65,000 fans – expandable to 72,000 – the stadium will also be used for a variety of other sporting and non-sporting events.
In total, the stadium will incorporate 28,000 tons of structural steel and more than 100,000 cubic yards of concrete, with almost half a million bolts holding it together.
Allegiant Stadium was included in our recent 'Top 20 Projects Completing in 2020' round-up. To find out what else made the list, watch the full video here.
MIAMI FREEDOM PARK, UNITED STATES
Over on the East coast, Miami Freedom Park is the proposed permanent residence of David Beckham's Inter Miami, a new football club set to join Major League Soccer in 2020.
The 26,000-seat stadium features a compact auditorium topped with a lightweight, translucent roof.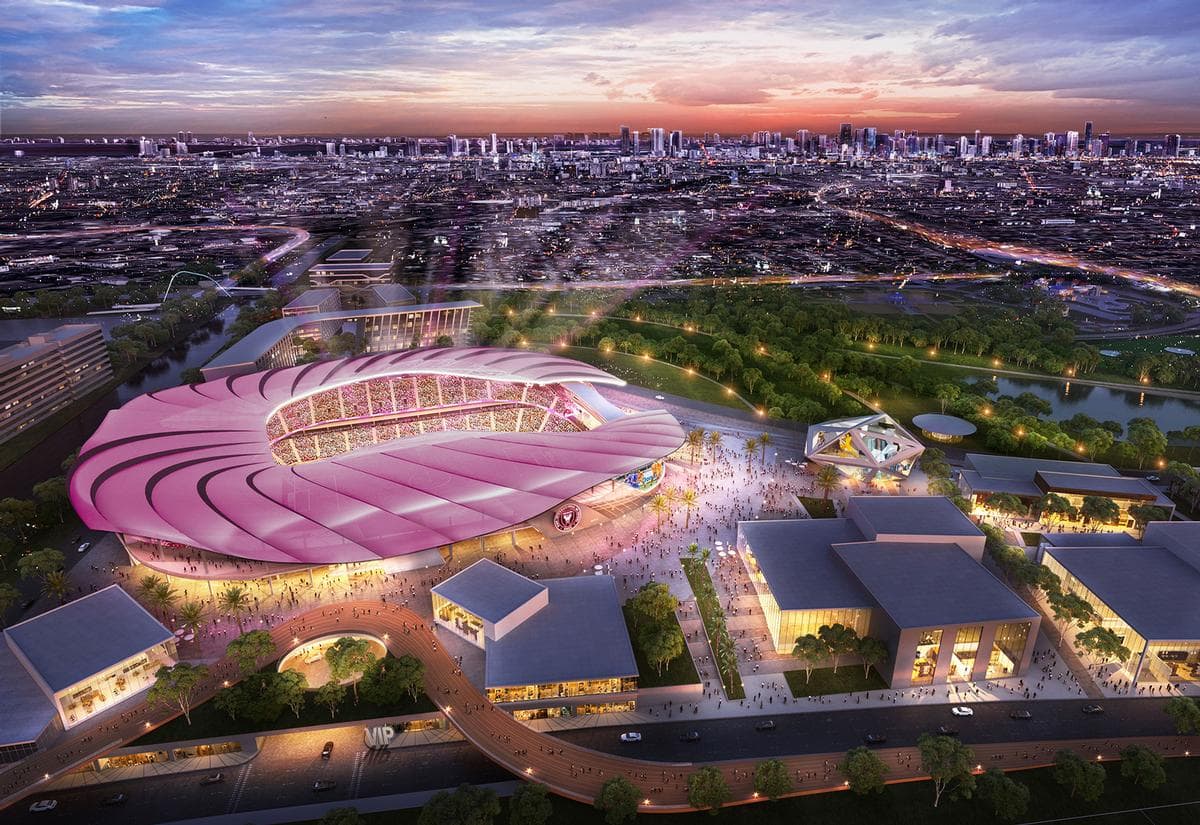 Above: The roof is designed to evoke the wings of a flamingo – the club's chosen symbol (image courtesy of Inter Miami CF).
On one side of the ground, a soaring single-tier grandstand will be a haven for the team's more vocal supporters.
While at the other end, the top of the structure opens up to make way for premium hospitality space, including a rooftop cocktail bar.
Large multimedia screens will be visible both inside and out, including a giant display that will show live matches to fans watching from the park opposite.
The arena is just one part of a USD $1 billion project to redevelop a 131-acre plot of land near the city's airport.
The entirely private-funded complex will also incorporate one of the city's largest public parks, 11 community football fields, a hotel, shops, restaurants and even a tech-hub.
The club hopes to move in by 2022, and will in the meantime play its first home games at a temporary renovated ground in Fort Lauderdale.
HOKKAIDO BALLPARK, JAPAN
Setting out to create "a ballpark the world has never seen before," the owners of Japanese baseball team the Nippon-Ham Fighters have chosen a truly unique concept for their new stadium design.
The USD $530 million Hokkaido Ballpark will boast a striking high-peaked retractable roof resembling the old-style homes that the island is known for.
An enormous transparent glass wall on the outfield side of the ground will enable the venue to be fully closed during the cold, snowy winter months.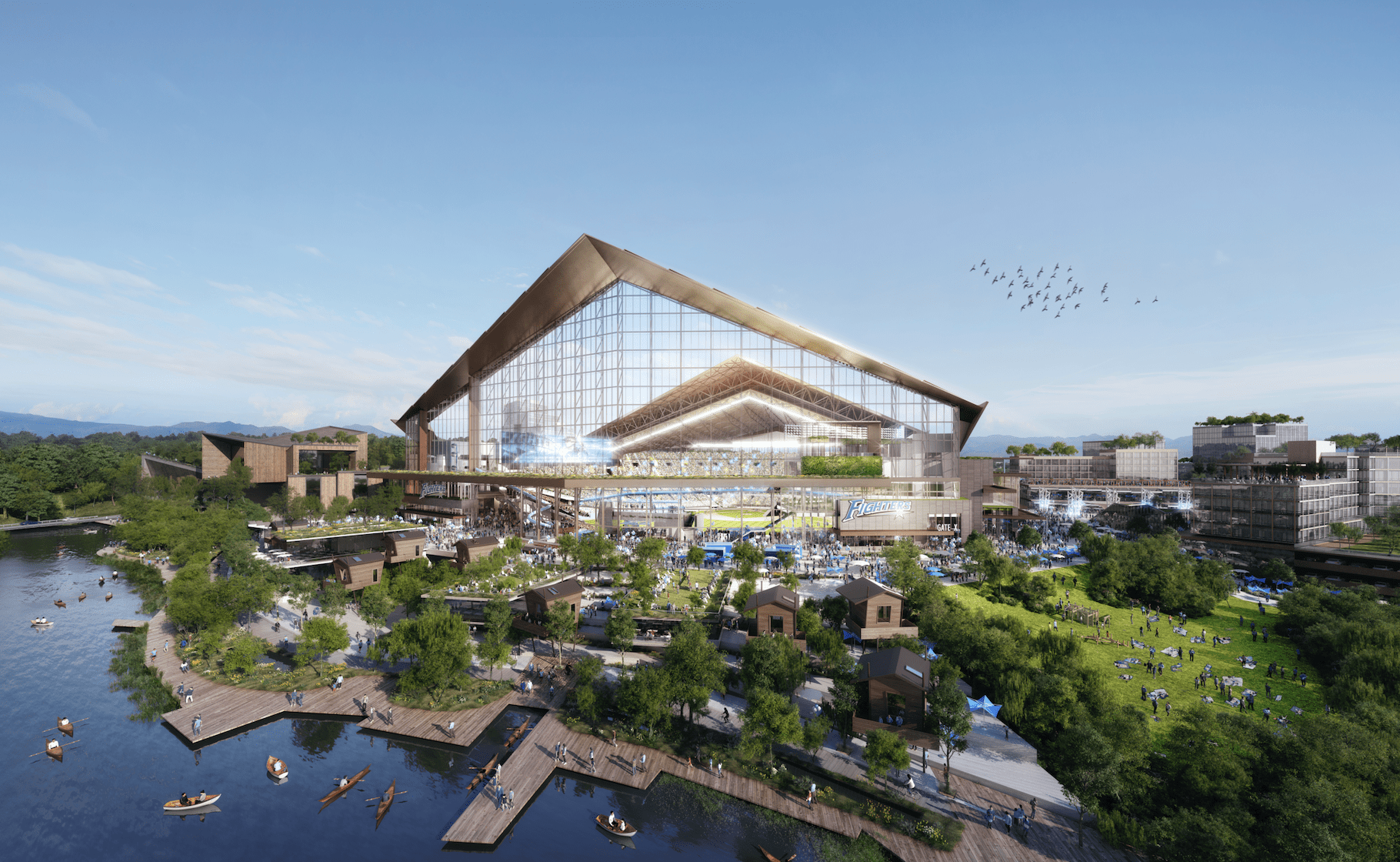 Above: The glass wall will also ensure the presence of a natural grass field at all times of year (image courtesy of HKS Architects).
Fans will be seated four tiers high, with the symmetrical playing surface, uncommon in baseball, lying just below ground level.
Built adjacent to a new entertainment district that will also provide restaurants, retail units, housing and parks, the stadium is due to break ground in 2020 ahead of its opening in 2023.
RAS ABU ABOUD, QATAR
Qatar's 40,000-capacity Ras Abu Aboud is set to become the world's first fully demountable stadium.
Made from recycled steel shipping containers, the arena's modular design allows for a dramatic reduction in building materials, leading to reduced waste and a much smaller carbon footprint as compared to other stadiums of this size.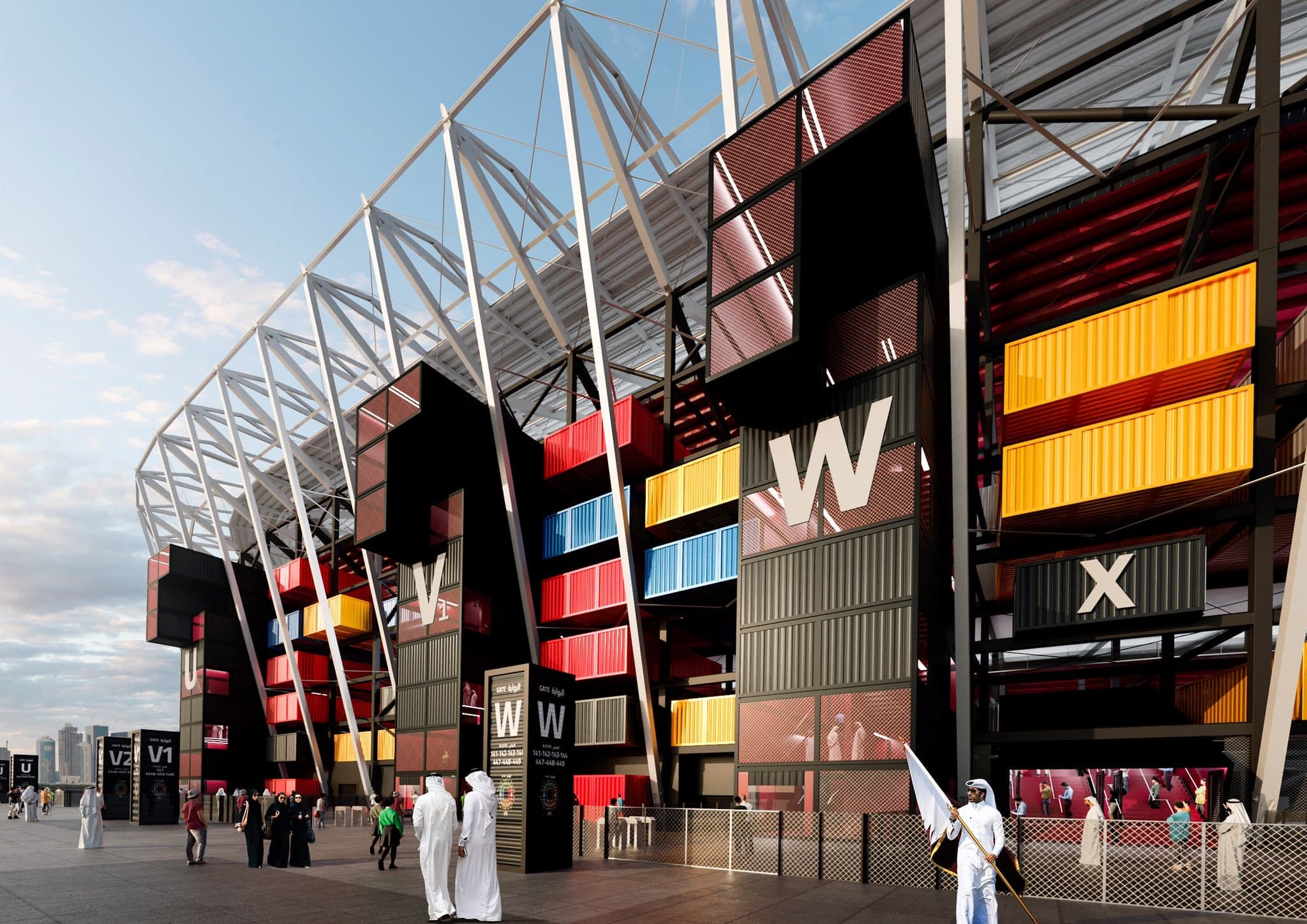 Above: Each container will be modified to suit a range of purposes (image courtesy of Supreme Committee for Delivery and Legacy).
The structure is being built on an artificial waterfront promontory in Doha's West Bay and will be completely taken apart after the tournament. Its parts will then be used in smaller football venues around the world.

NEW EVERTON STADIUM, UNITED KINGDOM
English Premier League club Everton has now submitted its plans for a USD $645 million new stadium at Bramley-Moore Dock on the banks of the River Mersey in Liverpool.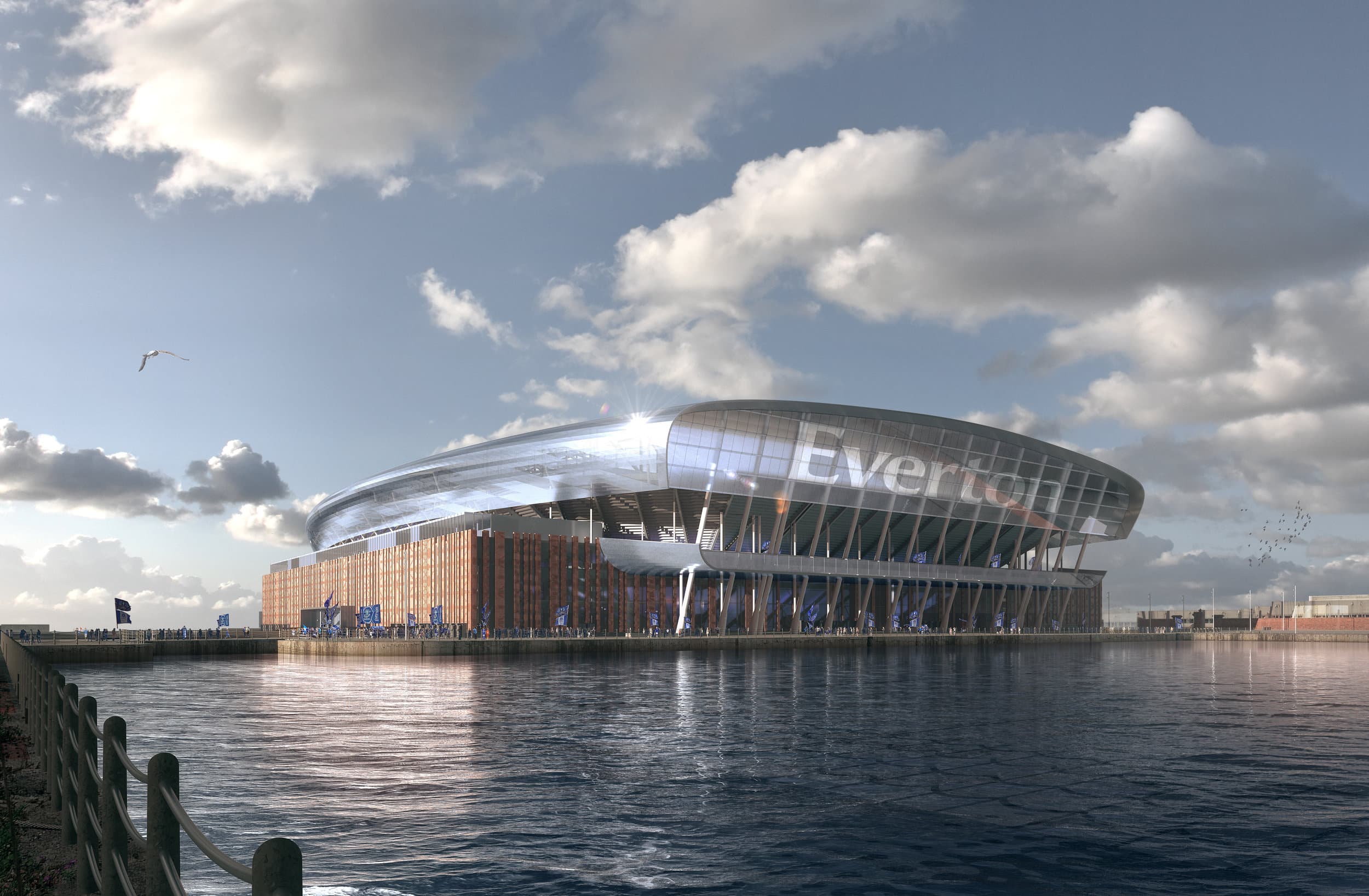 Above: The arena will be constructed on a semi-derelict world heritage site in the north of the city (image courtesy of MEIS Architects).
Its brickwork base is a nod to the area's historic warehouse buildings and maritime past, while the sleek steel and glass roof will help to give the stadium a more modern image.
To create an atmosphere of intensity and intimacy, fans will be sat as close to the pitch as regulations allow, with an imposing single-tiered stand on the south side.
There will also be sections in the lower tiers that can be converted to safe standing if new legislation permits it being reintroduced in the future.
Set to complete in 2023, the 52,000-seat stadium will form a key part of a USD $7 billion wider plan to overhaul Liverpool's waterfront.
Narrated by Fred Mills. Additional footage and images courtesy of Everton Football Club, Fighters Sports & Entertainment Co. Ltd., HKS Architects, Hufton + Crow, Inter Miami CF, Japan Sport Council, Liverpool Waters, Manica Architecture, MEIS Architects, Raiders, Supreme Committee for Delivery and Legacy and Tottenham Hotspur Football Club.
We welcome you sharing our content to inspire others, but please be nice and play by our rules.
Comments
---