Cities
Salesforce Tower: San Francisco's Vertical Village
Youtube Views

695,374

VIDEO VIEWS
Video hosted by Fred Mills.

BUILDING a supertall skyscraper in one of the most seismically active regions of North America is not easy.

But with San Francisco's booming tech industry demanding ever more high-end office space, engineers had to develop ways to push buildings to new heights. Rising from the corner of First and Mission Streets in San Francisco's South of Market or "SoMa" district is the city's tallest structure; the 326m (1,070 foot) Salesforce Tower.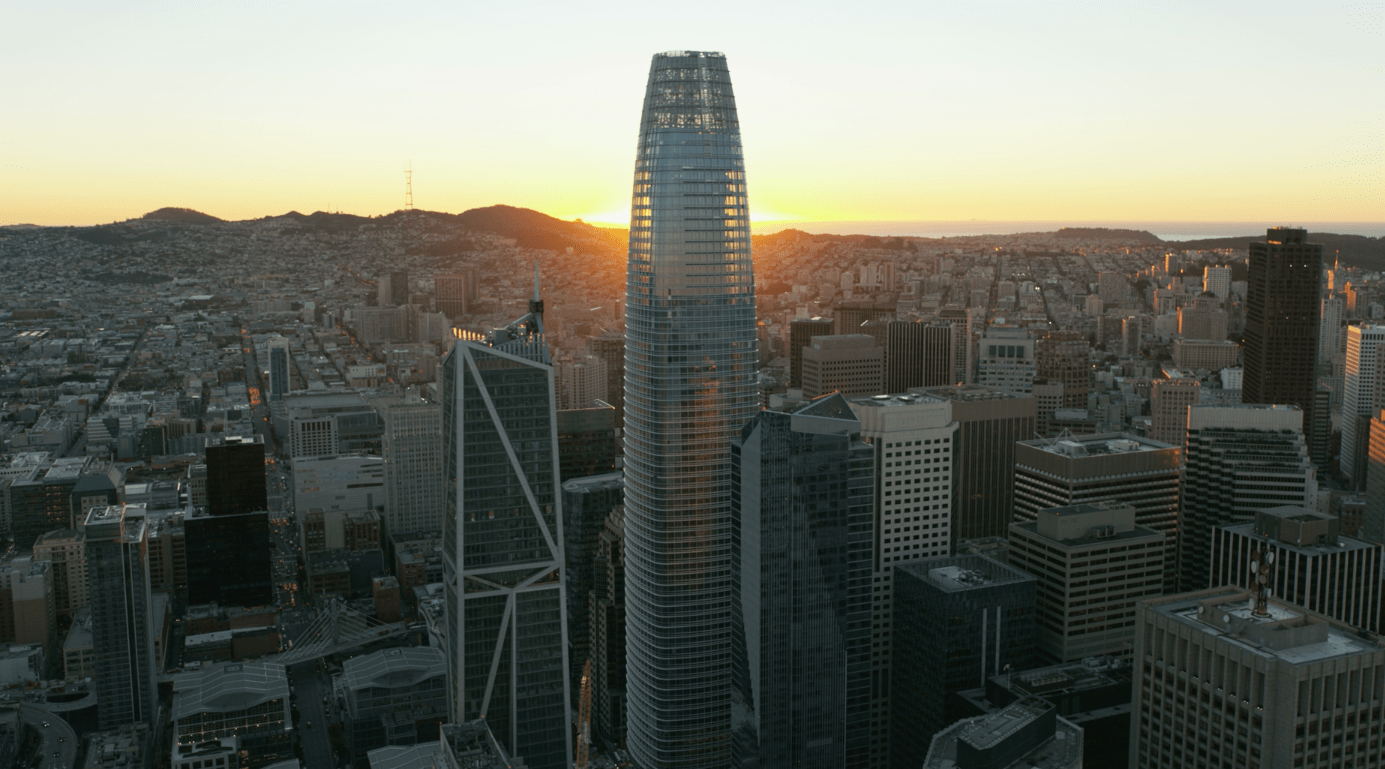 Above: Salesforce Tower is now the tallest skyscraper in San Francisco.

When the 853 foot, 260m "Transamerica Pyramid" completed in 1972 it joined the Golden Gate Bridge as a dominant feature on San Francisco's skyline - and with building heights capped at 550 feet in the 1980s there was little to change the city's profile for over 40 years.
But as pressure to densify and revitalise parts of the city has increased, and as the number of technology companies looking to establish headquarters in Northern California has risen - San Francisco's authorities have relaxed the height limits in favour of taller buildings that benefit the public realm.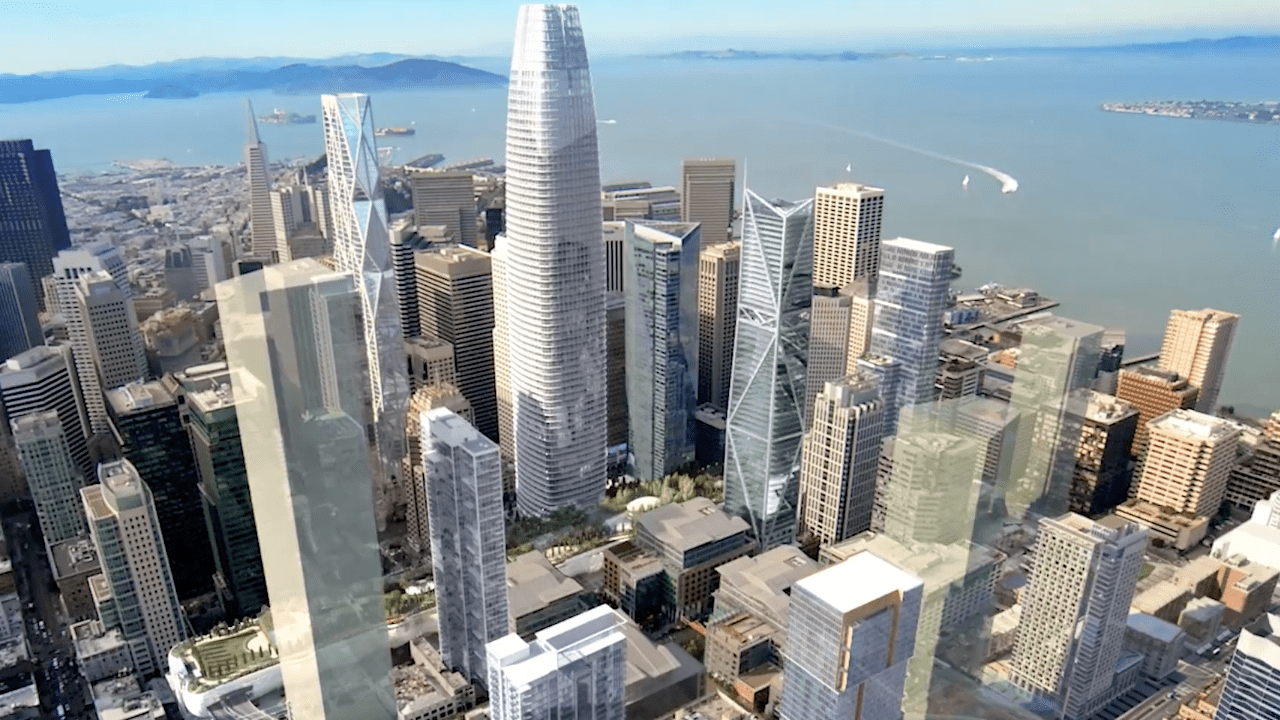 Above: The Salesforce Tower allowed for the re-development of the adjacent Transbay Transit Center (image courtesy of Steelblue / Transbay Joint Powers Authority).
In this case, the re-zoning of land for the Salesforce Tower kick-started the USD $2.25BN re-development of the adjacent "Transbay Transit Center" - a key transport hub for the bay area.
The Salesforce Tower is the centre piece of a wider re-development that includes direct connections to the transit centre and access to a 5.4 acre park on its roof.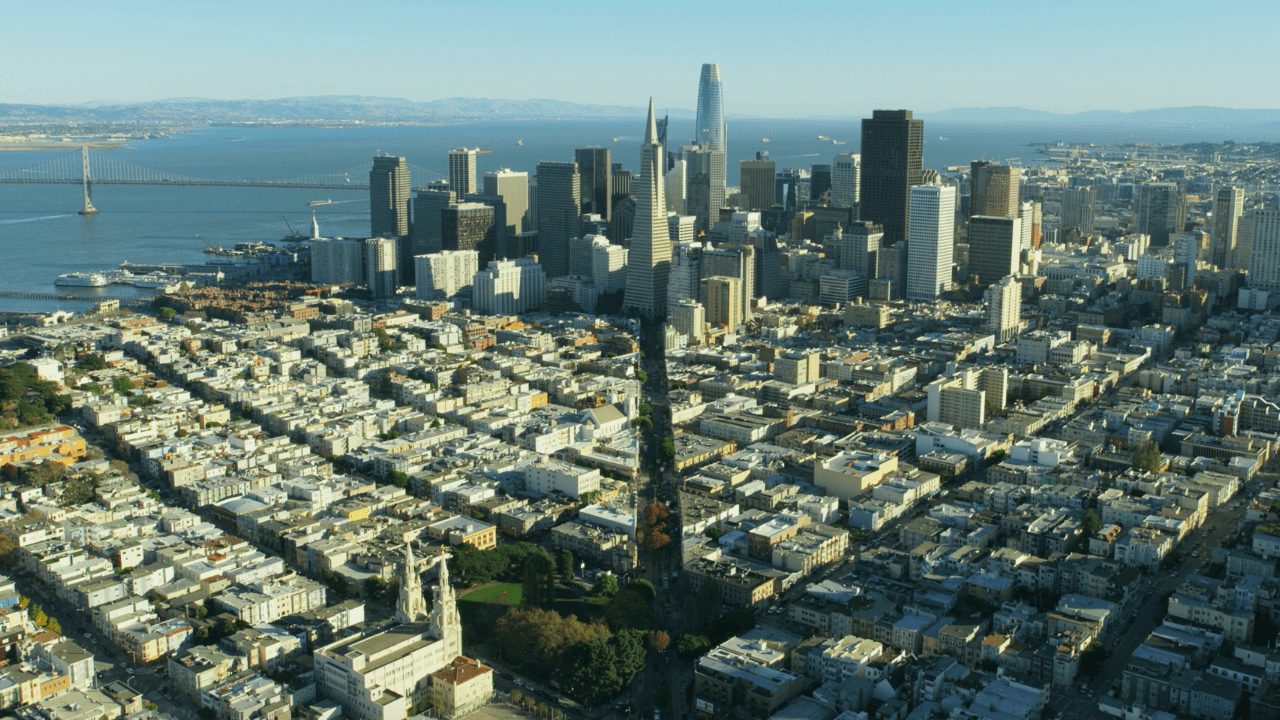 Above: Salesforce Tower has redefined the San Francisco skyline.
Designed by Pelli Clarke Pelli Architects, the tower stands 1,070 feet high - over 200 feet taller than the Transamerica Pyramid - and provides 1.6 million square feet of office space across 61 storeys. 55% of the building is occupied by its main tenant; Salesforce.
BUILDING IN AN EARTHQUAKE ZONE
To construct a building of such height on land that was reclaimed using landfill and in a region prone to earthquakes, engineers developed some of the largest foundations ever used in San Francisco.
In total, some 42 foundation piles - each over 300 feet (or 100m) in length - were drilled into the underlying bedrock. On top of this, a 14-foot-thick concrete slab extending across the tower's one acre site was constructed.
In total, the foundation slab contains over 2,200 tonnes of steel reinforcement and over 9,000 cubic metres of concrete.
It took over 18 hours of pouring and the continuous flow of 1,300 concrete trucks to complete the slab, making it the second largest concrete pour ever carried out in the city - the largest being that for the Transamerica Pyramid back in the 1970s.
From these foundations, a high strength concrete core was constructed to support the building's steel frame.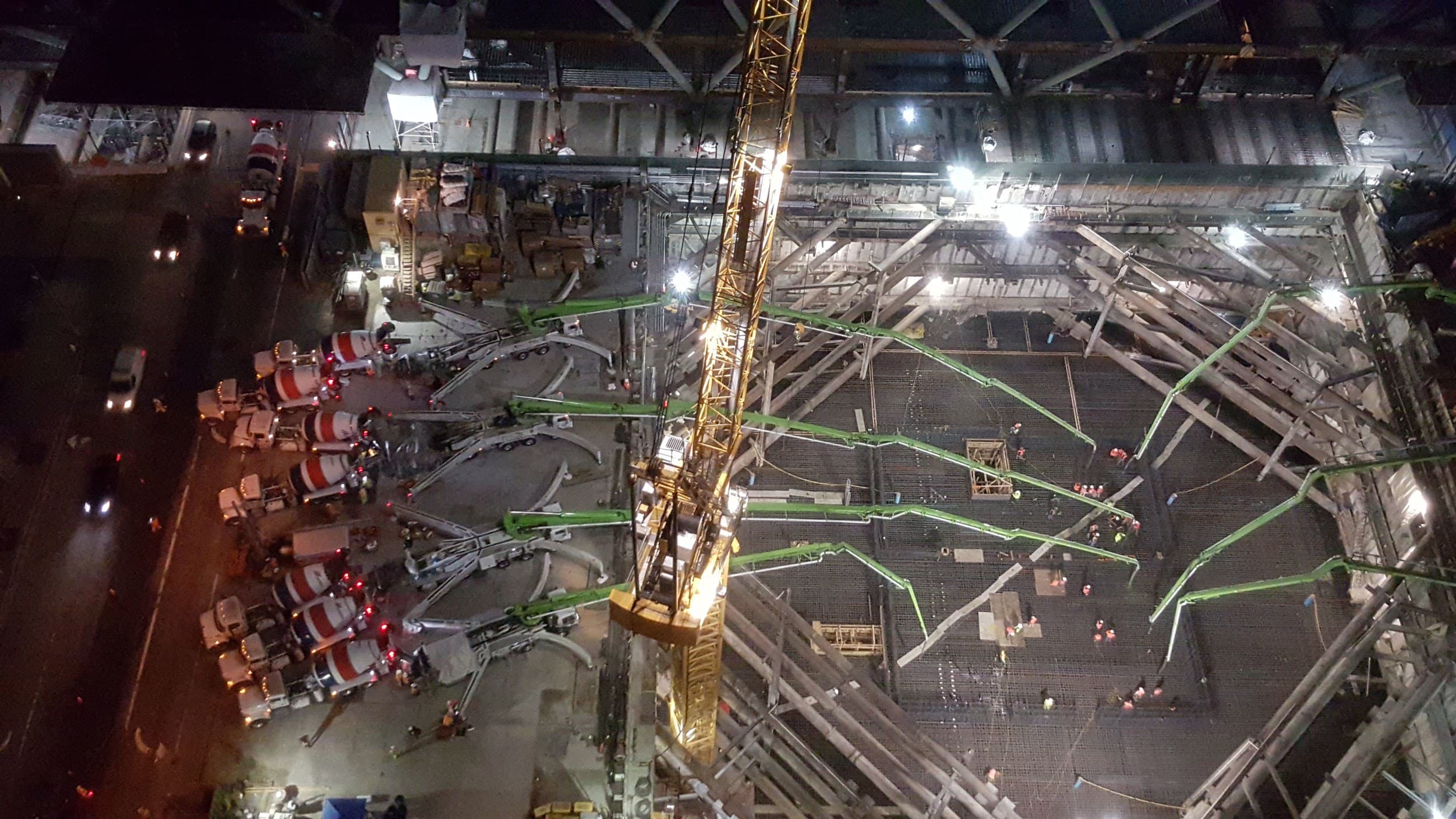 Above: It took 1,300 concrete trucks pouring for 18 hours to complete the Salesforce Tower foundation slab (image courtesy of Boston Properties).
At design stage, the tower's superstructure model was subjected to 22 different virtual earthquake simulations, drawn from historical seismic data across the region. Based on the results of these simulations, the tower was designed with a high strength, reinforced concrete shear wall core, with walls up to 48 inches thick.
This rigid spine, together with structural steel columns around the tower's perimeter, support its composite steel and concrete floors.
The tower culminates in a nine-storey perforated metal and glass crown that "dissolves" its summit into the sky.
A "VERTICAL VILLAGE"
The Salesforce Tower is truly a modern commercial work space, with particular attention paid to the quality of its indoor environment and occupant wellbeing.
With an advanced natural ventilation system, high performance glazing, integrated louvres and the largest blackwater treatment plant in a US commercial building - the tower has been certified LEED Platinum, becoming the highest rated commercial project in the United States.
To improve the indoor environment and enhance well being, the tower is divided into a series of three storey "vertical villages".
The levels within these villages are linked by staircases that encourage movement and collaboration between teams.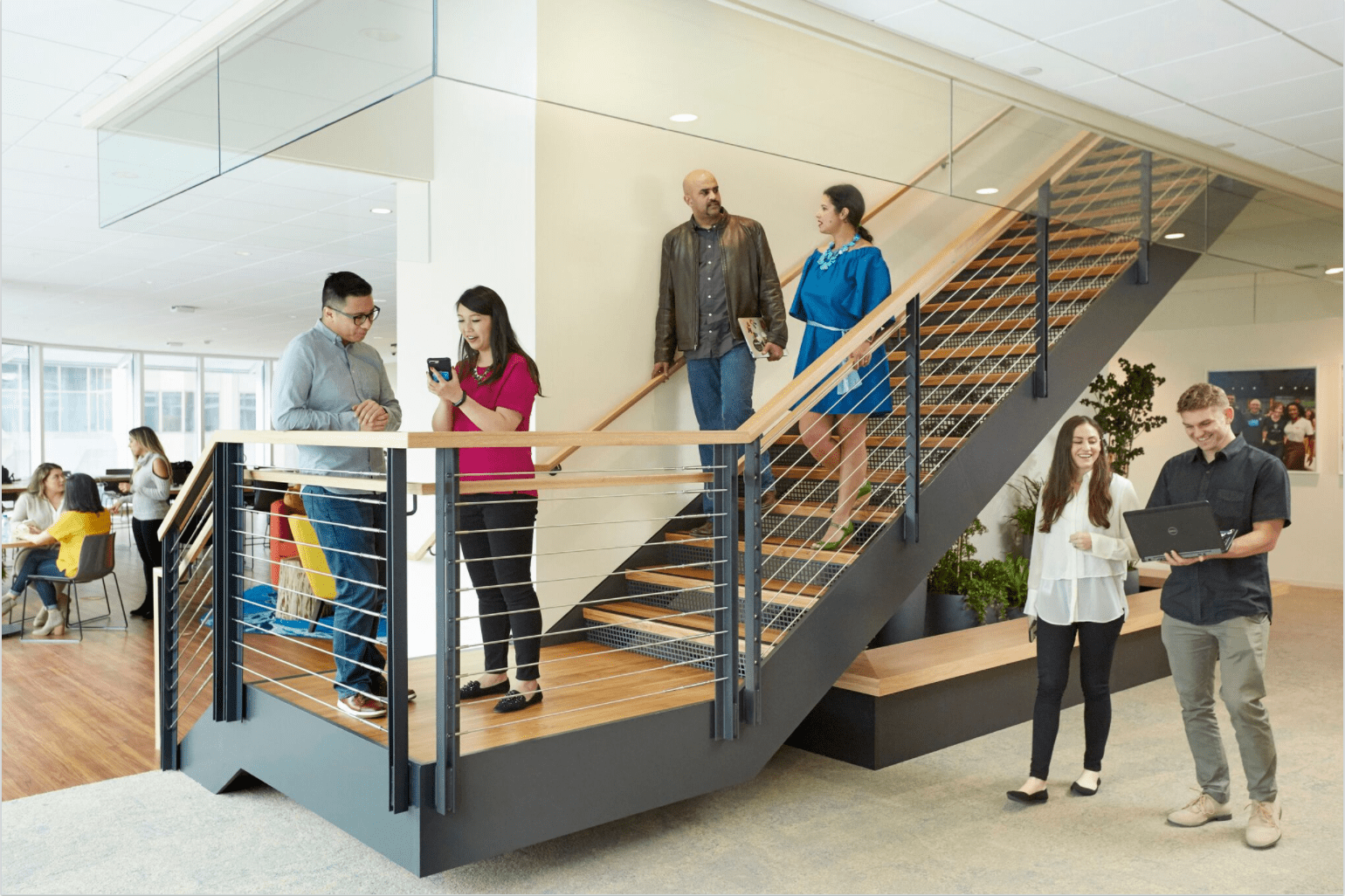 Above: The Salesforce Tower uses internal "Vertical Villages" to encourage collaboration between workers (image courtesy of Salesforce).
Each floor has its own social lounge, kitchen and breakout area, as well as a " mindfulness zone" where occupants can recharge and unwind.
Additionally, all occupants have access to the building's sixty first floor which features a cafe and exhibition space, against a backdrop of panoramic city views.
With the 800 foot "181 Fremont Street" and the 900 foot "Oceanwide Centre" both currently under construction, the now-completed Salesforce Tower stands as the first in a new generation of skyscrapers rising across the San Francisco skyline.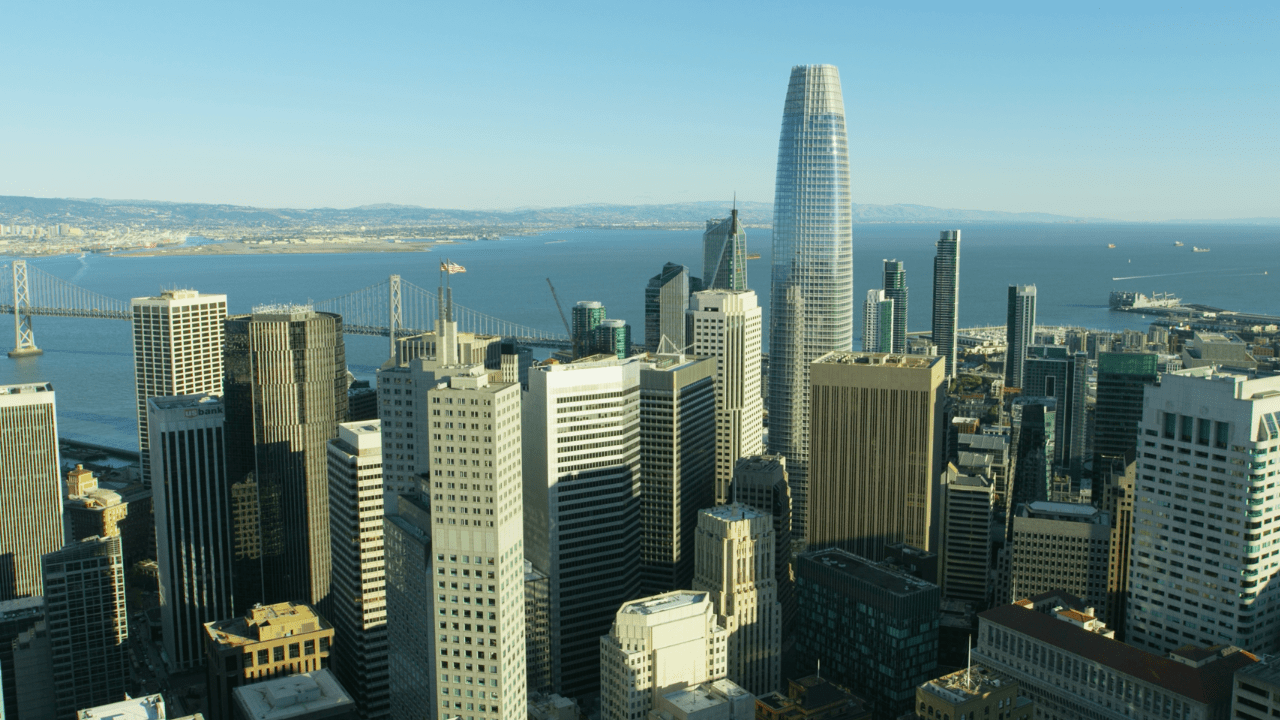 Above: A relaxation of height limitations could bring further changes to the city's skyline.
Images courtesy of Google, Steelblue, Transbay Joint Powers Authority, Salesforce, Boston Properties, Inc, Dary Hsu, Brianna Benness, Pelli Clarke Pelli Architects, Vittoria Zupicich, Noah Berger, DBOX and Foster + Partners.
[This video was originally published on 11 April 2018 with an incorrect image credit at 1:52. The correct credit for this image is Boston Properties, Inc. This was amended on 06 September 2018. Learn more about Boston Properties, Inc. here].
Welcome you sharing our content to inspire others, but please be nice and play by our rules.

Comments
---