EUROPE
Listed Building Lifted Back to its Original Location
Youtube Views

3,249

VIDEO VIEWS
THE daring move of a 300-year old listed smithy (a blacksmith's workshop) in the new St Giles Circus development in Central London, has been captured in this impressive footage.
The centrally located site is adjacent to Crossrail's future Tottenham Court Road station, and is to include a new, 800-seat theatre and commercial space.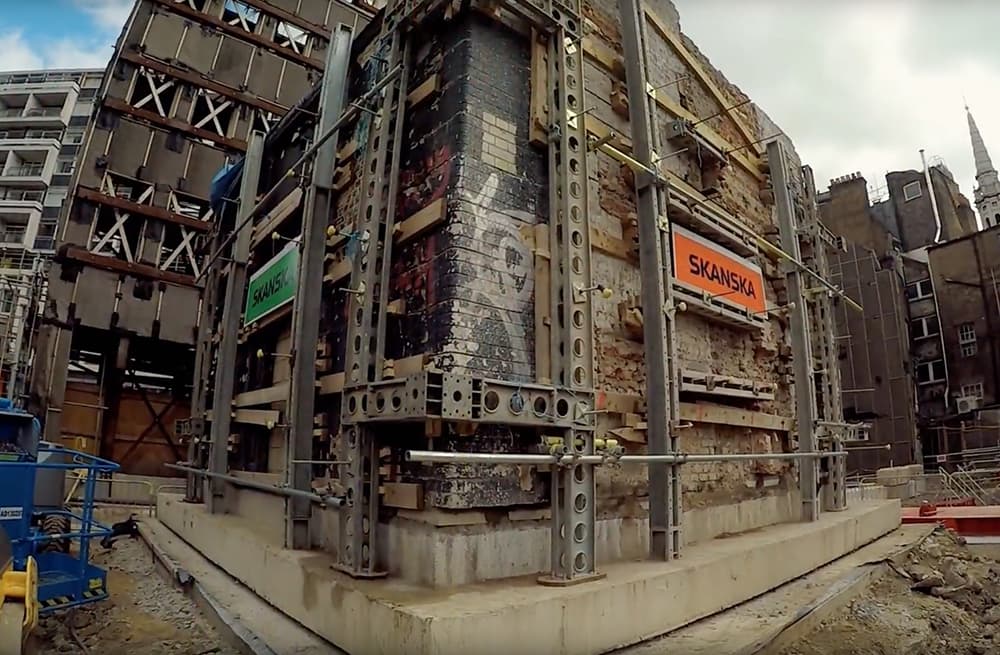 Above: The 18th century smithy secured and on its new foundation, ready to move (image courtesy of Skanska UK).
Built in the 18th century, the smithy stands directly above a new Crossrail tunnel and on ground that required piling to support the new structures being constructed.
Proposals for the new development intended that the smithy be retained in its original position.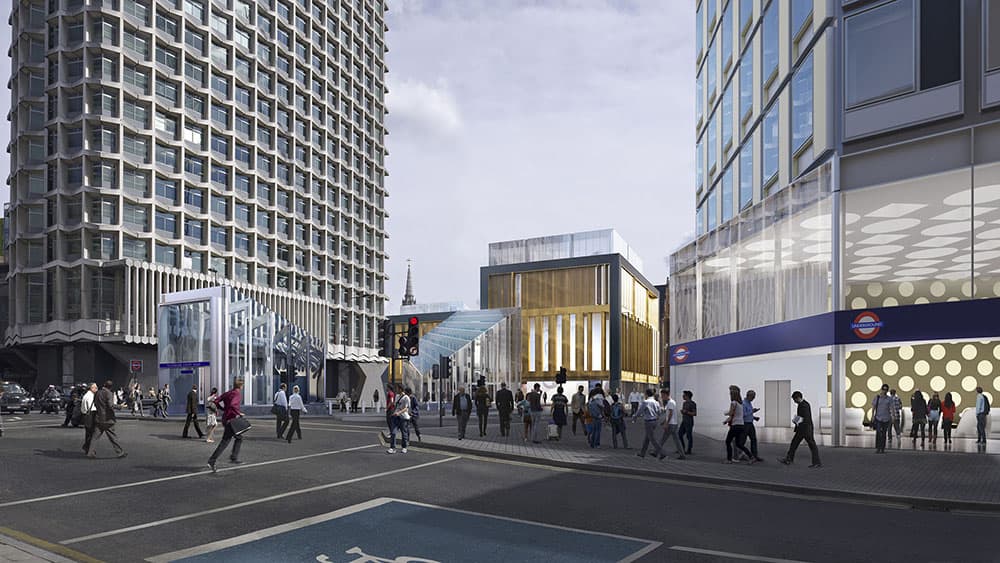 Above: The St Giles Circus development is located above the new Crossrail station in Tottenham Court Road (image courtesy of Skanska).
A number of options were considered - including specialist piling rigs, and a system of tunnels and transfer slabs dug beneath the existing smithy structure - though neither of these options proved viable.
The most effective proposal was to move the smithy to a temporary location about 82 feet (25 metres) away, while the site preparation works were carried out.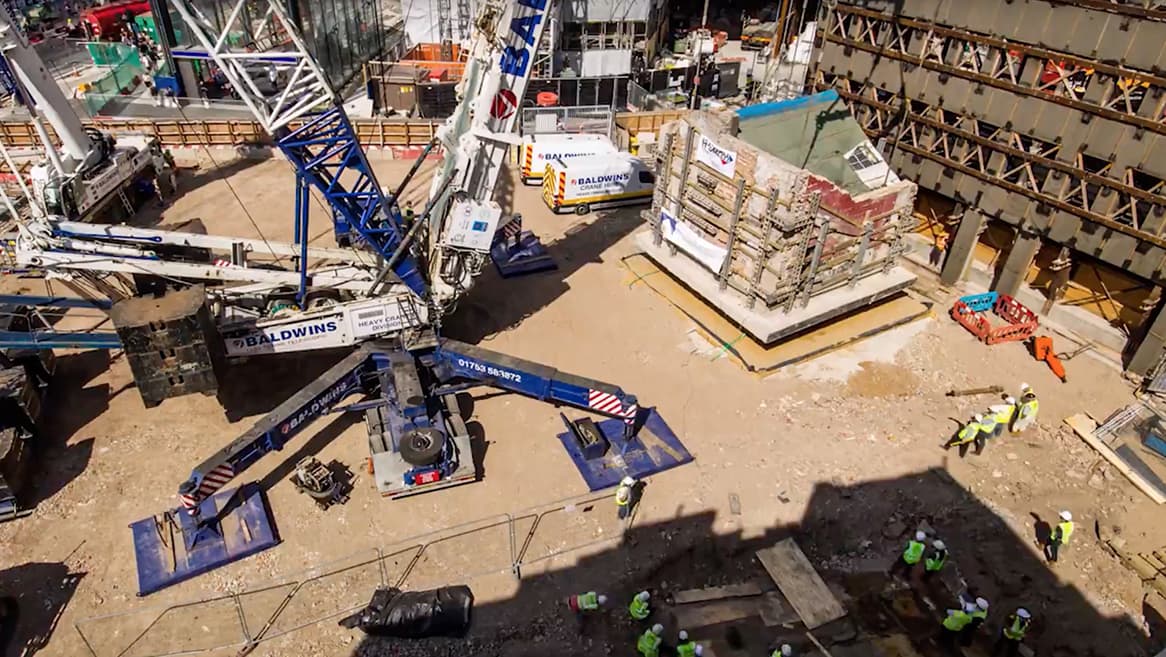 Above: The listed building was relocated so that piling in and around its former location could be carried out without damaging the fragile structure (image courtesy of Abbey Pynford).
To move the building, an in-situ concrete slab was cast beneath its footprint, whilst the superstructure was braced with temporary steel work and supports.
A 750 tonne mobile crane then gently maneuvered the structure into its temporary location, enabling the necessary piling and foundation works to be carried out, before the operation was reversed to put the smithy back in place.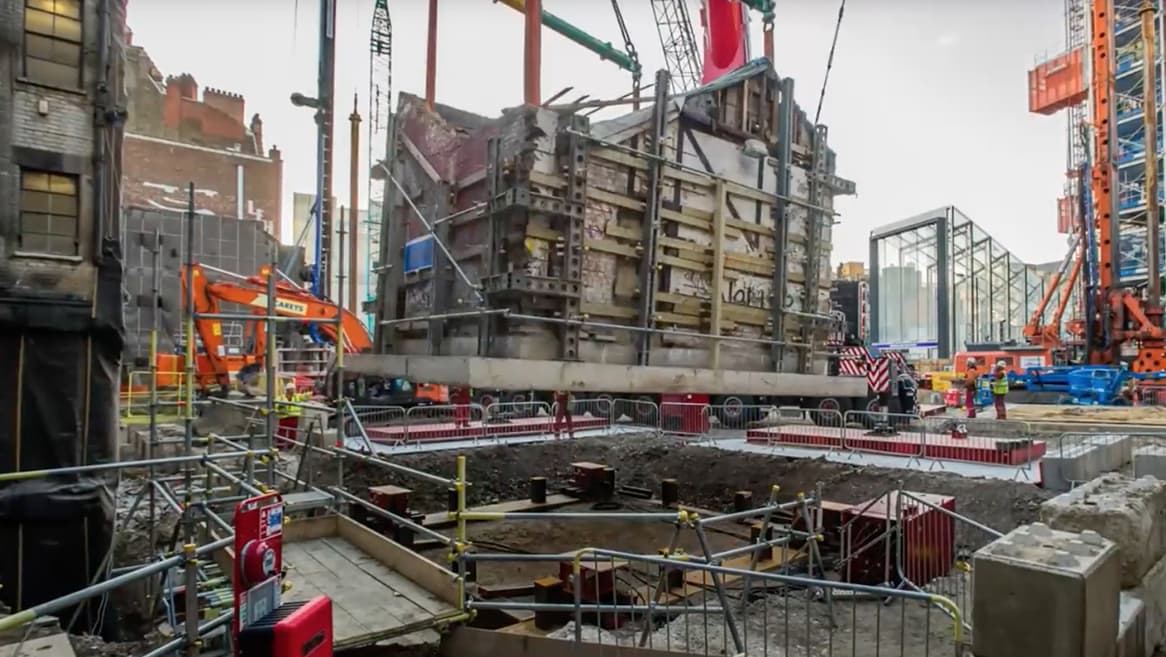 Above: With foundation works completed, the smithy was lifted back into its original place, awaiting a more through renovation ( image courtesy of Skanska).
Restoration of the smithy is now due to begin, with the wider development scheduled for completion in 2020.

Comments
---