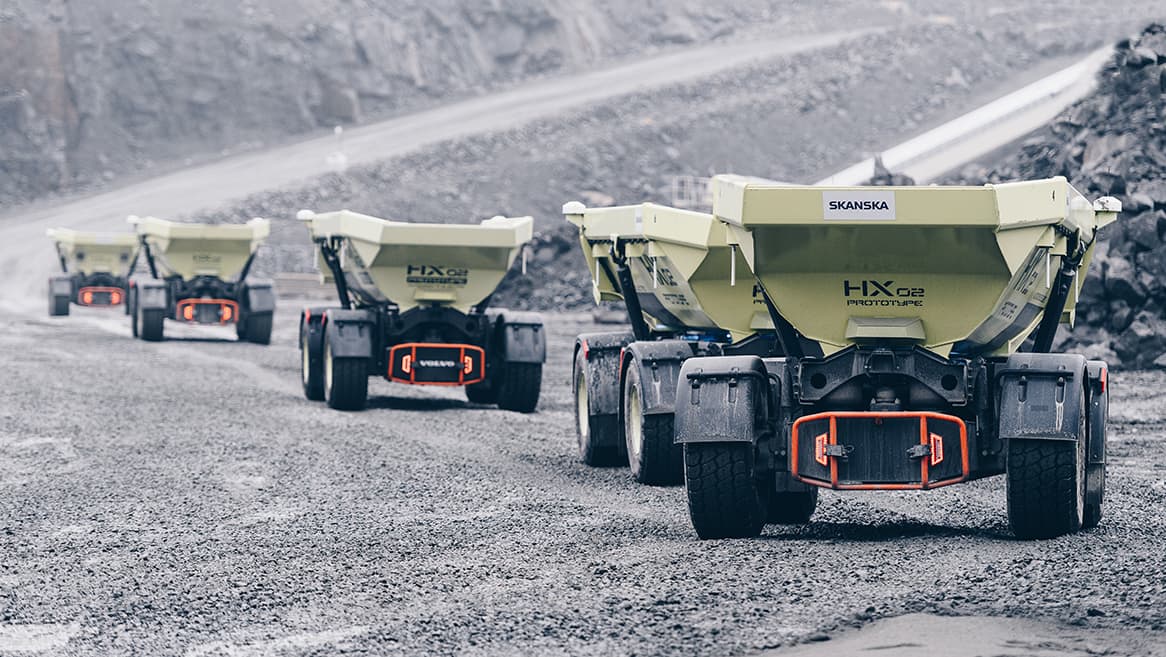 Volvo Cuts CO2 Emissions by an Electrifying 98% at Sweden's Largest Quarry
VOLVO Construction Equipment (Volvo CE) have unveiled impressive results from their Electric Site research project - the world's first "emission free" quarry - in Sweden.

Partnering with Skanska's Swedish business, Volvo CE electrified every work stage at the Vikan Kross quarry near Gothenburg in an effort to reduce CO2 emissions and overall operating costs.
The B1M live-streamed the unveiling of the results from inside the quarry on 21 November.

Above: Part of Sweden's largest quarry has been reserved for Volvo CE and Skanska's Electric Site pilot (image courtesy of Liam Marsh).
Vikan Kross is the largest quarry in Sweden and began operation in the 1960s. It produces some 6,000 tonnes of material a day, much of it for concrete and asphalt production.
The Electric Site - which takes over part of the quarry - has been in development for three years and has seen an investment of USD $22.5 million to date.
Above: Eight autonomous Volvo HX2 load carriers were used as part of Electric Site (image courtesy of Fred Mills).
Three different types of concept electric machines are in use on the site: autonomous HX2 load carriers, LX1 hybrid electric wheel loaders and EX1 dual-powered crawler excavators.
Above: Dual-powered EX1 excavators were connected to the electrical grid (image courtesy of Volvo CE).
Prior to the pilot commencing, the Electric Site sought to reduce CO2 emissions by 95% and improve efficiency by 25%.
After a 10 week testing period, the results were astounding. Not only did the experiment yield a 98% reduction in CO2 emissions, but operational costs were cut by 40%.
The decrease in fuel consumption was the most dramatic: vehicles on the site would normally consume 3,360 litres of diesel a day, while the hybrid wheel loaders used just 64 litres.
Above: The LX1 hybrid loaders on the site were the only vehicles using traditional fossil fuels for part of their power (image courtesy of Volvo CE).
Instead of fuel, the site consumes 9,320 kiloWatt-hours of electricity from the country's clean energy sources, generating a 70% saving on energy costs.
Following the success of the initial 10 week trial, operations will continue until Christmas 2018 allowing Volvo CE and Skanska to collate further data.
Looking ahead, the research team believe the pilot could deliver a 25% reduction in the total cost of operations.
In an honest series of presentations, Volvo CE representatives admitted that clean energy sources are not as widely available in other markets as they are in Sweden and that CO2 emissions associated with energy production in such circumstances would need to be taken into account.
There was also recognition that the concept machines shown are some way from being made commercially available.
Despite this, the strides made at the Electric Site move Volvo CE closer to achieving its bold vision of construction work sites that are 10 times more efficient, with zero accidents, zero unplanned stops and zero emissions.

Melker Jernberg, President of Volvo CE commented: "The electrification of construction equipment will produce cleaner, quieter and more efficient machines - this represents the future in our industry."
Above: Partnerships like the one between Volvo CE and Skanska on the Electric Site are a way to make the construction industry carbon-neutral (image courtesy of Volvo CE). Below: Footage from the Electric Site's inauguration event.
Executive Vice President of Skanska Sweden Anders Rehnström praised the collaboration, stating: "Skanska has high ambition when it comes to achieving a climate neutral construction industry, but we cannot do this alone. Partnerships like the Electric Site are the way forward".
The Electric Site forms part of Volvo CE's broader "Building Tomorrow" agenda which seeks to create a sustainable future through innovation in the fields of electromobility, automation and connectivity.
Meanwhile, developments in Volvo's Trucks business have made progress in helping cities combat pollution, noise and congestion with a fleet of concept electric and autonomous vehicles.
You can watch The B1M's live coverage back on our Facebook page, including this interview with Uwe Müller, Volvo CE's Chief Project Manager for the Electric Site.
Comments
---