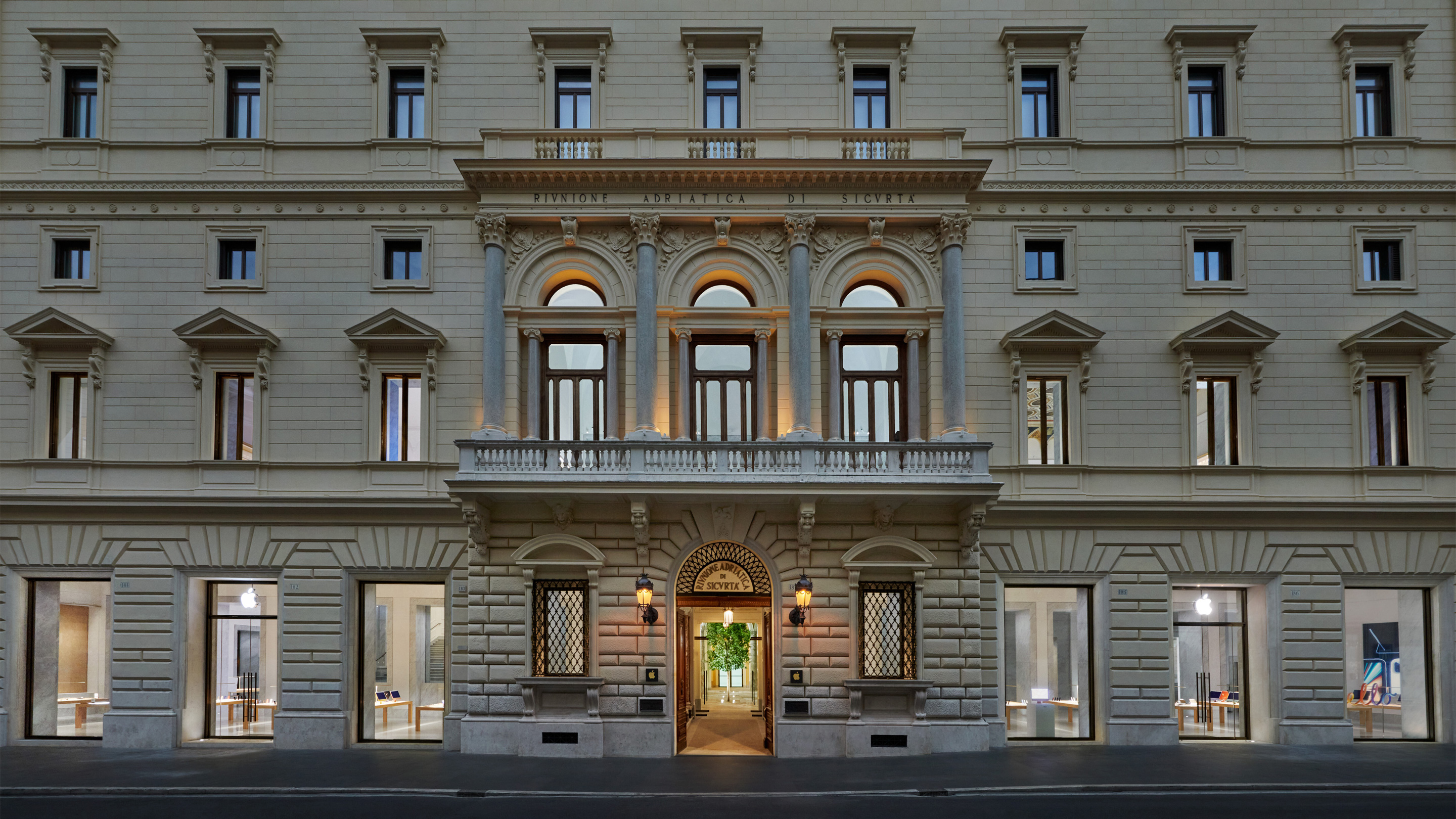 CITIES
This historic Roman convent is now an Apple Store
APPLE'S latest and most significant restoration project has now opened in Rome.
The Apple Store Via del Corso has been designed by UK architectural studio Foster + Partners and will be the 17th store to open in the country, preserving the historic Palazzo Marignoli in the process.
The Palazzo Marignoli was constructed in 1873 by the renowned architect Salvatore Bianchi. During its tenure it housed Marquis Filippo Marignoli and featured the Caffe Aragno which was once a notorious gathering place frequented by artists, writers and actors.
Foster + Partners has taken particular care to restore and thoughtfully incorporate several pieces of artwork that were showcased in Caffe Aragno into the new design, including multiple graffiti panels created by Italian painter Afro Basaldella in 1950 as well as two large ceiling paintings that date back to the early 1900s - Fabio Cipolla's "Dawn" and Ettore Ballerini's "Dusk".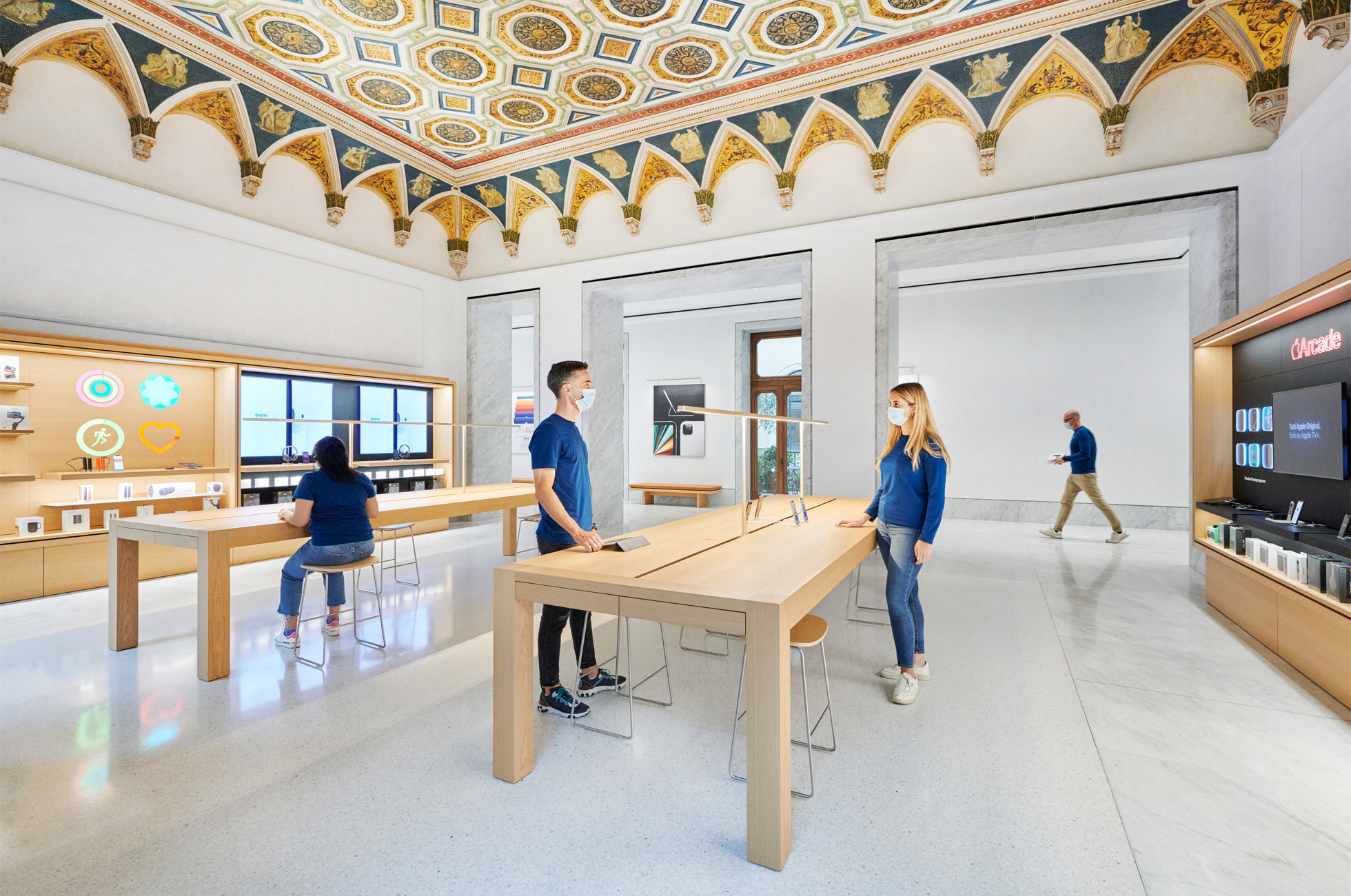 Above: The historic courtyard from the Santa Maria monastery remains. Image courtesy of Apple.
The entire store centres around a courtyard with Camphora trees - a remnant of the historic monastery Santa Maria Maddalena delle Convertite.
While inside, visitors will find a monumental staircase dating back to 1888, restored to its original detailing of locally sourced Carrara marble.
The ballroom has been turned into an Apple Forum which will host a series of programmes led by over 40 local artists, these will include Apple curated sessions across the fields of music, art and design, content creation and video.
"The joy of the project was to peel back and rediscover the layers of history throughout the building and revealing its eclectic past, which ranges from the historic painted ceilings and the frescoes by Fabio Cipolla to the more recent graffiti artworks by Afro Basaldella," said Stefan Behling, Foster + Partners' head of studio in a press release.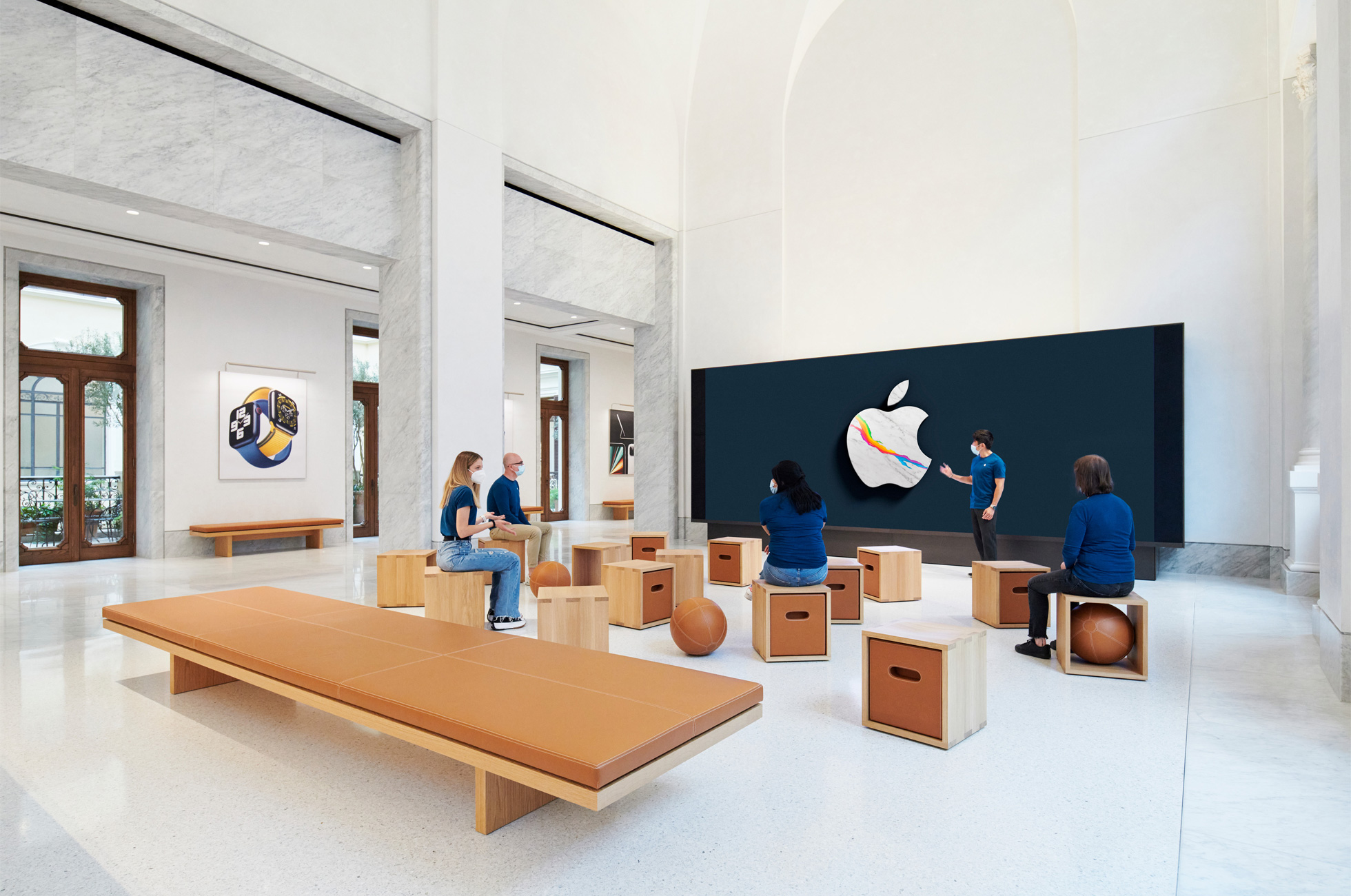 Above: The ballroom will now act as a place for Apple-led workshops and classes. Image courtesy of Apple.
"Palazzo Marignoli has seen so much throughout its history, and we feel truly privileged to be able to be part of its newest phase of life. Especially as Rome is one of my favourite cities in the world."
This isn't the first major restoration project Apple has undertaken, previously turning historical sites on Champs-Élysées in Paris, Regent Street in London and Carnegie Library in Washington, D.C into Apple Stores.
Apple works carefully with a team of local restorers on each project, but it hasn't been without its controversy, with many historians and locals regarding Apple's motives with mistrust.
To learn more about Apple's restorations and how its unique architectural strategies reshaped the retail world forever, watch our documentary:
Comments
---