Cities
MahaNakhon: Building Thailand's Tallest Tower
Youtube Views

263,946

VIDEO VIEWS
ADDING a major new tower to a well-known city skyline is a difficult task. But one team faced with doing just that in Bangkok have taken a unique approach to blending their structure in. Here we take a look at the pixelated form of Thailand's "MahaNakhon".
Bangkok is one of the largest and fast-growing cities in the Far East. Its rapid expansion has resulted in historic architecture and rich Thai culture rubbing shoulders with glass corporate headquarter buildings in a vibrant and diverse cityscape.
The 77-storey MahaNakhon tower was conceived in 2009 at the height of the global financial crisis and amidst considerable economic uncertainty. It was intended to mark the ambition and excitement of Thailand's capital city, its name literally meaning "great metropolis".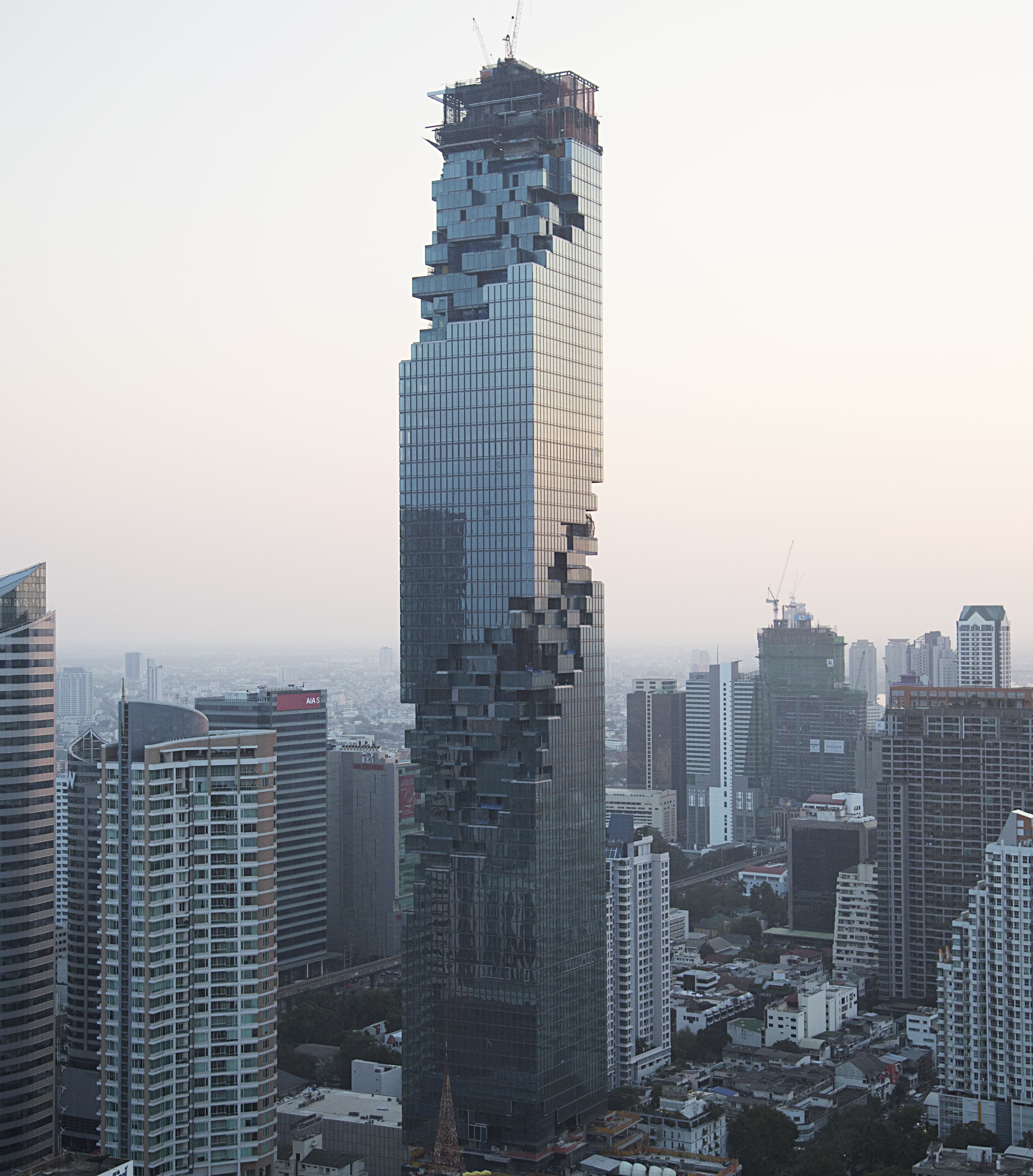 Above: The uniquely formed MahaNakhon nearing completion in 2016.
PACE Development progressed the project, employing the design skills of OMA's Ole Scheeren as their architect.
Scheeren's unique design sees a ribbon of pixels wrap the building, preventing it from overpowering the surrounding city. The pixels melt the tower with the sky above and the city below, dissolving its base into Bangkok's famous bustling street life.
They also offer panoramic views to those in the residences; an innovative tactic that has helped to increase the appeal of such properties.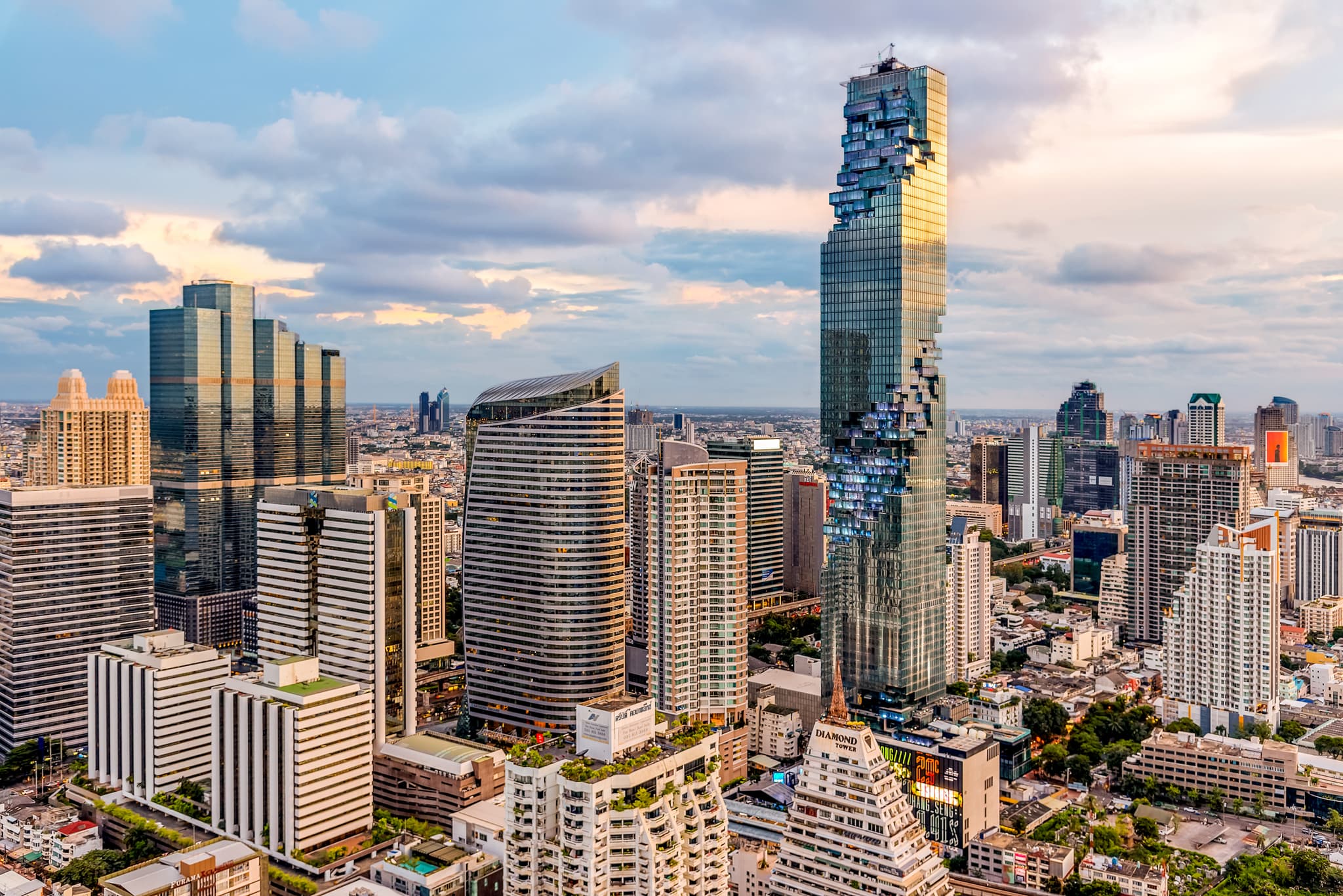 Above: MahaNakhon's pixels "melt" it with the sky above and the city's bustling street life below (image courtesy of OMA/Ole Scheeren and PACE Development).

BUILDING IN PIXELS
Construction of the USD $620M structure was undertaken by the Thai division of Bouygues and began in 2011. From a 3.6 acre site, a poured in-situ concrete frame was steadily constructed and the tower rose into the Bangkok sky.
97,000 cubic metres of concrete and 16,000 tonnes of steel reinforcement later, MahaNakohn topped out at a height of 314 metres. That's around 1,030 feet …or nearly 1.2 million pixels.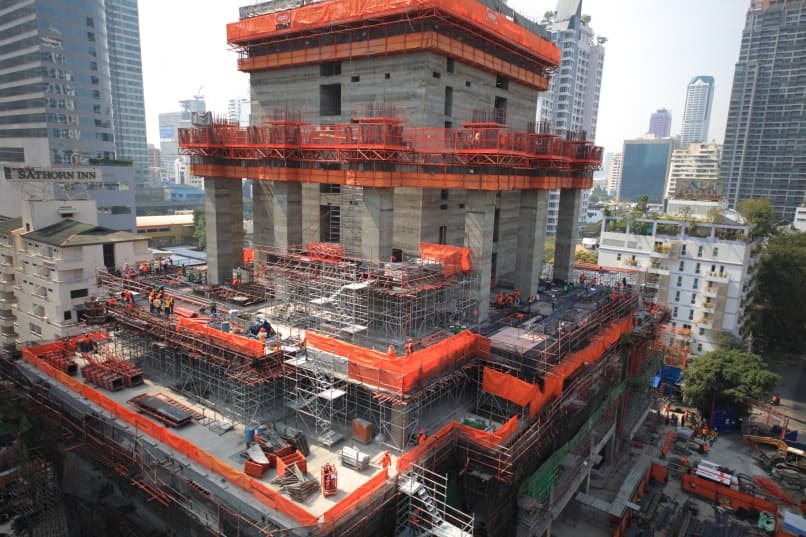 Above: The tower's concrete core under construction (image courtesy of PACE Development).
The building's structure consists of a concrete core containing the lift shafts and key vertical service routes, surrounded by 12 concrete columns and further columns toward the envelope. Outriggers are installed at three intervals across the building's height to prevent swaying and avoid any discomfort to occupants.
The construction programme had to account for pouring concrete in Bangkok's humid tropical climate and the practicalities of bringing concrete mixers to site in the heart of one of the world's most congested cities. Efficiencies were also inhibited by the building's pixelated form creating uniquely shaped floor plates throughout its height.
The tower's façade is formed of almost 6,500 glass panels. Those toward the top of tower stand a mighty 4.4 metres tall to offer uninterrupted views and weigh in at 440KG each.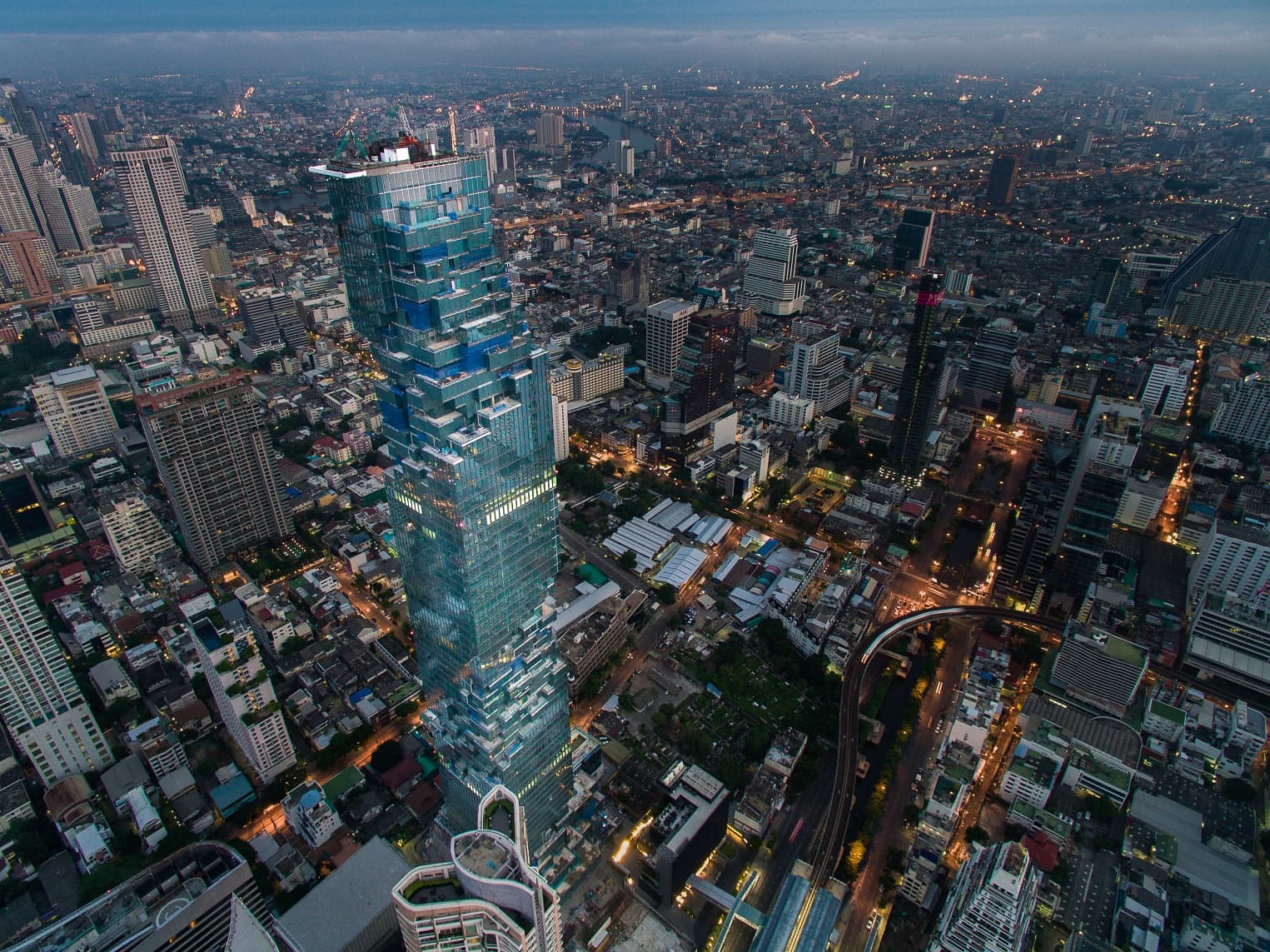 Above: An aerial view of the tower under construction. Its envelope is formed of almost 6,500 glass panels. Below: The pixelated form offers panoramic views to those calling the residences home (images courtesy of OMA / Ole Scheeren and PACE Development).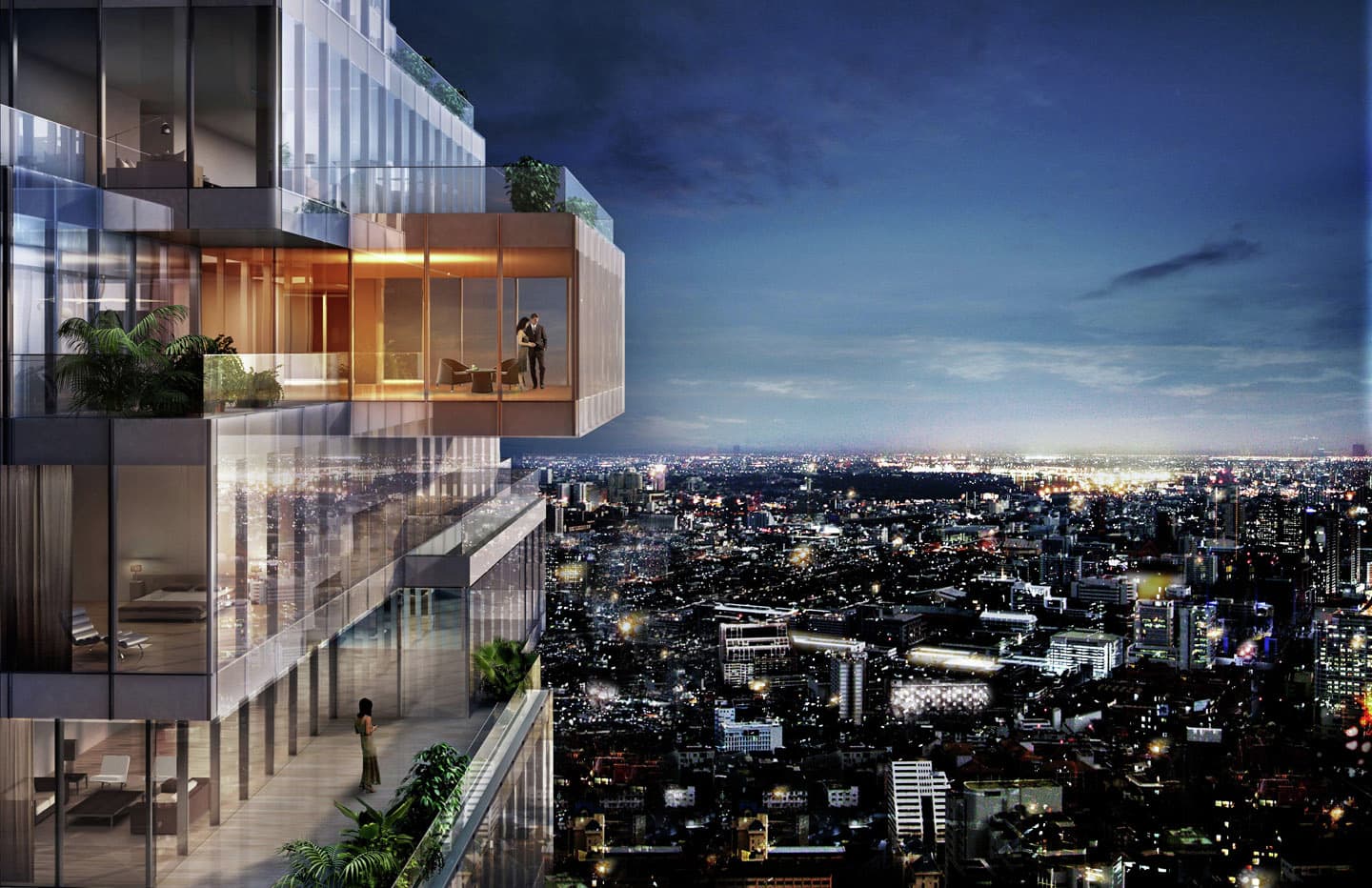 Completed in 2016, MakaNakhon now offers a luxury hotel, high-end residences and a daring roof-top bar across 135,000 square meters of space.
22 lifts service the building the fastest of which move at eight metres a second, taking people from street level to the summit in just 39 seconds. The breath-taking views that await those travelling to the top make it easy to see why MakaNakhon's highest value apartment was recently sold for USD $13.6M.
The unique structure is now Thailand's tallest building and makes a striking addition to Bangkok's skyline; an exciting new twist in one of the world's most vibrant cityscapes.
Images courtesy of PACE Development, OMA, Ole Scheeren and Bouygues Thai. We welcome you sharing our content to inspire others, but please be nice and play by our rules.
Comments
---